Jacobs 2 Room Schoolhouse
Photo compliments of Virginia Dare Warren Smith
This information is on the back of the photo, a little of it is hard to read.
*If you can identify any of these with birthdates, please write in. If any are in error, let us know. Photo was kept by Virginia Dare Warren who attended first grade through third grade here and she provided names and spellings to the best of her memory. Thank you Virginia!
8 mi. north of Henderson, Rusk Co, Texas [which is in the vicinity of FM 850]
first grade
Miss Donnie Tate [see bottom for numbered photo]
Starting at bottom left, going right and up.
1. James Bratton
2. Hoyt Woods
3. J.C. Gaut
4. Glen Woods
5. A.J. Thompson
6. Joe Thompson
7. Charles Porter Hunt
8. Billie Vance
9. Joseph Conrad Warren b. 3 Nov 1923
10. Al Fonzo 'Leo' Warren b. 1926
11. Kenneth Johnson
12. Mildred Thompson
13. Marion Turner
14. Doris Ray Melton
15. Jackie Vance
16. Ruby Thompson
17. Nellie 'Florene' Warren b. 1925 (died New London School disaster 18 Mar 1937)
18. Marion Thompson
19. Minnie Turner
20. Mary Ellen Harrington
21. Virginia Dare Warren b. 1927
22. __Bellew
23. Betty Jo Harrington
24. Maxine Jacobs
25. Mildred Faye Smith
26. Thelma Wyche
27. Doris Wyche
28. Ozie Woods
29. Marcia Kensamer
30. Letha Woods
31. Effie Boyd b. 1919
32. Louise Brown, Teachers Helper
33. Miss Donnie Tate , Teacher
34. Miss Lena Hunt, Teacher
35. Marilyn Wyche
36. Mozell Hunt
37. Frances Hunt
38. Charlie Woods
39. _Bellew
40. Tommy Turner
41. Allen
42. _Bellew
43. Cecil Thompson
44. Albert Turner
45. Homer Roy Warren b. 16 Mar 1919
46. Marshall Hunt
click for larger images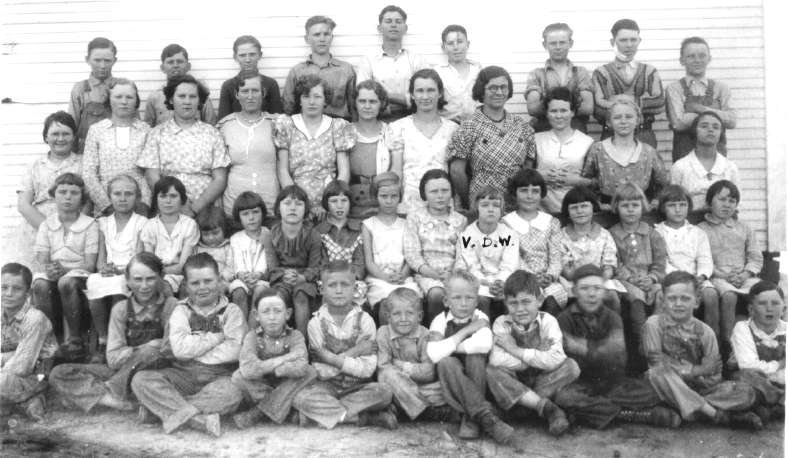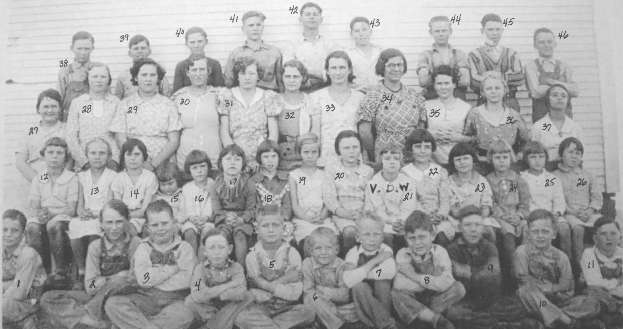 Back to Warren Page or Photo Page
Thompson, Wyche, Kennemer, Ozzie, Herrington, Minnie, Marian, Porter, Hoyt.