William M Ross Family
William McDonald Ross (1814-1872) built his home in 1845. He was the 1st Sheriff of Rusk County, TX. (November 28, 1843). He served in the Texas Legislature. He was a surveyor and a Confederate Soldier. William McDonald served in the Civil War with Co. B., Jones Brigade at Camp Lubbock; 11th Texas Infantry. He enlisted 26 February 1862; First sheriff of Rusk County, Nov. 23, 1843. Sources: RR Co, p.319; RCH, p. 376; Cem. 1 p93, CSR1, p 456.
William McDonald (Donald) Ross (1876-1938) ... my husband's grandfather was the son of William Gillespie Ross (1850- 1926), the son of William McDonald Ross (1814-1872). Hope this isn't too confusing. I don't have a picture of the older Wm. M. Ross.
Some photographs of the Ross Family
Confederate War Tax Receipt
I found the following about the War Tax. "The realities of the prolonged war, the necessity of paying interest on existing debt, and the drop in revenues from other sources, eventually forced both the central Confederate government and the individual states to agree to an imposition of a "War Tax" by the middle of 1861. The law itself was passed on August 15, 1861 and covered property of more than $500 (Confederate) in value and several luxury items. The tax was also levied on ownership of slaves. However, the tax proved very difficult to collect—in 1862, only 5% of total revenue came from these direct taxes, and it was not until 1864 that this amount reached the still-low level of 10%".
Valedictory by William Ross, Leona Male Academy, Leona, Texas
---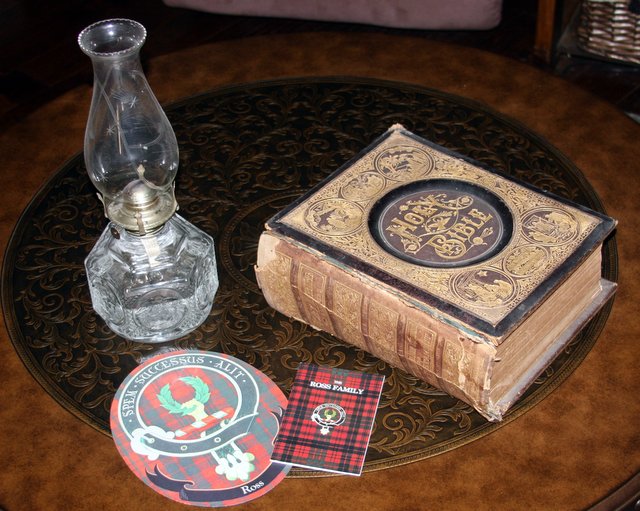 Births
W. G. Ross - Aug. 12, 1850
D. T. (Dora Tennessee Ray) Ross - Apr. 24, 1853
W. M. (William Mc Donald) Ross - Oct. 23, 1876 - My husband's grandfather
Stephen Ross - Nov. 25, 1878
Griff Ross - Dec. 29, 1880 - He was the old Dr. Ross - had two sons who were also doctors.
Mary (Ann) Ross - Jan. 1, 1883
Norvell Ross - Jan. 28, 1885
Nelly Ross - Sept. 29, 1887
Charley Ross - Oct. 25, 1891 - he had the old City Drug Store in Mount Enterprise.
W. G. Ross, Jr - Apr. 30, 1894
Deaths
Norvell Ross - Apr. 18, 1887
D. T. Ross - July 15, 1934
Nelly Ross - (no date)
Griff Ross - Dec. 15, 1948
W. M. Ross - Aug. 16, 1938
Charley Ross - Mar. 8, 1963
W. G. Ross, Jr - May 12, 1969