Smyrna Baptist Church
at the intersection of FM 2496 and CR 3156
Oak Flat, Rusk County, Texas
Established: 1873
This church has a Historical Marker.
Scott Fitzgerald has donated a copy of Centennial +5, (History of Smyrna Baptist Church of Rusk County, Texas) 1873-1978. The booklet is in PDF format and you will need Acrobat Reader to access it. The booklet was originally 70 pages and is 37 pages in PDF form. The appendix includes a list of pastors, charter members, members, deacons, and clerks and has a current membership list for January 15, 1978. There are some photos scattered throughout. It's a LARGE document, almost 4 megabytes so give it time to load. I was pleasantly surprised to find some of my cousins and their mom in this document.
A text version is in the Archives but somewhat scrambled by the scanning process. A scan of the these single pages are available:
Cover
Page 1
Page 63
Page 70
These files are less than 200KB.
Coordinates:
31° 56.845
94° 45.983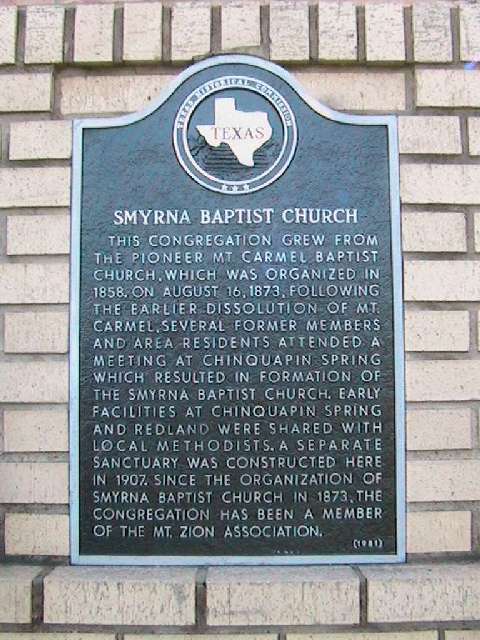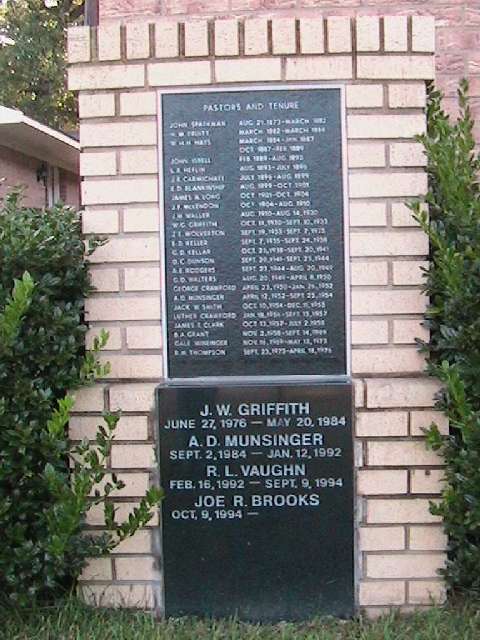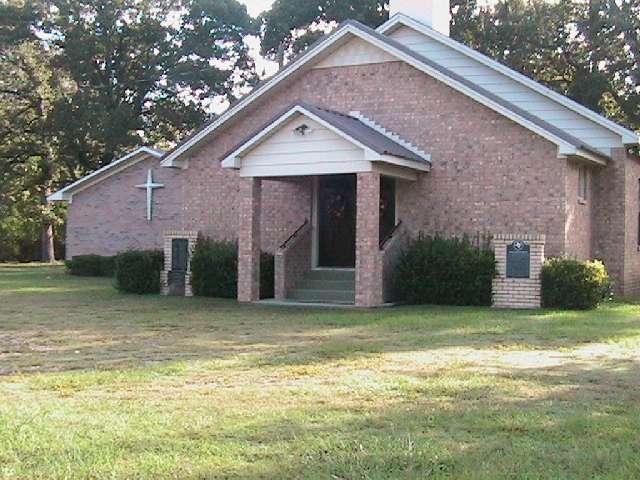 Pastors and Tenures

John Sparkman Aug 21 1873 - Mar 1882
W M Pruitt Mar 1882 - Mar 1884
W H H Hays Mar 1884 - Jan 1887
Oct 1887 - Feb 1889
John Isbell Feb 1889 - Aug 1893
L R Heflin Aug 1893 - July 1896
J R Carmichael July 1896 - Aug 1899
E D Blankenship Aug 1899 - Oct 1901
James A Long Oct 1901 - Oct 1904
J F McLendon Oct 1904 - Aug 1910
J H Waller Aug 1910 - Aug 14 1930
W G Griffith Oct 11 1930 - Sep 10 1933
Z E Wolverton Sep 19 1933 - Sep 7 1935
E D Kellar Sep 7 1935 - Sep 24 1938
G D Kellar Oct 23 1938 - Sep 20 1941
D C Dunson Sep 20 1941 - Sep 23 1944
R E Rodgers Sep 23 1944 - Aug 20 1949
G D Walters Aug 20 1949 - Apr 8 1950
George Crawford Apr 23 1950 - Jan 26 1952
A D Munsinger Apr 12 1952 - Sep 25 1954
Jack W Smith Oct 10 1954 - Dec 11 1955
Luther Crawford Jan 18 195 - Sep 15 1957
James T Clark Oct 13 1957 - Jul 2 1958
B A Grant Nov 2 1958 - Sep 14 1969
Gale Wineinger Nov 16 1969 - May 13 1973
R M Thompson Sep 23 1973 - Apr 18 1976