Historic Site
In a cow pasture on private property stands a lonely monument denoting that the cow pasture was once a thriving Native American village where Sam Houston signed a treaty with Chief John Bowles. Bowles had brought a group of about 60 families out of North Carolina to Missouri but was pushed first into Arkansas and then into Texas. On February 23, 1836, Texas was 8 days away from becoming a brand new country and Sam Houston its first president.
---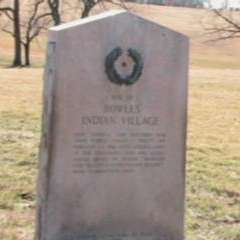 SITE OF
BOWLES'
INDIAN VILLAGE
HERE GENERAL SAM HOUSTON AND
JOHN FORBES SIGNED A TREATY ON
FEBRUARY 23, 1836 WITH BOWLES, CHIEF
OF THE CHEROKEES, AND HIS ASSO-
CIATED BANDS BY WHICH "DOMICILE
AND TILLAGE USUFRUCTUARY RIGHTS"
WERE GUARANTEED THEM.
---
Duwal'li (Bold Hunter), also called John Bowles or the Bowl, was born in North Carolina to a Scottish father and Cherokee mother. In 1836, he was about 80 years old. This treaty guaranteed him 1.5 million acres of land. Sadly, the treaty was declared invalid shortly after Texas declared its independence because the Cherokees had been briefly allied with Mexico before the Texans declared their independence. When Mirabeau B. Lamar succeeded Houston as President, he ordered Bowles and all the Cherokees out of Texas. The tribes refused and the issue was resolved at the Battle of Neches (Henderson and Van Zandt counties) where over 800 men, women and children were massacred by Lamar's troops between July 15-24, 1839. Bowles was wounded and then executed and his body mutilated. This was the last battle between natives and whites in Texas.
A monument at Flint marks the spot where Generals Edward Burleson, Thomas J. Rusk, Albert Sidney Johnston, Hugh McLeod, Kelsey H. Douglass and Colonel Willis H. Landrum camped before their attack. A sign near Rusk commemorates the village of Little Bean, one of the leaders of the group brought to Texas by John Bowles. A marker just north of Alto is at the last known camp of the Bowles tribe. Just east of Colfax, a marker shows where the main battle took place and another between Canton and Tyler marks the spot where The Bowl died on July 16, 1839. One final monument north of Lindale marks the last camp of the Texas Army before the soldiers returned to their homes after the battle.