The Daisy Bradford #3
On a recent outing, I was stopping at each historical marker I could find to photograph it. This one was just so typical East Texas that I had to show it. The marker is located at a picnic area on State Highway 64 just west of Joinerville. Pictures are below.
On October 3, 1930, the history of East Texas changed forever when "Dad" Joiner's third attempt at finding oil proved successful. The sleepy little area became famous around the world overnight. The Daisy Bradford blew in and produced up to 300 barrels of crude a day. The East Texas Oil Field was the largest deposit of oil known in the world.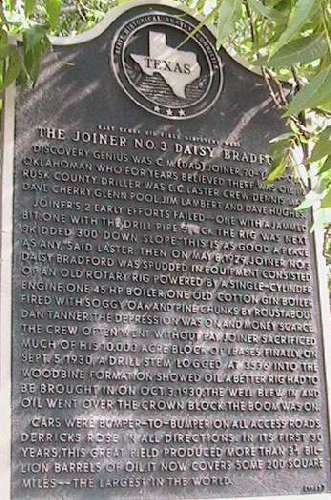 The marker reads:
East Texas Oil Field Discovery Well.
THE JOINER NO. 3 DAISY BRADFORD
Discovery genius was C. M. (Dad) Joiner, 70-year-old Oklahoman who for years believed there was oil in Rusk County. Driller was E. C. Laster. Crew: Dennis May, Dave Cherry, Glenn Pool, Jim Lambert and Dave Hughes. Joiner's 2 early efforts failed-- one with a jammed bit, one with the drill pipe stuck. The rig was next skidded 300' down slope. "This is as good a place as any," said Laster. Then on May 8, 1929, Joiner No. 3 Daisy Bradford was spudded in. Equipment consisted of an old rotary rig powered by a single-cylinder engine; one 45 hp boiler; one old cotton gin boiler fired with soggy oak and pine chunks by roustabout Dan Tanner. The depression was on, and money scarce. The crew often went without pay. Joiner sacrificed much of his 10,000 acre block of leases. Finally, on Sept. 5, 1930, a drill stem logged at 3536' into the Woodbine Formation showed oil. A better rig had to be brought in. On Oct. 3, 1930, the well blew in and oil went over the crown block. The boom was on. Cars were bumper-to-bumper on all access roads. Derricks rose in all directions. In its first 30 years, this great field produced more than 3.5 billion barrels of oil. It now covers some 200 square miles-- the largest in the world.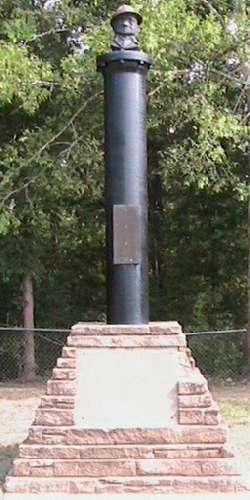 But what made it even more interesting were the picnic tables. Each one looks like this.