New Prospect Baptist Church & Cemetery
New Prospect cemetery is located 6.5 miles out hwy 43 E. Turn left or north on CR 273. Cemetery is a short distance up on the left.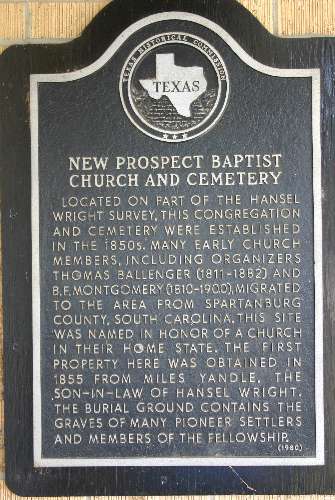 Marker Text
Located on part of the Hansel Wright Survey, this congregation and cemetery were established in the 1850s. Many early church members, including organizers Thomas Ballenger (1811-1882) and B.F. Montgomery (1810-1900), migrated to the area from Spartanburg County, South Carolina. This site was named in honor of a church in their home state. The first property here was obtained in 1855 from Miles Yandle, the son-in-law of Hansel Wright. The burial ground contains the graves of many pioneer settlers and members of the fellowship.