Harmony Hill Cemetery
From Tatum, take 43 southwest less than 5 miles. When you get to FM 1716 on the RIGHT, turn LEFT. Pass the Friendship Cemetery and follow CR 2183 until it curves to the left. Go to the 2nd intersection and cemetery is on the far right corner.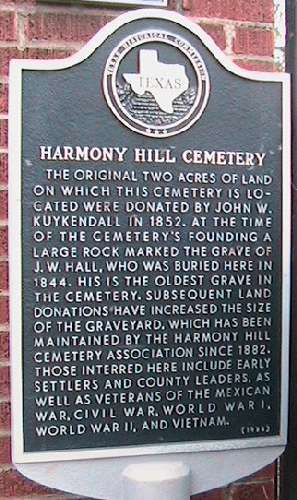 Marker Text
The original two acres of land on which this cemetery is located were donated by John W. Kuykendall in 1852. At the time of the cemetery's founding a large rock marked the grave of J. W. Hall, who was buried here in 1844. His is the oldest grave in the cemetery. Subsequent land donations have increased the size of the graveyard, which has been maintained by the Harmony Hill Cemetery Association since 1882. Those interred here include early settlers and county leaders, as well as veterans of the Mexican War, Civil War, World War I, World War II, and Vietnam.