Anadarko Rosenwald School
Thank you, Dorothy Franks, for letting me know about this new marker and sending the information.
Laneville-Allen High School Alumni Association, Incorporated, Anadarko - Rusk County, Texas, SEPTEMBER 3, 2016
Marker Text
In 1868, former slaves of Julien Devereaux's Monte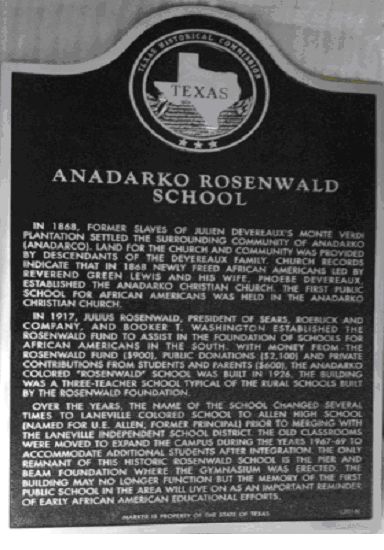 Verdi plantation settled the surrounding community of Anadarko (Anadarco). Land for the church and community was provided by descendants of the Devereaux family. Church records indicate that in 1868 newly freed African Americans led by Reverend Green Lewis and his wife, Phoebe Devereaux, established the Anadarko Christian Church. The first public school for African Americans was held in the Anadarko Christian Church.
In 1917, Julius Rosenwald, president of Sears, Roebuck and Company, and Booker T Washington established the Rosenwald fund to assist in the foundation of schools for African Americans in the south. With money from the Rosewald fund ($900), public donations ($2100) and private contributions from students and parents ($600), the Anadarko Colored "Rosenwald" School was built in 1926. The building was a three-teacher school typical of the rural schools built by the Rosenwald Foundation.
Over the years, the name of the school changed several times to Laneville Colored School to Allen High School (named for U.E. Allen, former principal) prior to merging with the Laneville Independent School District. The old classrooms were moved to expand the campus during the years 1967-69 to accommodate additional students after integration. The only remnant of this historic Rosenwald School is the pier and beam foundation where the gymnasium was erected. The building may no longer function but the memory of the first public school in the area will live on as an important reminder of early African American educational efforts. (2016)
A little more about
Rosenwald Schools
.