From Marvin Anderson to His Mother
The two Rusk Co Heritage Books contain the family of John T Anderson SR born Sept 4 1812 Georgia. His wife of Sarah Ann Rebecca Mickelberry born Oct 14, 1820 in Oglethorpe, GA. She is buried in Shiloh Cemetery, Rusk County. Their firstborn son was James Alden Anderson born 27 May 1835 in Butts County, GA. He had a son named William Marvin Anderson (who went by Marvin) born June 20, 1877 who became a teacher. He was teaching in Chapman, Rusk County Texas in 1898. He was a young teacher in Rusk County, age 21 who was not yet married. This letter survived dated 4 Feb 1898. It is addressed to his mother Orra Elizabeth (Taylor) Anderson, the wife of James Alden Anderson:

Feb 4 1898
Chapman Texas

Mrs. O.E. Anderson
Minden, Texas

Dear Ones,

Accept a few short remarks from me. I donít know hardly what to write as Iíve been cooped up in the school room all the week and therefore had not much opportunity of gaining outdoor knowledge. I have been very busy in school this week. Feel like my labors have been successful. Had a very nice time in school this afternoon. Several very pretty speeches. Had two visitors. I wish you all could have been down.

I am liking the pupils better and better each day. They seem to like me or at least they say they do in the little letters they write me. I havenít had to whip any this week.

The attendance is about twenty-five per day. I expect it will be very small by the time school closes. I am feeling very much better than I did when I was at home. I eat about as long as the old man now. I am taking my medicine. I think it will do me good. My nose is still giving me some uneasiness. I am using the saltwater remedy.

Ida, how are you "pools" and "ships" making it by now? Does yhour "ships" ever leak or your "pools" lever break? You know such things happen sometimes.

Pa, I sent off my letter to Judge Hall but havenít heard from him. I am not counting on that. I expect I shall have to work it out on the farm. I am trying to get to be very strong so that by the time my school closes, I can just make things happen. Now I think the very best thing for me to do now is to stop wishing. Much good will to all. A long life to each. I am--

Yours affectionately,
Marvin A.
Click for larger pictures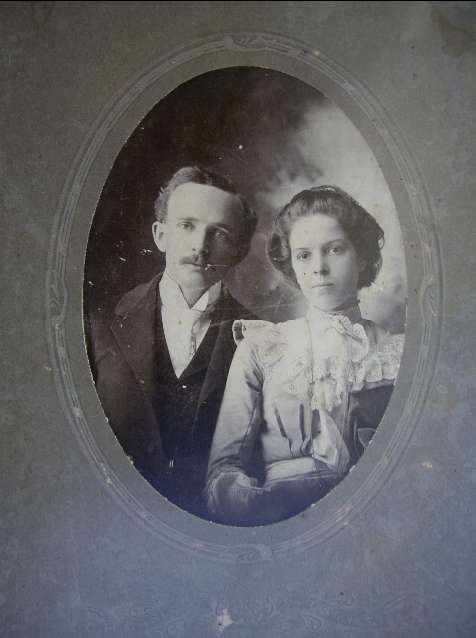 abt 1901
William Marvin and Emma F Houston Anderson
Emma b. 01 Oct 1880 is the daughter of Martilla Warren Houston.
later in life