Henderson, Texas
Rusk County's seat, Henderson is located at the junction of several highways. US 79 comes from Round Rock and continues into Louisiana and Arkansas; US 259 comes from Nacogdoches and drifts north to Interstate 20 and Longview. SH 64 connects us with Tyler and SH 43 travels through Tatum on its way north.
Henderson was named for James Pinckney Henderson, the first governor of Texas and was laid out in 1843. A fire destroyed much of the downtown area in 1860. The completion of the railroad in 1877 swelled its population to 1500 and by 1930, there were 3000 people in the town. But "Dad" Joiner's oil well made it a boomtown, literally overnight, with an increase to 10,000 citizens by 1933.
---
Left-Right
Front row

1. Coach J B Adams
2. Sid Oliver
3. "Pie" Cole
4. Thera Dell Cannon
5. Gail Doerge
6. Ann Laurence
7. Vincent Evans
8. Jean Mullins
9. Tom Moore
10 ? Reece
11. Not sure
12. Jack Thrasher
13. Clyde Propes
14. ?
15. Coach Guy Curtright

Middle Row

1. Adrain Gentry
2. James Dunn
3. O Z Walton
4. Earl Elliot
5. Arch Wylie
6. ?
7. ?
8. Orvil Todd
9. James Mansinger
10. Jack Gray
Back Row

1. ? Watt
2. ?
3. Jim Williamson
4. ? Skelton
5. James Farley
6. Talmadge Phillips
7. W R Dunklin
8. Michael Kangerga
9. Johnny Bateman
10. Bill McCarter
11. Otis Armstrong

Henderson High School - 1939. (118kb)
Can you put names to any of these faces? We've found a classmate with a good memory. She believes that this is the "H" Association, which was a group of people who lettered in athletics and cheerleading.
---


Henderson has played an important role in Texas history by being one of the major "gateways" into the state and there are many Historical Markers located through the city. My personal favorite is the Arnold outhouse which allows us the distinction of having the "Best Little Outhouse in Texas".
---


The Depot Museum
is located in Henderson along with the Children's Discovery Center, the first "hands-on" historical education center for children in the state.
---


We also have an authentic log cabin on the property, along with replicas of a printing office, a general store, and a dentist's office.
---
The
Rusk County Library
is on the square in historic downtown Henderson and contains a very good genealogical department.
106 East Main Street
Henderson, TX 75652
903-657-8557
---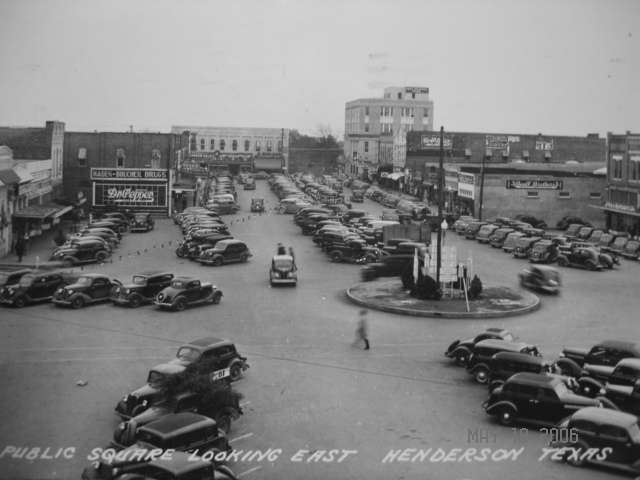 A classic photograph of downtown Henderson.
---
Other Local Attractions:
Main Street Project -
Downtown Henderson is a noted Historic District
Rusk County Youth Expo Center,
a mile west of the city is one of the finest facilities of its kind with every weekend booked for special activities.
Heritage Syrup Festival -
we close off downtown and spend a day in November reminiscing about our county's history.
Wildflower Trails -
there are three driving trails that offer spectacular photo opportunities in the spring. Contact
Henderson's Department of Tourism
for a brochure.
---
There are several cemeteries in town (or very close):
Davis Cemetery
Ebenezer Cemetery
Graham-Hall Cemetery
Lakewood Memorial Cemetery
Oberthier Cemetery
Old City Cemetery