Woodlawn Heights Cemetery
From Mt Enterprise, west on Hwy 84. Turn left (south) onto County Road 3207. Go about 1 mile and turn left (east) onto CR 3212.
The road splits the cemetery in half and walkways cut each half into thirds. I have numbered them sections 1-6, starting at the southwest corner. (catalog below)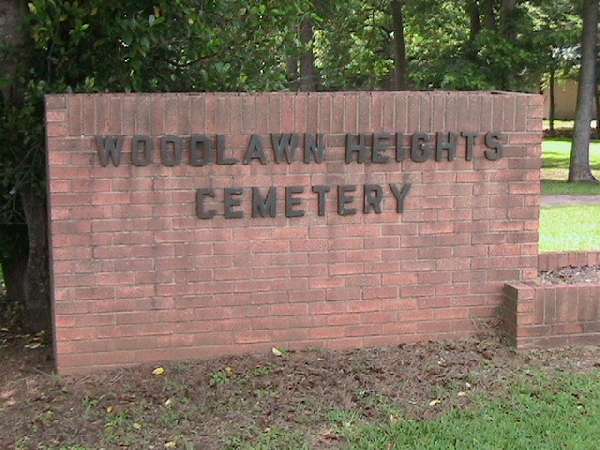 The earliest burial I found was in 1958. Gina, Oct 2009
There is an alphabetical list in the Archives and a complete set of photos on the Tombstone site.
Coordinates:
31°54.056N
094°41.025W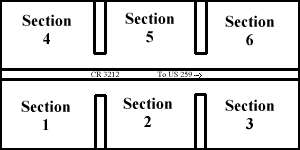 Suedmeyer Mary M 8 15 1919 - 12 12 1994 Sec 1 s/w Robert
Suedmeyer Robert R 3 2 1922 - 9 12 1999 Sec 1 s/w Mary
Torgerson James Reed 5 19 1956 - 8 18 1996 Sec 1 PV2 US Army Vietnam
Flanagan Clyde 12 13 1909 - 12 7 1985 Sec 1 Father s/w Lillian
Flanagan Lillian L 10 8 1913 - 1 31 1970 Sec 1 Mother s/w Clyde
Oliver Gladys M 5 24 1907 - 2 22 1983 Sec 1 Mother
Weems Williba I 8 1 1877 - 9 15 1966 Sec 1 s/w Nettie
Weems Nettie F 7 8 1882 - 8 5 1966 Sec 1 s/w Williba
Weems Millard Elton 10 22 1911 - 1 30 1993 Sec 1 A loving father
Weems Buena Moss 2 24 1913 - 6 19 2004 Sec 1 Married Oct 5, 1946, S SGT US Army WWII s/w Kay
Hall Betty McGee 2 3 1924 - 7 3 2004 Sec 1 Married Sept 26, 1996 s/w Russell Jr
Weems Danny Nolan 12 1 1948 - 8 20 2001 Sec 1 Love Lives On etching of a motorcycle
Boyles C B 7 24 1924 - 3 2 2002 Sec 1 Bryan Funeral Home marker, may be C. R. Boyles
Hatfield Bryan 10 30 1922 - 12 24 1994 Sec 2 Father s/w Dorothy and Bryan G
Hatfield Bryan Gene 8 6 1958 - 11 27 1988 Sec 2 Son s/w Bryan and Dorothy
Spivey Alaina Grace 8 26 1997 - 8 3 2001 Sec 2 We love you
Barrett Tobe 8 3 1939 - 8 5 1999 Sec 2 Gone but not forgotten Horse and rider with a hunting hound
Duke Michael "Mac" 10 26 1977 - 8 11 2000 Sec 2 Son, Brother, Too Damn Good, You will live on in our hearts etching of a pickup truck
Hemphill Thomas W 8 12 1932 - 3 6 1991 Sec 2 Precious Memories Mason emblem
Howard Nicholas James 10 14 1993 - 1 12 1994 Sec 2
Howard Lance 1962 - 2005 Sec 2 Forever in our Hearts
Culver Guy Latham 7 2 1938 - 12 19 2003 Sec 2 Too well loved to ever be forgotten, Married April 28, 1961 s/w Marcia
Horn Charles 5 13 1912 - 12 21 2006 Sec 3 Crawford-Crim-Bryan Funeral Home marker
Horn Rosalie M 1920 - 2008 Sec 3 Hawthorne Funeral Home marker
Bishop James C 9 8 1928 - 7 9 2003 Sec 3 PN3 US Navy s/w Rosalee
Mooney Shelby Sheyenne 4 11 1991 - Sec 3 Infant dau of Charles & Jeannine only one date
Matlock Infant Son 10 8 1963 - Sec 3 Infant son of Dick and Lavelle only one date
Gill Richard Delwin 6 21 1940 - 4 11 2003 Sec 3 (Bookie) Daddy, He lives, PFC US Army s/w Carolyn
Duke O'Brian Washborn 11 6 1925 - 4 9 1965 Sec 3 Married July 6, 1946, Texas S1 US Navy WWII s/w Tommie
Duke Tommie Ross 3 16 1928 - 6 23 2002 Sec 3 Married July 6, 1946 s/w O'Brian
Duke William O'Brian 6 13 1947 - 3 16 2004 Sec 3
Duke Tammy Michelle 9 17 1969 - 9 18 1969 Sec 3
Powers Lillian Mae 10 31 1943 - 8 24 2006 Sec 6 Granny
Fitzgerald James M 1 29 1898 - 12 16 1977 Sec 6 Wither thou goest, I will go s/w Nannie
Fitzgerald Nannie M 5 12 1908 - Sec 6 Wither thou goest, I will go s/w James (no death date)
Bowen David Jonathon 10 27 1983 - 12 1 1999 Sec 6 "Bo" Beloved son God's gift to us for 16 years etching of a buck in the woods
Bowen Bruce Arthur 11 8 1942 - 2 25 2006 Sec 6 Gone Home, MarriedFeb 22, 1964 s/w Darlene
Otwell Matthew 6 5 2002 - Sec 6 an infant
Prentice Levi Colton 8 1 2003 - Sec 6 Beloved son of Chad and Christi, 2 Samuel 12:22-23 only one date
Wade Novella M 10 9 1925 - 8 15 1999 Sec 6
Bellflower Stephen Jr 1982 - Sec 6 no other information
Brooks Billy Wayne 12 23 1941 - 4 17 1977 Sec 6 Your memory shall be our guiding star to Heaven, SPEC E5 CO B 1ST ARB 51 ST INF
Dillard Kathleene D 9 5 1947 - 7 31 1986 Sec 6 Your memory shall be our guiding star to Heaven
Shaw Harry M 5 17 1902 - 3 19 1987 Sec 6 Your love is our stairway to Heaven s/w Cecil
Shaw Cecil H 9 18 1909 - Sec 6 Your love is our stairway to Heaven s/w Harry, (no death date)
Short Cheryl Ann 8 9 1945 - 8 2 1995 Sec 6 We love you mom
Chapman Kathy D 8 17 1953 - 10 11 2007 Sec 6 Walking with angels
Garrett Jerry Lynn 7 5 1937 - 1 23 1975 Sec 6 SP4 US Army s/w Norman and Lillie
Garrett Lillie P 9 28 1916 - 10 16 1997 Sec 6 s/w Norman and Jerry
Garrett Rev J Norman 4 17 1911 - 12 29 1999 Sec 6 s/w Jerry and Lillie
Jimmerson Keith 10 13 1964 - 3 20 1984 Sec 6 Our beloved son s/w Billy and Gayle
Wallace Mamie Snowden 8 3 1897 - 9 21 1975 Sec 6
Wallace William Louis 4 6 1902 - 5 27 1978 Sec 6
Sangster Vera 1905 - Sec 6 Gone but not forgotten s/w Leeroy (no death date)
Sangster Leeroy 1897 - 1958 Sec 6 Gone but not forgotten s/w Vera
Oliver Maud M 10 23 1885 - 8 2 1962 Sec 6 s/w "Cap"
Oliver J V 9 22 1879 - 12 11 1962 Sec 6 "Cap" s/w Maud
Webb Thelma Oliver 11 14 1897 - 7 21 1959 Sec 6 At Rest
Webb George H 11 1 1891 - 5 31 1965 Sec 6 At Rest
Wilson Ennis L 6 25 1891 - 5 30 1962 Sec 6 In loving memory, Texas PVT CO A 1 DEVELOPMENT BN WWI s/w Mary
Wilson Mary Q 3 13 1895 - 10 25 1971 Sec 6 In loving memory s/w Ennis
McKnight Calvin G 1 18 1972 - 12 17 2000 Sec 5 "Cal" To live in the hearts of those we love is never to die
Sieffert Albert J 3 20 1919 - 12 17 2003 Sec 5 Married Oct 18, 1941 s/w Leoma
Barrett Elmer 12 6 1925 - 1 8 1993 Sec 5 A love that will never die, In loving memory of Daddy and Pop
Barrett Elmer Eugene Jr 8 8 1946 - 12 2 1995 Sec 5 Uncle, In loving memory of brother
Green Mollie D 5 11 1906 - 9 7 1977 Sec 5 In loving memory of Mother
Husband Ruth 9 14 1928 - 9 10 1982 Sec 5 Mother, In loving memory of Grandma
Barrett Buster 11 25 1934 - 7 20 1989 Sec 5 Yellow Rose of Texas etching of a guitar
Carroll Rhonda Kay 2 20 1952 - 2 9 2002 Sec 5 Singing with angels, Married June 13, 1998 s/w Gary
James Edward G 8 21 1947 - 11 28 1992 Sec 5 s/w Dee
Phillips Albert L 3 26 1906 - 10 5 1987 Sec 5 PFC US Army WWII a small stone says "BUD"
Morgan Evelyn Phillips 2 8 1912 - 9 8 1998 Sec 5
Morgan E A 9 20 1902 - 5 26 1985 Sec 5 (Papa) etching of a horse
Bunn Mary Kathryn 12 11 1925 - 4 10 2008 Sec 5 The next face I see will be Jesus
Melodie Carllene 7 23 1957 - Sec 47 only one date; no last name - probably BUNN
Breedlove Herbert A 12 21 1922 - 3 7 2006 Sec 5 "Herb" Married Oct 11, 1947, Loving father and Pawpaw, Texas A & M s/w Dovie
Breedlove John A 7 4 1900 - 3 1 1985 Sec 5 s/w Theola
Breedlove Theola H 12 25 1905 - 12 5 1962 Sec 5 s/w John
Jackson Bonnie 10 22 1922 - 10 21 2001 Sec 4 Crawford-A Crim Funeral Home marker
Boles Michael Ray 3 29 1944 - 11 3 1962 Sec 4
Evans Franklin Edgar 10 30 1893 - 7 17 1973 Sec 4 s/w Vivian
Evans Vivian 7 24 1897 - 9 15 1988 Sec 4 s/w Franklin
Bunn Russell Burton 5 28 1912 - 11 30 1992 Sec 4 MAJ US ARMY AIR CORPS WWII s/w Evelyn
Bunn Evelyn Ruth 6 3 1916 - 3 4 1980 Sec 4 s/w Russell
Tarrance J W 11 23 1880 - 5 11 1969 Sec 4 Married Aug 12, 1903 s/w Minnie
Tarrance Minnie 10 29 1876 - 6 7 1973 Sec 4 Married Aug 12, 1903 s/w J W
Phillips Ira M 9 30 1907 - 5 15 1981 Sec 4 Married July 18, 1943 s/w Ruth
Phillips Ruth T 7 9 1907 - 11 12 1973 Sec 4 Married July 18, 1943 s/w Ira
Phillips Robert Cecil 2 2 1955 - 11 26 2003 Sec 4 "Bob" etching of a grand piano
Phillips Robert Cecil 3 7 1911 - 12 16 1990 Sec 4 A loving memory s/w Dessie
Phillips Dessie Garrett 10 30 1913 - 11 27 1999 Sec 4 A loving memory s/w Robert
Gandy John V 9 14 1909 - 5 14 1983 Sec 4 We Love You s/w Aileen
Gandy Aileen G 6 26 1904 - 10 6 1971 Sec 4 We Love You s/w John
Reid William Glen 7 20 1914 - 9 14 1979 Sec 4 In Loving Memory s/w Jewel
Reid Jewel Barrett - Sec 4 s/w William
Barrett Frank G 5 4 1882 - 4 5 1979 Sec 4 Married March 5, 1912 s/w Sara
Barrett Sara L 3 20 1879 - 3 22 1963 Sec 4 Married March 5, 1912 s/w Frank
Barrett O Conrad 9 30 1935 - 9 21 1981 Sec 4 In Loving Memory
Barrett Odis 11 24 1912 - 3 21 1979 Sec 4 Mason s/w Maurine
Barrett Maurine E 4 20 1914 - 9 30 1970 Sec 4 s/w Odis
Casey Charles A 3 11 1891 - Sec 4 s/w Delia, no death date
Casey Delia Chaney 12 24 1890 - 12 24 1972 Sec 4 s/w Charles
Casey Marvin Orr 4 7 1913 - 7 15 1992 Sec 4 Married Nov 19, 1939, US Navy, World War II s/w Mary
Casey Mary E Lacy 11 12 1917 - 6 4 1999 Sec 4 Married Nov 19, 1939 s/w Marvin
Parker John 10 30 1872 - 1 25 1956 Sec 4 s/w Daisy
Parker Daisy 9 22 1881 - Sec 4 s/w John, no death date
Lacy Albert Terry 8 8 1897 - 6 30 1973 Sec 4 Married Feb 17 1947 s/w Elizabeth
Lacy Elizabeth Parker 11 12 1898 - 2 19 1968 Sec 4 Married Feb 17 1947 s/w Albert
Shumate George T 2 19 1923 - 1 19 2002 Sec 4 Beloved Husband, Stepfather & Gran Gran, Mason
Shumate Tom T 2 21 1893 - 11 26 1961 Sec 4 Married April 21, 1917 s/w Ruby
Shumate Ruby L 2 24 1896 - 6 8 1975 Sec 4 Married April 21, 1917 s/w Tom
Robertson Orvil Thomas 11 3 1912 - 12 1 2008 Sec 4 MSGT RET USAF s/w Norma
Sparks Dee 6 14 1910 - 3 25 1993 Sec 4 Married July 19, 1941 s/w Pauline
Phillips Alden W 2 14 1901 - 1 1 1979 Sec 4 Daddy s/w Elsie
Phillips Elsie H 1 28 1904 - 1 17 1973 Sec 4 Mother s/w Alden
Harvey Lewis Raymond 2 1 1968 - 12 7 2008 Sec 4 Los Malos Fe Patch #13 etching of a motorcycle
Self Norman L Jr 4 30 1964 - 8 26 1978 Sec 4 Bubba baseball etching
Self Norman 4 10 1928 - 5 26 2000 Sec 4 Chink s/w Barbara, etching of a guitar
Kuhn Lizzie C Self 9 16 1909 - 9 8 2004 Sec 4
Baker Charley Wayne 10 6 1946 - 6 19 1998 Sec 4 In Loving Memory
Baker Lynn Dale 4 17 1937 - 7 2 1972 Sec 4 Have Faith in God
Baker Dora O Z 11 7 1918 - 3 25 2006 Sec 4 In Loving Memory
Baker Samuel Clayton 6 8 1913 - 9 17 1990 Sec 4 In Loving Memory
Sparks William Carroll 7 22 1932 - 9 24 1997 Sec 4 Married Sept 3, 1977 - Jo Ann Sears Ramsey;
A family tribute carved in stone as a constant reminder of family bond tied together with all
our love, you were sent to us from our Father Above; a Loving Husband, Daddy and Paw Paw; PVT US Army Korea
Ramsey Charles E 7 29 1940 - 10 3 1975 Sec 4 Married Feb 2 1966; Chuck; Daddy; RCT US Army s/w Jo Ann
Barrett Eddie Lee 12 12 1922 - 3 26 1992 Sec 4 PFC US Marine Corps World War II
Barrett Judge Horace 8 7 1912 - 1 3 1989 Sec 4 Mason s/w Beatrice and Janette
Barrett Janette Elliott 12 12 1939 - 10 5 1979 Sec 4 s/w Horace and Beatrice
Yenchochic Kasara Celeste 1 12 1995 - 1 12 1995 Sec 4 s/w Lillie
Yenchochic Lillie Belle 4 15 1919 - 12 8 2003 Sec 4 s/w Kasara
Yenchochic Joseph Jr 3 4 1918 - 4 24 2003 Sec 4 PFC US Army World War II
Korth Guenther George 10 22 1909 - 7 6 1994 Sec 4 SGT US Army World War II
Korth Edna Barrett 4 9 1918 - 11 18 2000 Sec 4