Vinson Cemetery
From Tatum, turn west onto CR 1797 go about 2.5 or 3 miles. Cemetery is on the left behind a house. Watch for small white sign.
Contributed April 2007, by Carolyn Green (catalog below)
Coordinates:
32°19.062N
094°33.542W
There are photos at the Tombstone Photo Site.
Thanks to Michael Chanler for providing another photo.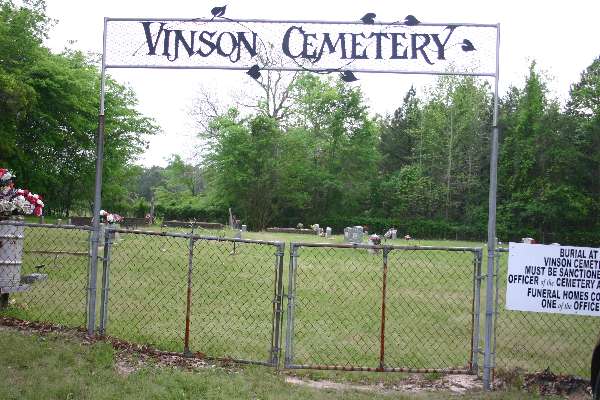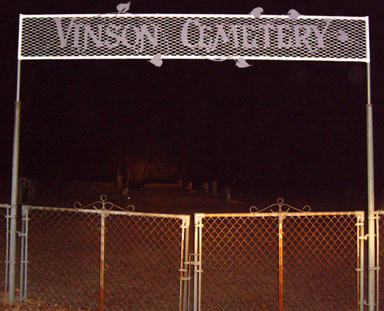 Last Name First Name Birth Date Death Date Comments
Lane Billy N. 1920 1941 Croley FHM
Lane Thomas Newton 1880 1933 Croley FHM
Lane A. C. No dates Died age 6 Croley FHM
Lane George W. Aug 03 1991 Feb 28 1941
Lane John W. Oct 02 1872 Feb 28 1959
Brothers James O. 1896 1953 TX Pvt Co C 2 Mg Bn 1st Div WWI
Brothers Isora B. 1900 1938
Brothers Myrtle L Jul 14 1923 No other date
Brothers Infant Oct -- 1933 Oct -- 1933
Brothers Luvina J. Dec 07 1860 May 19 1944
Brothers James F. Sep 24 1850 Mar 13 1924
Langston B. F. Oct 17 1923 Jul 11 1924
Langston Susan 1875 1927
Langston Densmore Joe Aug 07 1888 Dec 11 1942
Atkison Adell Capps Sep 05 1913 Jun 17 1991
Green Collie A. Oct 07 1893 May 16 1959 S/w Rachel A.
Green Rachel A. Mar 19 1909 Feb 20 1999 S/w Collie A.
Vincent John Robertson Jan 11 1878 Jun 06 1966
Vincent Hattie Free Oct 03 1880 Jun 25 1950
Vincent Son No dates S/o Mack & Addie
Vincent Gladys No dates FHM
Vincent Lorine No dates FHM
Capps A. W. Dec 22 1853 Jan 22 1940 "Father"
Capps Syntha E. Jan 01 1853 May 17 1905
Langston Thurman Jul 09 1911 Mar 24 1946
Womack Estell Oct 10 1906 Oct 10 1906 D/o TW & Estell
Deason Luke May 04 1925 May 04 1925
Vincent Judson Jul 05 1911 Aug 25 1911
Vincent Infant Mar 26 1908 May 01 1908 S/o JR & Hattie
Vincent Infant Mar 31 1904 Mar 31 1904 S/o JR & Hattie
Free William J. (Mrs) Jul 03 1857 Feb 21 1929
Keener L. F. Dec 19 1805 Mar 14 1857 Brick Vault
Deason Tommy Jan 04 1909 May 05 1925
Bryan Phereby H. Oct 29 1802 Feb 12 1857 Consort/o Regdon S.; Brick Vault
Womack Estell Nov 22 1880 Jan 05 1937
Womack J. W. Jan 09 1877 Feb 06 1941
Womack T. W. Jan 09 1873 Feb 25 1941
Unmarked Two Graves
Mason Johnny B 1928 1929
Vinson Henry H. Feb -- 1805 - B: Johnson Co NCStone broken
Vallee Robert L. Nov 01 1951 Nov 03 1951 S/o Jack & Ilyne
Vallee Jack P. 1924 1953 Father
Holman T. D. Feb 07 1857 Feb 07 1929
Holman George Irie Oct 20 1936 Mar 02 1937
Shelton Peggy Lee Feb 12 1956 May 22 1963
Unmarked Two Graves beside P.L. Shelton
Jennings Infants Sep 26 1931 Sep 26 1931 Ds/o Henry & Azell
Redding Jo Ann Sep 05 1913 Jun 26 1991 "Nonnie"
Greer Mary F. Dec 18 1920 Aug 13 2001
Greer Emeral E. Mar 15 1917 Aug 21 1995 US ARMY WWII
Langston M. A. (Bunck) 1880 1955 s/w Sarah F.
Langston Sarah F. 1885 Jul 15 1969 S/w M. A.
Summers Julia Ruth Vincent Mar 01 1942 Mar 04 2006
Newby Marjorie Nov 27 1928 Jn 14 1996
Vincent Julian Oct 30 1905 Jn 10 1994 S/w Theo R.
Vincent Theo R. Sep 27 1908 Feb 24 1994 S/w Julian
Vincent Gwindle Marie Apr 13 1934 Jul 08 1936 D/o Julian & Theo
Vincent J. P. (Jimmy) Dec 25 1845 May 04 1924
Vincent Lizzie Jan 01 1847 Jun 27 1924
Vincent Abner Shaw Oct 25 1881 Dec 01 1881
Mills Jesse D. no date Apr 15 1936 TX Pvt. 1 Gas Rgt
Mills Etta Lena (Mrs) 1897 1939
Allen Mattie O. Dec 17 1880 Jan 04 1948
Allen J. M. 1885 1942
Vinson Infant Feb 23 1897 Feb 23 1897 S/o Mack & Nina
Finley Delia 1889 1968
Finley Charles O. 1880 1954 "Father"
Vincent Bessie F. 1914 2006 "Wife"
Vincent James W. 1909 1951 "Husband"
Vincent Howell D. 1920 1947 "Son"
Vincent Infant Mar 21 1913 Mar 27 1913 S/o TH & BL
Vincent Birdie Lee 1883 1927 "Mother"
Vincent Thomas H Feb 16 1875 Feb 17 1964
Cole Ruben Royce Jan 14 1945 Aug 12 1989 SP4 US ARMY VIETNAM
Cole J. H. 1877 1927 Child's grave at the head of this stone 1938-1938
Cole Bine Jun 27 1882 Mar 05 1973 S/w Mae
Cole Mae Jul 04 1882 Sep 22 1975 S/w Bine
Jordan Thomas M. Oct 30 1888 Aug 07 1965
Jordan Myrtle M. Aug 25 1888 Sep 04 1963
Jordan Cecil T. Aug 01 1911 Jun 25 1915
Wilkinson Barney No dates No dates
Vinson James M. - Jun 08 1932
Vinson Rosette - Jun 08 1930
Vinson Jimmy W. (Cricket) Feb 15 1959 Sep 21 1968
Vinson Leon Feb 09 1907 Jun 22 1980 FHM hard to read
Vinson Dale Mar 09 1955 Sep 28 1988
Cole Joe E. Jan 26 1898 Mar 07 1965 S/w Bessie M.
Cole Bessie M. Oct 15 1908 Jan 25 1982 S/w Joe E.
Cole Billy Frank Jr. Dec 28 1971 Jun 05 2004
Cole Matthew Henry Oct 06 1850 Jun 08 1925
Epstein Edward M. Apr 23 1915 Apr 16 1990
Cole Delbert W. May 09 1948 Nov 25 1991 SP4 US ARMY VIETNAM
Capps Albert F. Mar -- 1890 Aug -- 1948
Capps Mary R Sep 02 1898 Apr 03 1973
Capps William Russell Feb 15 1957 Feb 15 1957
Capps Ola Louise Feb 21 1926 Jun 21 2003 S/w W. Russell
Capps W. Russell Mar 09 1919 May 02 1973 Age: 54 . s/w Ola Louise Pvt US ARMY WWII
Jennings Gene Sep 21 1964 Sep 22 1964 S/o M/M Jack Jennings
Vincent James W. Dec 20 1957 Dec 21 1957 S/o Calvin & Jerry
Free Homer J. Nov 20 1890 Jan 02 1984 S/w Rosa B.
Free Rosa B. Apr 06 1898 Oct 11 1980 S/w Homer J.
Ferguson Dale Edward May 11 1954 Jan 24 1990
Ferg? Pearl Feb 22 1931 Mar 27 1940
Fry Mollie Cook Mar 28 1894 Jan 05 1990 S/w Pressley
Fry Pressley Apr 21 1884 Jan 19 1949 S/w Mollie Cook
Cook Alma L. 1925 1973 S/w Walter L.
Cook Walter L. Jun 25 1909 Jun 19 1959 S/w Alma L.
Fry Pearl No date 1939
Cook Charlie L. Oct 11 1889 Nov 19 1956 S/w Lucy
Cook Lucy F. Jul 07 1875 Aug 28 1941 S/w Charlie L.
Cook Jack No date 1941
Cook Jerry G. Jul 25 1957 Jul 25 1957
Cook Willie Mar 18 1903 Aug 10 1942
Walker Phillip H. Dec 13 1930 Sep 28 1993
Allen Eugene Mar 05 1914 Dec 01 1996 PFC US ARMY WWII
Taylor Betty C May 18 1936 Mar 08 2000
Sharp John E. 1905 1982
Sharp Thelma 1906 1996
Graham Ernie W. 1960 1981
Holm Eberhardt O.L. Feb 02 1906 Jan 31 1973
Holm Fay Lucille Jan 14 1908 Nov 18 1974
Vinson Mack Nov 15 1849 Sep 09 1936 S/w Nina V. Watson
Vinson Nina V. Oct 24 1878 Jun 06 1962 S/w Mack
Vinson Clara (Mrs Mack) Aug 23 1902 Aug 23 1978 S/w Mack Jr
Vinson Mack Jr. Dec 31 1898 Aug 29 1971 S/w Clara
Vinson Olian Jul 07 1925 Nov 04 1973
Unmarked three Graves
Unmarked Two Graves
- Nina 1900 1904 No Last Name