Union Grove Cemetery
From Laneville, go north on FM 225 several miles. Turn right (east) onto CR 377. (NOTE: CR 381 D does NOT go through to FM 225.) Go about one mile, turn right (south) onto CR 378. Go to the end of the road and turn right (west) onto CR 381 D(eadend). This road makes a hard right and cemetery is at the end.
Less than 10 years ago (from 2007) there was a church at this location but it was destroyed by either a fire or tornado. I remember hearing about it but cannot remember which it was. All that remains is the steps.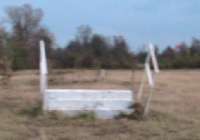 Coordinates:
31°03.074N
094°47.384W