Talley Cemetery
From Mt Enterprise, take take Hwy 259 north to CR 3201 and turn left (west). Go about 1.7 miles and cemetery is on the right.
I took the names listed below from photos located on the Tombstone Photo page, the list is not complete.
Gina Heffernan
Coordinates:
Lat 31.9313889
Lng 94.7158333
There is a catalog at Cemeteries of Texas.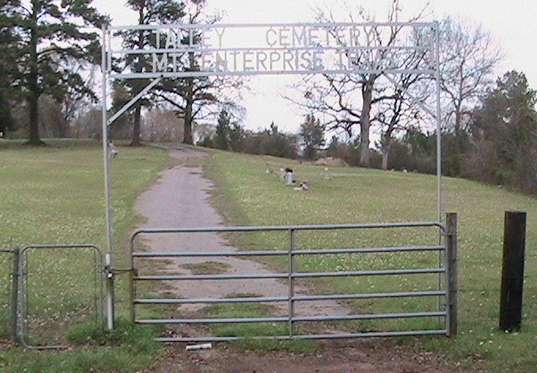 Lizzie Coleman 1866-1923
Quincy Coleman 1861-1933
Mammie Harper 1868-8/26/1913
Smith Harper 1865-1/9/1946
Carl W Hill 5/1/1945-?
Nanie Johnson 1869-1958
Will Johnson 1867-1957
Charles Smith April 24? - May 29 (no years)
Roxieaner Smith 12/22/1862? - 5/7/1924
Willis Smith 1862-1940
Burgess Stein Jul 1859 - 10/28/1922 h/o Lola
Lola M Stein 8/15/1866-1/9/1959 w/o Burgess