Starr Memorial Cemetery
From Kilgore, go south on 135 to Laird Hill. Turn left (east) onto FM 2012. Pass CR 168 and watch for cemetery sign on right. Drive is on left, cemetery is behind the house.
Photographed May 2007 by Gina Heffernan
Coordinates:
32°19.779N
094°53.740W
This is a small family cemetery.
There are photos of these stones at the Tombstone Photo site.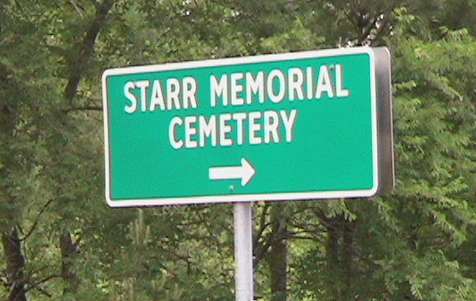 Isaac, Rev. Adolphus 11/22/1917 - 04/17/1988 s/w Cassie
Isaac, Cassie Mae No dates s/w Adolphus
King, Clarence 03/30/1920 - 04/25/2001 s/w Ora
King, Ora Starr 04/28/1918 - 04/03/1977 s/w Clarence
Pruitt, Evie Starr 12/14/1913 - 05/28/1999
Pruitt, John Wesley 03/24/1907 - 02/14/1976 PVT US ARMY WWII
Roberson, Victoria Starr 06/03/1916 - 12/05/1993 "An inspiration to all who knew her"
Starr, Daisy 08/16/1884 - 03/23/1982 s/w Willie
Starr, Willie 08/27/1874 - 01/23/1968 s/w Daisy