Saint John's Cemetery
aka Steber Grove
From Kilgore, take FM 1249 east. Turn right (south) onto FM 2276. Go about 2 miles and watch for the green sign on the right, the church is on the left. The cemetery is next to the church.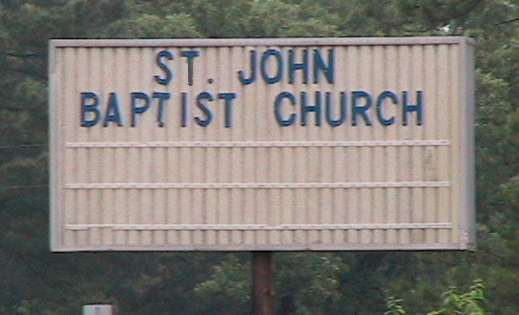 Coordinates:
32°18.830N
094°48.415W
Thanks to Michael Parson for contributing his work on this cemetery.
There are a few general pictures at the Tombstone Photo site.
Ashley, Claud C 11 Sep 1925 30 Sep 1988 U.S.Navy WWII
Askew, Franzetta Deshaun 11 Jun 1965 23 Feb 1991
Askew, Leorn 22 Sep 1925 31 May 1996
Askew, Lorine 14 Oct 1907 04 Nov 1992
Crane, Katherine 26 Sep 1927 16 Jan 1988
Daniels, Arvie Louis .. ... 1924 .. ... 2003
Ector, Manelle M 27 Jul 1962 26 Dec 2000
Hall, Iona 25 Jul 1923 14 Feb 1998


Hall, J C .. ... 1892 .. ... 1980
Hall, Willie 20 Jul 1924 30 Nov 1986 U.S.Army
Hamilton, Donald 31 Jul 1918 20 Aug 1988
Hamilton, Jack Elder Jr 23 Aug 1940 17 Apr 2008 U.S.Navy
Hamilton, Verneitta R 27 Feb 1934 17 Jan 2006
Hendrix, Bulah W 05 Aug 1903 20 May 1994
Holm, Bill 08 Mar 1926 15 Jan 1993
Johnson, Francis 11 May 1935 29 May 1990
Kelly, Audrey Smith 07 Apr 1924 18 Nov 1993
Leverett, Thomas? .. ... 1962 .. ... 1989
London, Wade Joshua 30 Jan 2007 30 Jan 2007
Manning, Robert 30 Jul 1928 09 Aug 2010
Mapps, Mary A Smith 04 Sep 1924 02 Jul 2002
Mitchell, Isach .. ... 1949 .. ... 2010 Dearion & Davis FHM
Pegues, John T 20 Dec 1954 10 May 2006
Pegues, Marilyn Denice 07 Aug 1966 24 Mar 2001
Pegues, Winn S 23 Jul 1958 30 Nov 2005
Pierce, Anna Lee 01 Jul 1902 07 Dec 2001
Pierce, Margaret .. ... 1943 .. ... 2012 Cunningham FHM
Pipkins, Anna Bernice 26 Mar 1928 06 Sep 1999
Pipkins, Harlequin T 21 Dec 1928 .. ... ....
Rettig, Era Lois "Sissy" 31 Aug 1919 14 Apr 2005 Victory FHM
Roberson, Ida Jewel Smith 21 Mar 1932 15 Jan 2011
Robertson, Johnny 06 Mar 1952 18 May 1973
Robinson, Tom Dempsey .. ... 1936 .. ... 2010
Sanders, Kevin DeJuan .. ... 2004 .. ... 2004
Sheppard, George L 12 Jul 1936 30 Oct 1991
Sheppard, Jimmy L 26 Aug 1929 13 Aug 1995
Sheppard, Virgle .. ... 1943 .. ... 1993
Sibley, A V 21 Jan 1954 13 Jun 1998
Sibley, Dwight 21 Nov 1955 07 Sep 1976
Sibley, Emma Louise Smith 12 Aug 1939 07 Nov 2008 Dau of Lomer
Sibley, Eula Mae Williams 24 Dec 1911 26 Aug 2006
Smith, Cornelius C 13 Sep 1973 15 Sep 1973
Smith, Emerson 09 May 1932 03 Feb 2007 Victory FHM
Smith, Emma Sue 13 May 1894 05 May 1982
Smith, Herma Jean 15 Sep 1939 02 Jul 2007
Smith, Lameka 25 Jan 1981 22 Dec 2001
Smith, Larry 14 Apr 1957 05 Feb 1996 U.S.Army
Smith, Lee D 10 Oct 1935 27 Nov 1987 FHM
Smith, Lomer Dudley 07 Aug 1904 20 Jun 2005 Next to V.Hamilton
Smith, Mitch Carter 20 Oct 1972 26 Oct 1989
Smith, Randy Keith 01 Mar 1963 27 Mar 1981
Stafford, Linda Anthony 20 Apr 1955 22 Aug 2010
Steber, Bobby Ray 07 Jan 1964 01 Aug 2000
Swindle, Sam Dexter 19 Apr 1965 14 Feb 2005
Toliver, Regina .. ... .... .. ... ....
Toliver, Robert Jr 08 Jul 1948 19 May 1976
Walker, Annie 09 Feb 1927 24 Sep 2003
Walker, David Jr 18 Jan 1927 07 Mar 2011
Wheat, Robert Lee Jr 30 Oct 1941 05 Jul 2005 U.S.Army
Wheat, Roberta T 18 Mar 1918 14 Jul 1977
White, Christopher D 29 Feb 1972 11 Jul 1998
White, Myrtle Mae 05 May 1930 04 Mar 2010
Williams, Annie Ruth English 18 Feb 1923 20 Aug 2008
Williams, Charlie B 07 Mar 1909 04 Sep 1993
Williams, Christopher B 30 Nov 1917 14 Dec 1995
Williams, Johnny L 05 Feb 1954 01 Jul 1979
Williams, Linda Helen 06 Jun 1958 07 Oct 2005
Williams, Maurine 07 Jan 1932 29 Apr 1985
Williams, Thomas 10 Sep 1927 23 Dec 1987