Pine Grove Baptist Cemetery
From Mt Enterprise, north on Hwy 259 .3 mile. Turn left (west) onto CR E Panola (CR 3206). Drive 4.7 miles, see Pine Grove Baptist Church on the left. The cemetery is behind the church.
There are photos of most of these at the Tombstone Photo page. Some markers are missing.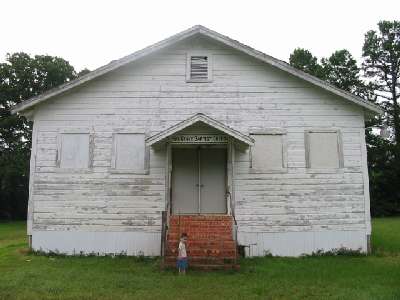 Gina Heffernan
Coordinates:
Lat 31.9138000
Lng 94.7558500
There is another catalog in the Archives.
h/o - husband of
w/o - wife of
s/o - son of
d/o - daughter of
s/w - shares a stone with
WOTW - Woodmen of the World
UNKNOWN M_RD _ONALD 1927-1988 (funeral home marker)
Adams, Elbert 23 Aug 1910-29 Nov 1987 PFC US ARMY WWII
Adams, Joe 25 Dec 1863-15 Dec 1957 s/w Matilda
Adams, John Elex 30 Jul 1904-27 Nov 1962
Adams, Matilda 21 Nov 1877-17 Feb 1956 s/w Joe
Allen, Neal 1908-1978
Ballard, Brianna Machelle 30 Aug 2006-? only date (infant)
Ballard, Cardell N 31 Jul 1933-02 Mar 1998 s/w Carrie
Ballard, Carrie M 26 Jul 1938-? s/w Cardell
Ballard, Eva 11 Jan 1909-27 Dec 1988 s/w Linord
Ballard, Linord 13 Feb 1906-18 Jul 1960 s/w Eva
Ballard, Raythl 10 Mar 1931-18 Nov 1964
Booker, Roland 24 Jan 1898-16 Aug 1980 PVT US ARMY WWI
Bryant, James L 04 Oct 1939-10 Oct 1939
Campbell, A C 03 Apr 1956-25 Feb 2004
Crain, Benard 06 Mar 1895-01 May 1977 s/w Lottie
Crain, Lottie 30 Jul 1904-30 Jul 1987 s/w Benard
Day, Armon 24 Jan 1925-25 Jul 1941
Garrett, Cilvia 21 Mar 1905-01 Jun 1905
Jackson, Donnie 18 Jun 1906-10 Aug 1992
Jackson, Novella Ballard 28 Jul 1914-17 Nov 1975
Johnson, Eula B 04 Oct 1910-16 Nov 1988
McClelan, Tom 12 Mar 1840-19 Sep 1930 h/o Ellen, Mason
McClellan, Clarence L 24 Apr 1937-23 Feb 1976
McClellon, Adolphus 22 Aug 1919-25 Aug 2004 US Army
McClellon, Cinderella 25 Dec 1885-25 May 1974
McClellon, Ellen 01 Apr 1840-01 Jan 1932
McClellon, Elmina 1880-1961
McClellon, Gus 16 Jul 1921-18 Apr 1970 CPL US ARMY WWII
McClellon, Myra 01 Jan 1872-22 Apr 1932
McClellon, Ogburn 04 Mar 1912-21 Jul 1940
McClellon, Tommie 1915-1964
McClelon, Willie 1880-1936
Moreland, Mary Lou 09 Feb 1929-25 Oct 1964
Morland, Luecindia Clay 06 Mar 1857-22 Mar 1936
Punch, Delois 18 May 1918-21 Apr 1941 d/o Cinda McClellon
Roberts, Phylice 14 Feb 1902-10 Jul 1987
Ross, Sallie 03 Mar 1893-12 Feb 1982
Ross, Tom no dates- Texas PFC US ARMY WWI
Sirls, Joe 1925-1975
Smiley, Joeana 21 Jan 1915-18 Aug 1998 s/w Sanford & Josephine
Smiley, Josephine Roberts 16 Jan 1936-02 Nov 1991 s/w Joeana & Sanford
Smiley, Sanford 04 Apr 1915-16 Jan 2006 s/w Joeana & Josephine, Mason
Taylor, Baby Shelton 1988-? only date (infant)