New Hope Cemetery
From the traffic star, take Hwy 259 N a short distance until you get to Hwy 782 (aka the Chicken Feather Rd). Turn right on Hwy 782 and go 3.2 miles until you get to an unmarked dirt road on the left side of the highway. There will be a "New Hope Cemetery" sign on the right side of the highway. Turn left and drive a short distance until you come to a gate that blocks the road. Turn left on the road that is on this side of the gate and follow the road up the hill to the cemetery on the right. This is a small and well-kept cemetery still in use today with the earliest burial dated 1932.
Carolyn Green, May 2007. (Survey below)
Coordinates:
Lat 32.2171021
Long -94.7693792
Thanks to Michael Chanler for providing these photos. There is a complete set of photos at the Tombstone Photo site.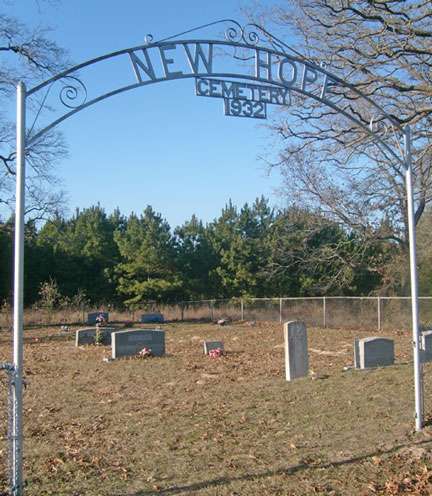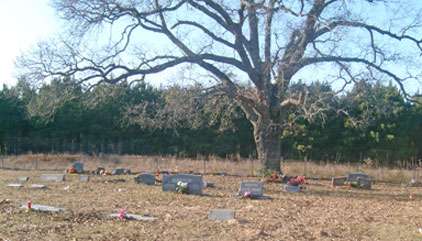 Row 1
Grant, Atlas M. 03/14/1909 05/03/1985
Grant, Naomi E. 09/23/1915 04/12/1985
Mayden, Leon Lawrence 1914 1977 PVT, US ARMY, WWII
Smires, A. J. 08/25/1929 08/05/1993 s/w Evelyn
Smires, Evelyn 01/17/1929 08/19/1998 s/w A. J.
Bryant, Milton Eugene 07/14/1928 10/13/2005 US AIR FORCE, KOREA
Green, Mary E. Cox 12/10/1913 05/30/1982
Lyles, Beulah B. 03/08/1909 10/27/1996
George, Mildred Maurine 07/14/1928 05/15/1982
Hampton, Richard Keith 07/20/1974 07/20/1974

Row 2
Hampton, George Henry 03/02/1898 02/26/1974 s/w Annie Florence
Hampton, Annie Florence 08/20/1901 05/26/1992 s/w George Henry
Hampton, Richard Watkins (Dick) 05/13/1927 05/06/1978
Smith, Charles Allen 08/08/1904 09/07/1983
Smith, Blake 01/27/1884 11/06/1954 s/w Gus W.
Smith, Gus W. 01/03/1868 08/14/1947 s/w Blake
Watson, Seab A. 06/11/1891 11/19/1935
Hawkins, Ella N 1881 1956 FHM
Barnes, John A. 1893 1948
Barnes, Artie G. 1898 1955
Baby no dates between Barnes & Watson
Watson, Madeline Lee 1909 1997
Lee, John Wilson 1871 1961
Lee, Jessie M. 1876 1932
Brown, Kathleen Mildred Lee 09/27/1904 10/14/1996
Lee, H. Wilfred 1901 1936
Young, Imogene 03/17/1929 06/26/1986
Young, Roy Lee 03/04/1902 05/26/1995 s/w Clara B.
Young, Clara B. 09/18/1904 03/01/1985 s/w Roy Lee
Young, Lillie Fay 1923 1932
Smith, George R. 05/28/1911 07/17/1979 s/w Bonnie L.
Smith, Bonnie L. 12/16/1916 no date s/w George R.
Smith, George Lynn 03/07/1937 01/15/1939

Row 3
Stokes, Willie H. 12/06/1890 02/26/1975
Allen, Pleasant T. 06/09/1855 02/20/1933 s/w Martha C.
Allen, Martha C. 03/23/1855 11/13/1948 s/w Pleasant T.
Young, George L. 1868 1965 s/w Nancy E.
Young, Nancy E. 1868 1941 s/w George L.
Dunn, Donald Ross 12/07/1907 07/31/1997 s/w Mattie Adell
Dunn, Matie Adell 03/16/1911 04/16/1990 s/w Donald Ross
?, Mary E. no dates FHM between D.Dunn and G. Dunn
Dunn, George Lora 1932 no date FHM between Mary E. ? & FHM Young
Young, no dates FHM
Fletcher, Octavia Young 06/18/1891 12/10/1939
Fletcher, James N. "Jim" 07/09/1882 11/12/1936
Garvin, Mattie 09/14/1888 no date s/w George T.
Garvin, George T. 09/02/1872 06/10/1949 s/w Mattie
Garvin, Mildred Janet 02/23/1930 03/06/2005
McCaghren, Jerry Ray 12/02/1964 01/05/1965
Garvin, Margaret L. 10/23/1913 10/21/1994 s/w Fonzie W.
Garvin, Fonzie W. 03/16/1908 07/28/1961 s/w Margaret L.
C. G. no dates stone between Mary Garvin & Fonzie Garvin
Garvin, Mary G. 1904 1976

Row 4
Norris, Bonnie Belle 06/27/1911 03/10/1999
Norris, Thomas M. 02/02/1877 05/11/1969 s/w Cornelia A.
Norris, Cornelia A. 01/23/1881 08/22/1968 s/w Thomas M.
McElyea, Addie Norris 01/12/1908 01/28/2001
Scogins, Kenneth Brian 09/23/1932 01/31/1992
Scogins, Donald Richard 1931 1980 A2C US AIR FORCE, KOREA
Scogins, Leonard F. 08/19/1927 02/09/1939
Scogins, J. Leonard 02/06/1904 02/11/1937
Scogins, Elizabeth 09/08/1909 11/30/1977
Baby Mayden no dates
Baby Grant 1936
Baby Grant 1934
Baby Grant 1941
Howard, Jaynes 1946 1995 FHM
Gray, Bobbie F. 05/17/1939 01/14/1996
Gray, Joe Lynn 06/30/1935 09/03/???? FHM can't read

Row 5
Young, Jennie Louise no dates
Young, W. F. (Joe) no dates
Young, Billie Joe 05/28/1937 06/03/1937
Clamp, Forrest H. 02/17/1909 04/06/1973 s/w Mary D.
Clamp, Mary D. 04/28/1893 11/16/1974 s/w Forrest H.
Duncan, Ella 1866 1953 s/w Clara, wf of Frank
Duncan, Clara 1906 1987 s/w Ella
Black, Lee Frances Forbus 09/27/1944 09/19/2001

Row 6
Forbus, Robert Homer 03/01/1943 09/05/1965
Forbus, Lacy T. 04/29/1906 07/10/1965 s/w Verna
Forbus, Verna 03/29/1911 07/29/1984 s/w Lacy T.
Pool, Felix J. 1882 1963 s/w Felah C.
Pool, Felah C. 1894 1963 s/w Felix J.
Decker, Leo Delbert 04/15/1930 06/29/?? A1C, US AIR FORCE, KOREA
Decker, Leonard D. 11/03/1952 01/04/2001
Vermeer, Arnold no dates FHM
Linton, Liz no dates FHM
Vermeer, Deloris no dates FHM
Decker, Mike no dates FHM
Copeland, Anthony 04/11/1960 06/11/2002
Young, Arch H. 1883 1961 s/w Mittie O.
Young, Mittie O. 1886 1977 s/w Arch H.
Shepard, Mitabeth Barrett 07/27/1941 11/25/2000 s/w Jack
Shepard, Jack April ? no date s/w Mitabeth Barrett
Barrett, Casey Levan 09/23/1909 08/22/1996 s/w Martha Young
Barrett, Martha Young 10/27/1917 no date s/w Casey Levan