Holleman Cemetery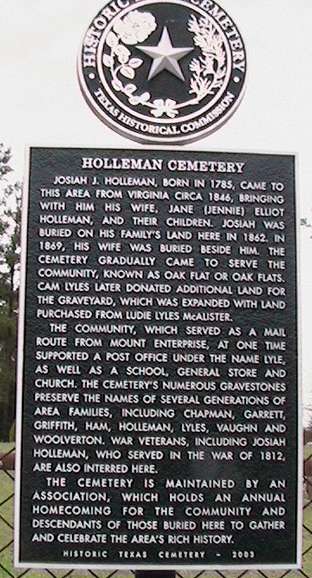 From Laneville, take FM 1798 east to FM 2496. Go southeast (right) to Oak Flat. Turn right at the Smyrna Church onto CR 3161. Turn right at the "T" onto CR 3158D. Cemetery is on the right at the end of the road.
April 7, 2007 Gina Heffernan
Partial catalog below from Carolyn Green
Coordinates:
31.5637N
094.4627W
There is a complete catalog at the Cemeteries of Texas site and photos for the names listed below at the Tombstone Photo page.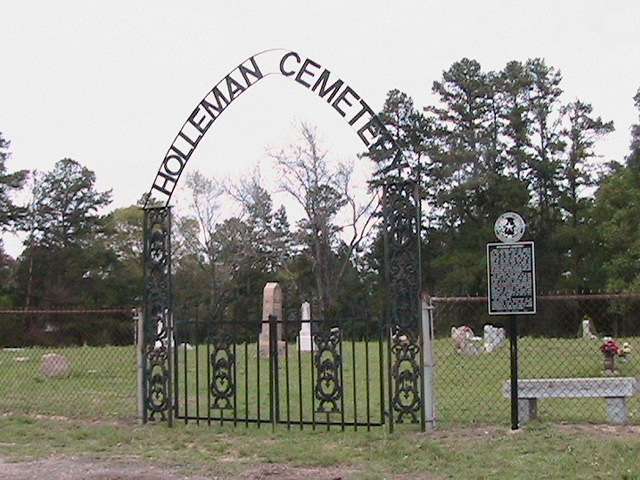 m. = married
w/o = wife of
h/o = husband of
c/o = children of
d/o = daughter of
s/o = son of
WOTW = Woodmen of the World
Holleman, Louise 09/26/1920 06/16/2002 s/w Clarence D & Evelyn
Holleman, Clarence D. 11/01/1912 02/10/1977 s/w Louise & Evelyn
Holleman, Evelyn 09/28/1913 06/05/1935 s/w Louise & Clarence D.
Holleman, Robert Houston 09/30/1857 04/13/1941 s/w Nancy Jane Vaughn
Holleman, Nancy Jane Vaughn 02/24/1854 05/05/1936 s/w Robert Houston
Holleman, Alice J. 02/04/1892 01/11/1969 s/w Moody C. & Dee
Holleman, Moody C. 06/05/1890 02/24/1973 s/w Alice J. & Dee
Holleman, Dee 03/11/1893 11/02/1912 s/w Alice J. & Moody C.
Holleman, Lucy 03/18/1855 10/17/1917 s/w M. V. & Lou
Holleman, M. V. 01/07/1842 09/24/1927 s/w Lucy & Lou
Holleman, Lou 07/06/1848 02/11/1878 s/w Lucy & M.V.
Holleman, William Arthur 02/21/1817 01/23/1888 s/w Malinda Gwin
Holleman, Malinda Gwin 11/01/1819 03/19/1897 s/w William Arthur
Holleman, Josiah J. 1785 1962 s/w Jane Elliot & Josiah John
Holleman, Jane (Jennie) Elliot 1792 1869 s/w Josiah J. & Josiah John
Holleman, Josiah John 1826 1907 s/w Josiah J. & Jane Elliot
Allred, James Calvin 01/07/1848 10/05/1910
Holleman, Edward 1888 1918 s/w Arrie
Holleman, Arrie 1889 1975 s/w Edward
Holleman, Audie E. 09/04/1905 10/10/1988 s/w Lois L., WWII
Holleman, Lois L. 01/31/1913 01/28/1990 s/w Audie E.
Holleman, William P. 02/05/1887 05/03/1981 s/w Nannie Vaughn & Inf/dau
Holleman, Nannie Vaughn 02/25/1886 03/02/1967 s/w Wm P. & Inf. Dau
Holleman, Infant daughter 01/24/1913 01/25/1913 s/w William P & Nannie
Holleman, Homer L. 03/01/1893 04/05/1922
Holleman, Roe Thomas 09/27/1884 01/18/1912
Holleman, Inf son 02/14/1936 02/14/1936 s/o M&M I.T. Holleman
Holleman, W. C. 09/27/1882 07/29/1884
Clark, Hardie 12/21/1884 11/01/1886
Stanford, Cumile Holleman 1854 1885