Greeley Cemetery
From Mt. Enterprise go 5 miles east to Concord - JCT Farm Road 95. Continue east on US 84 for 6/10 of a mile to Greely CME Church on the left. The cemetery is beside the church. There are many unmarked graves here.
There are also graves here that used to be in a cemetery across the highway from this Greely Church cemetery but when the highway was put thru, the smaller cemetery was moved in with the Greely Church graves. An old Rusk County map shows that cemetery to be named "Boles Cemetery" but Mr. Sam Boles who lives close to this cemetery told me that the name of the people in the smaller cemetery that were moved to Greely was "Graves". Both were black cemeteries.
This transcription was done March 16, 2008 by Carolyn Green and Michael and Hayley Morris.
There are photos at the Tombstone Photo site and an alphabetical list in the Archives.
Coordinates:
31°55.309N
094°34.685W
h/o - husband of
w/o - wife of
s/o - son of
d/o - daughter of
s/w - shares a stone with
WOTW - Woodmen of the World
FHM - funeral home marker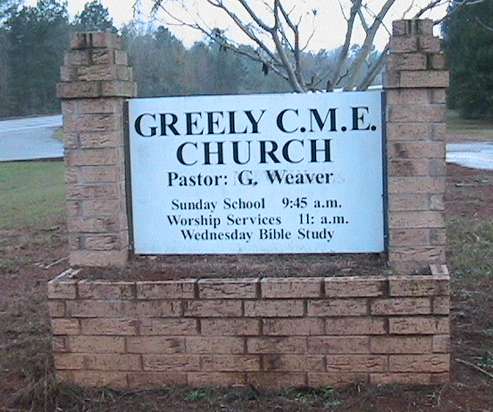 Coleman, L. A. 08/22/1937 02/14/1999
Burney, James no dates
Williams, Johnnie 1912 1982 WWII
Williams, Jettie M. 12/10/1927 01/07/1996
Burney, James 04/14/1931 11/10/1992
Newman, Ruth Ann Johnson 12/11/1953 01/09/2001
Johnson, Don Wayne Sr. 08/26/1952 12/28/2004 s/w Bonniet
Graves, Carl 1931 1978 WWII
Graves, Effie B. 01/31/1892 05/18/1984 s/w Webster
Graves, Webster 01/29/1889 09/29/1980 s/w Effie B.
Graves, Nathaniel 1917 11/25/2003 U.S. ARMY
Graves, Cleophus 02/02/1920 11/16/2000 WWII
Graves, Rayford Starling "Pop" 07/09/1915 03/11/1997
Graves, Calvin Sr. 07/09/1924 04/25/1989
Graves, Jerry Wayne 12/05/1953 11/01/1980
Johnson, Delma 06/15/1903 09/23/1983
Hall, James 1918 2005 FHM
Anderson, Mary Alice 1922 2008 FHM
Johnson, Freeman 1911 1978 s/w Luecendie
Johnson, Luecendie 1912 1981 s/w Freeman
Walker, L. Jr. 07/16/1952 07/10/2003
Tutt, Marvin 10/10/1911 01/24/1994
Tutt, Mable 08/04/1912 01/05/1976
Black, Diford no dates
Edwards, Martha L. (Becky) 07/20/1938 10/27/2003
Bennett, Merlene 09/08/1917 07/11/2006
Johnson, Merdie Faye 02/05/1934 04/07/1992
Leadon, Lillie 03/23/1941 02/27/1992
Black, Asa Sr. 11/09/1905 02/16/1986
Black, Elvois 04/24/1947 03/06/1988
Smith, Lennie Ann 05/06/1941 11/08/2004
Chatman, Mary Lee Graves 04/27/1919 08/13/1997
Graves, Elsie 05/15/1902 07/26/1989
Davis, Ezra 09/18/1920 07/07/1989
Graves, Howard 04/20/1924 04/30/198?
Davis, Parthina 07/07/1918 10/25/2003
Davis, Will 11/19/1916 09/01/1960
Davis, Ida 08/12/1892 08/30/1967 s/w Albert
Davis, Albert 12/29/1889 06/16/1962 s/w Ida
Black, Arvelia 08/13/1915 11/09/1973
Johnson, Ricky Glen "Slick" 10/05/1957 07/11/1999
Bennett, Pauline 11/02/1904 05/22/1968
Gipson, Magnolia 02/16/1909 04/02/1968
Bennett, Alex 11/02/1885 09/11/1965
Shannon, Nannie 06/12/1885 01/20/1967
Black, Essie 01/29/1910 04/11/1994
Hall, Walter Payne 1930 1964
Davis, Terrica 06/21/1975 06/08/1976
Wilson, Ophelia 08/27/1915 06/04/1992
Johnson, Lonnie 09/19/1903 05/19/1987
Johnson, Emma 02/13/1876 09/04/1964 Court #136
Gray-Harris, Money Lee 1929 1972
Hall, Corine 09/27/1900 01/28/1982
Hall, Ray 09/25/1940 09/19/1993
Graves, Lee 07/24/1891 08/15/1973 WWI
Hall, Lonnie B. 11/01/1919 08/22/1987 WWII
Thompson, Helen 01/13/1910 02/17/1987
Mitchell, Lewis Ray 11/25/1929 01/13/1999
Tutt, Gracie B. 1898 1975 Mother
Tutt, McKinley R. 1921 1956 Son
Tutt, George R. 1882 1969 Father
Burney, Elsie B. 10/16/1901 11/27/1976
Taylor, Lucy 12/31/1880 07/04/1976
Williams, Jessie 12/02/1930 05/01/1986
Williams, Theodore R. 05/29/1917 08/02/1988(?) FHM
Williams, Morris Gean 09/24/1933 05/15/1975
Williams, Sam Ennis 06/15/1895 08/10/1971 WWI
Williams, Forris T. 1942 1966
Williams, Lemuel P. 1912 1958
Riley, Elsie Mae 05/26/1928 11/27/1999
Simon, Revon 1897 1973 s/w Lulla
Simon, Lulla 1895 1959 s/w Revon
Simon, Wilma 1905 1962
Hill, Clarence J. Jr. 1925 1979 WWII
Reed, Azzie Lee 06/16/1954 01/17/1970
Reed, Jessie Lee 06/16/1954 06/16/1954
Reed, Aron 08/03/1889 02/16/1958 WWI
Simon, Mable L. 02/20/1920 07/25/1973
Johnson, Denorvelda Ray 11/09/1957 07/04/1971 s/w Rickey
Johnson, Rickey Charles 02/09/1959 07/04/1971 s/w Denorvelda
Williams, Alia 03/28/1873 08/10/1967 s/w J. W.
Williams, J. W. 06/08/1870 08/23/1911 s/w Alia
Reed, George A. 11/15/1915 12/11/1997 WWII
Reed, Pink 06/09/1893 04/15/1966 s/w Bessie
Reed, Bessie 05/16/1890 11/14/1966 s/w Pink
Tatum, Mike T. 05/25/1895 08/12/1956 WWI
Williams, Norris R. 1942 1949
Bryant, Joe Edward 06/24/1929 09/11/1954 TX PFC Art
Daniels, Arric A. 08/02/1965 03/19/1993
Hall, W. G. 07/04/1925 01/01/1966 WWII
Stone, Effie Lee 10/25/1925 01/29/1988
Clinton, Mose Jr. 07/01/1946 09/02/1986 s/w Thelmer Lois
Clinton, Thelmer Lois 11/27/1948 09/02/1986 s/w Mose Jr.
Simon, Marvin E. Jr. 04/15/1917 04/21/1992 s/w Valree
Simon, Valree 07/11/1915 07/17/1999 s/w Varvin E. Jr.
Simon, Cathrine A. 1943 1944 s/w Ollie P.
Simon, Ollie P. 1951 1951 s/w Cathrine A.
Black, Funny 11/25/1904 10/25/1963 s/w Mary
Black, Mary 03/27/1904 01/03/2000 s/w Funny
Thompson, Donnie Ann 01/23/1953 08/27/2001
Thompson, Johnniemae 1953 2006 FHM
Thompson, Johnnie 1978 2007 FHM
Johnson, Pruitt Bennett 11/11/1926 12/11/2004
Johnson, Leo D. 05/12/1940 no date s/w Betty R.
Johnson, Betty R. 02/05/1947 01/13/1998 s/w Leo
Simon, Gladys 1951 1999 FHM
Johnson, A. J. 1936 2006 FHM
Johnson, Wallace 01/20/1911 11/18/1999 WWII
Simon, Nathaniel Troy 09/04/1922 04/27/1993
Davis, Lossie C. 1907 1992 FHM
Taylor, Ossi Ben? 04/11/1930 10/29/2006 KOREA
Everett, Elease Washington 03/16/1931 03/22/1984
Griffin, Lou Bessie 02/04/1904 04/10/1981
Johnson, Mongoldies 04/15/1915 04/24/1976
Hodge, Verdell 01/25/1922 04/29/1975
Gipson, Carolyn Ann 1951 1993
Simon, Shanekoskis 01/22/1997 05/06/1998
Townsoner, Vernevia 01/08/1914 06/20/1964
Hall, Mattie Madkins 11/09/1895 11/29/1960
Simon, Charles Ray 10/06/1938 08/23/1999
Simon, Leona Williams 11/19/1881 08/04/1981
Simon, Eddieora 12/04/1911 03/11/1977
Simon, Nannie 04/15/1892 01/27/1966 s/w Marvin
Simon, Marvin 06/19/1885 no date s/w Nannie
Simon, Ezra 08/15/1915 08/11/1935
Simon, 1894
McNeal, Selda 07/23/1928 04/2005 FHM
Johnson, Tony D. 05/12/1964 04/15/1969
Chatmon, Dellar 11/11/1885 01/04/1967
Chatmon, Hollis Jr. 02/15/1915 10/07/1976
Dawson, Walter G. 12/10/1964 07/04/1978
Jones, Hartsfield 03/03/1921 11/26/1968
Starling, O. M. 02/10/1922 11/09/1957
Williams, Ellen 1830 1937
Simon, John Wesley 08/26/24 09/01/31
Porter, Oke Jr. (very hard to read) 05/09/???? 11/19/1951
Madkins, Albert Roy 1895 1976
Madkins, Zillie 01/14/1894 03/08/1959
Hall, Mother L. 05/06/1860 07/19/1946
Christopher, Daniel H. 07/24/1929 04/04/1981 KOREA
J. (not readable)
Cross, W. Y. 03/30/1921 02/05/1966
Graves, Dennis 05/08/1893 03/14/1955
Tutt, Hazel 08/30/1924 09/13/1954
Tutt, Howard 12/07/1944 06/29/2002
Tutt, Sallie Mae 07/15/1914 02/02/2000
Hartsfield, James Willie 1951 2006 FHM
Chatman, Namon 06/22/1957
Campbell, Dennard 1903 1969 s/w Birtha
Campbell, Birtha 1900 1975 s/w Dennard
Johnson, Jammie 03/10/1911 04/13/1962
Chatman, Anna 12/06/1918 02/01/1975
Simon, Shamkia S. 12/29/1981 01/19/82