Gould Cemetery
From Mt Enterprise, north on Hwy 259 .3 mile. Turn left (west) onto CR E Panola (CR 3206). Drive 7.7 miles, look up to the left. The Gould Cemetery is on top of the hill. Blanton Cemetery is behind it. From Laneville, south on FM 225 S 4 miles. Turn left onto CR 3206 / 4232. See a sign that says Blanton Cemetery. Go 2 miles, look UP to the right...
Gina Heffernan (catalog below)
Coordinates:
Lat 31.9222222
Lng 94.7941667
There are photos of most of these at the Tombstone Photo page.
h/o - husband of
w/o - wife of
s/o - son of
d/o - daughter of
s/w - shares a stone with
WOTW - Woodmen of the World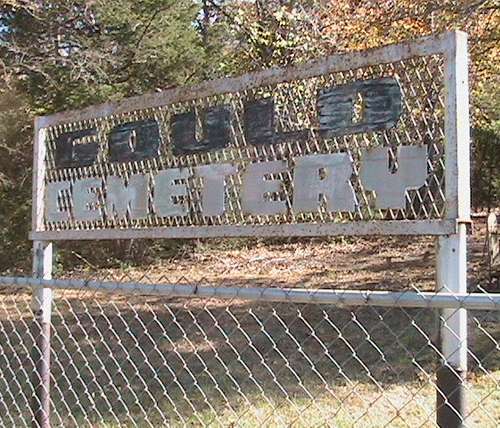 Anders, Franklin N 17 Aug 1859 - 26 Oct 1868 aged 9y,2m,9d, s/o F & R E
Biggs, George ? - ?
Black, Nancy 29 Oct 1829 - 17 Jun 1898
Black, W L 24 Jan 1823 -
Blanton, Benjamin F 08 May 1805 - 21 Sep 1891
Blanton, Blain 1884 - 1884
Blanton, Blanche 1884 - 1884
Blanton, Buna 1884 - 1885
Blanton, Nancy 17 Apr 1808 - 18 May 1883 w/o B F
Blanton, Nell 1889-1889
Clayton, Ernest "Jack" 16 Nov 1890 - 22 May 1909
Clayton, Francis Marion 15 Sep 1857 - 10 Mar 1894
Clayton, George Milton 02 Jan 1894 - 19 Jun 1907
Duke, Infant No date - s/o Z D & Margaret
Duke, Lonnie 01 Sep 1891 - 21 Oct 1891
Duke, Marvin Key 01 Nov 1892 - 27 Sep 1893
Elkins, Julian F 01 May 1889 - 01 May 1904 s/o W F & Sallie
Elkins, Sallie F McNiel 20 Feb 1868 - 21 Oct 1898 w/o W F
Elkins, Willie F 28 Jan 1867 - 17 Oct 1899
Evans, Betty H Fussell 15 Oct 1867 - 22 May 1956
Evans, Fay 22 Jul 1899 - 13 Jul 1902
Evans, Finnie David 29 Jul 1857 - 21 Jun 1932
Evans, Infant son 14 Mar 1895 - 14 May 1895
Evans, John Willis ? - ?
Fussell, Ara 07 Oct 1901 - 20 Oct 1908
Fussell, Charlie E 15 Jun 1874 - 14 May 1900
Fussell, Elizabeth 07 Dec 1839 - 25 Aug 1870 aged 30y,8m,18d
Fussell, George 09 Jan 1892 - 27 Jan 1894 s/o J M & S E
Fussell, J M 14 Jan 1848 - 30 Nov 1917
Fussell, John W 18 Nov 1822 - 09 Sep 1877 aged 54y,9m,22d
Fussell, Johnie E 22 Jan 1872 - 11 Apr 1876 aged 4y,2m,19d, s/o J M & S E
Fussell, Sara E 26 Nov 1853 - 26 Dec 1902 w/o J M, b. Butts Ga d. Glenfawn Tex
Harper, Clinton 1856 - 1881 s/w John & William
Harper, John M 1859 - 1892 s/w Clinton & William
Harper, William B 1826 - 1883 s/w John & Clinton
Hightower, Walter D - 27 Oct 1866
Irby, Belle No date -
Irby, D M 28 Oct 1867 - 29 Dec 1938
Irby, Dollie 26 Dec 1885 - 29 Jan 1910 w/o D M
Irby, Homer 1890 - 1932
Irby, Mary L 15 Nov 1871 - 17 Apr 1946
Irby, Wilma 1893 - 17 Mar 1962
Leslie, Byron 04 Apr 1880 - 09 Jan 1907 h/o Mary
Maddux, C F 17 Nov 1803 - 19 Nov 1867 aged 64y,2d, b. Warren Co, GA
Maddux, Mary A 18 Oct 1808 - 20 Jun 1879 w/o C F, aged 70y,8m,2d
Maddux, Walter G 18 Jun 1864 - 15 Oct 1867 s/w Willie, aged 3y,3m,28d
Maddux, Willie W 15 Nov 1866 - 18 Oct 1867 s/w Walter, aged 11m,3d
McNeil, Mattie (no other information, may be a footstone)
McNiel, Bell 30 May 1892 - 28 Sep 1894 d/o T L & Laura
McNiel, Birdie 01 Sep 1898 - 20 Dec 1968
McNiel, Charlcye ? - ?
McNiel, George Thomas 30 Jun 1834 - 06 Aug 1885
McNiel, Jennie (Jane) 25 Jan 1900 - 29 Nov 1979
McNiel, Julian H (Sharp) 13 Nov 1873 - 23 Apr 1911 WOTW
McNiel, Nettie L 20 Mar 1875 - 10 Dec 1958
McNiel, Ray 04 Mar 1904 - 27 Feb 1978
McNiel, Sudie (no other information, may be a footstone)
McNiel, Sudie E 21 Jan 1878 - 08 Jan 1887
McNiel, Susan Wallace 23 Dec 1841 - 03 Sep 1910
Moore, Cora J 11 Sep 1891 - 11 Feb 1894
Moore, Sarah J 11 Mar 1880 - 28 Jul 1881
Olson, Floy McNiel 1907 - 1984 s/w Victor
Olson, Victor O ? - 1973 s/w Floy
Phillips, Douglass Ann 13 Sep 1887 - 24 Jun 1912
Phillips, Mary Ann 13 Aug 1859 - 06 Oct 1906
Phillips, Robert Blake 05 Jun 1892 - 27 Nov 1905
Phillips, Thomas Blake 23 Dec 1856 - 25 Jul 1943
Pruitt, John M 08 Nov 1840 - 12 Oct 1868
Richardson, ? 28 Feb 1874 - 06 Jul 1889 s/o P T & Lucy A
Richardson, D F 18 May 1808 - 21 Sep 1870 b. Washington DC
Richardson, E E 03 May 1842 - 07 Oct 1872
Richardson, F A Rose 18 May 1808 - 21 Sep 1870
Richardson, Lavinia A Maddux ? - 27 Oct 1866 w/o E E, d/o D F & L A, b. Bunavista, Marion Co, aged 23y,8?
Steagall, Frances M Maddux ? - 15 Sep 1866 w/o B M, d/o C F & M A, aged 31 yrs
Stevens, Emma H 07 Nov 1882 - 28 Jun 1900 d/o L D & S J
Stevens, L D No date - age 82y,14d
Stevens, Sarah Jane 10 Dec 1828 - 30 Mar 1927 w/o L D
Wallace, Charles W 1877 - 1954 s/w Tibbie
Wallace, Tibbie M 29 Aug 1881 - 01 Nov 1973 s/w Charles
Wells, Vincent 04 Apr 1874 - 09 Mar 1876 s/o M T & M E
Wells, William 08 Dec 1793 - 11 Aug 1866 b. Duplin Co NC d. Rusk Co Tex
Williams, Nancy E 01 Dec 1830 - 08 Apr 1863 d/o Wm Wells, b. Marion Co Ga d. Rusk Co Tex
Wood, Alton 1893 - 1894
Wood, Burnett W 1887 - 1908
Wood, Etta 23 Jan 1880 - 10 May 1883
Wood, Horace 15 Dec 1908 - 28 Jul 1910 s/o J B & Minnie
Wood, Lucy A - 18 May 1870
Wood, Lula 1854 - 1883 w/o G R
Wood, M Milissa 1862 - 1898
Wood, Mary A 01 Jun 1839 - 07 Aug 1923 s/w W W
Wood, Robert Donovan 17 Dec 1895 - 11 Jul 1896
Wood, Samuel 15 Apr 1875 - 06 Dec 1947 s/o W W & Mary A
Wood, W W 11 Dec 1831 - 11 Jun 1893 s/w Mary
Wood, W W 27 Feb 1885 - 18 Feb 1917 WOTW
Wood, Wiley B 1859 - 1896
Wood, William J ? - 11 Mar 1877
Young, Birdie McNiel 01 Sep 1898 - 20 Dec 1968 s/w Harold
Young, Harold M 24 Jun 1903 - 26 Mar 1979