Garrett Cemetery
Directions - Take US Hwy 79 S (southwest) from Henderson -2-3 miles. Turn left (south) onto FM 839 - about 7 miles. Cross FM 1798 - 1 mile. Cemetery is on left.
I tried to walk this cemetery by rows but they are not very straight and have lots of space between graves.
Gina Heffernan - October 2003 (catalog below)
There are photos at the Tombstone Photo site and an alphabetical catalog in the Archives.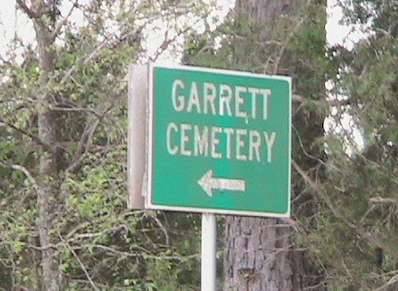 s/w = shares a headstone with
m. = married
w/o = wife of
h/o = husband of
c/o = children of
d/o = daughter of
s/o = son of
WOTW = Woodmen of the World
Section 1 Row 1
Jones, Oliver J 7/31/1908-12/22/1990
Leavell, Charlotte E 4/12/1970-4/28/1991
Ward, Mandy R 10/12/1905-08/15/2001
Jordan, Hubert 1/31/1911-5/3/1986 s/w Katharine
Jordan, Katharine 3/14/1917-5/7/1999 s/w Jordan
Johnson, Oscar P 10/9/1916-9/21/1988 s/w Johnnie
Johnson, Johnnie Mae 10/26/1918-? s/w Oscar
Row 2
McFadden Bessie B 7/7/1903-2/10/1960
Row 3
Shedd, John 2/22/1910-5/22/1969
Dearman, Abie Bernice 5/7/1911-11/12/1976 Mother
Johnson, Ella Berry 2/20/1880-9/13/1961 Mother
Johnson, John 9/8/1870-???? [stone buried]
Row 4
VanZant, Henry 1841-1920 Father
VanZandt, Mary Etta 1/28/1903-8/21/2000
VanZant, Cordia 7/25/1899-5/15/1901
VanZant, Infant 12/8/1911 s/o HW
Row 5
Broken Rock
Wilder, Georgia 12/31/1898-4/9/1946 [star emblem]
Jinkins, Sallie 1/1/1874-1/9/1923 [inside fence]
Hollis, Laura 2/28/1914-4/21/1961 [same star emblem]
Row 6
Jones, Henry J 9/15/1870-1/5/1959
Jones, Rachel 6/19/1870-5/15/1950 Mother
Jones, Norris Michael 2/18/1950-9/8/1951
Row 7
Rettig, Willie Roy 3/15/1943-11/22/2001
Row 8
Rettig, David "Doc" 8/13/1913-1/8/1987
Row 9
Rettig, Percy 8/25/1875-2/17/1961
Wright, Albert 10/9/1900-5/6/1964
Wright, Albert 1/16/1926-5/16/1975 CPL US ARMY WWII
Wright, Essie 8/17/1897-4/10/1987 Mother
Row 10
Wright, Shed 2/24/1919-9/7/1998 US ARMY
Lofton, Alice 5/12/1892-4/30/1976
Row 11
Williams, Billy Gene 9/25/1936-3/17/1985
Rettig, John F 5/24/1918-6/20/1991
Rettig, Sallie 9/16/1897-10/28/1986
Robertson, Dollie R 9/7/1939-4/8/1983
Row 12
Mallard, Leroy 6/19/1926-6/8/1996
Section 2 Row 1
Hutchinson, Gloria J 6/12/1950-121/4/1979
Daniels, Roosevelt V 1910-1985 s/w Margeria
Daniels, Margeria 1923-1997 s/w Roosevelt
Wright, Ezzie 7/8/1901-1/4/1980 Mother
Wright, Mozella Z 11/27/1911-4/23/1985
Bryant, Clifton 1939-1997 s/w Opal M
Bryant, Opal M 1927-? s/w Clifton
Johnson, Lorenza 6/13/1922-1/15/1973
Johnson, Jim 1/22/1893-8/1/1963
Williams, Jimmy 1/14/1945-3/8/1903
Williams, Nancy VanZandt 1/1/1901-4/5/2002
Pruitt, Charlie E 11/12/1924-3/13/1993
VanZandt, Donia 5/5/1932-7/29/1990
VanZandt, Will 2/19/1897-9/2/1983 Father
VanZandt, Ethel Lee 10/10/1903-1/7/1983
VanZandt, Elie 5/17/1924-3/14/1980
VanZandt, Josephine 12/26/1910-12/2/1976
Whitaker, Willis l 8/21/1930-2/3/1976
Henry, Elnora 1/30/1916-1/22/1976
Spencer, Willie B 9/11/1895-7/10/1968
VanZandt, Robert A 10/10/1925-7/8/2003
VanZandt, Tennie F Carter 2/4/1905-2/19/1989 s/w Robert
VanZandt, Robert F 8/17/1901-11/22/1968 s/w Tennie
Mallard, John H 9/14/1919-11/29/1987
VanZandt, Emly Frene [no dates]
Alexander, Barbara Nell 4/6/1947-4/10/1986
Gupton, Bettye Means 11/21/1945-5/10/1975
VanZandt, Ann 1/23/1872-4/19/1942
VanZandt, L H W 12/25/1866-3/24/1949
VanZandt, Henry 9/30/1890-6/19/1942
VanZandt, Billie Jeraldean 5/11/1935-1/1/1954
VanZandt, Jimmy D 1934-2003
VanZandt, N G 2/27/1927-8/26/2002
Manning, James Edward 3/8/1945-8/7/2002
Garret, Jane H 8/10/1853-3/29/1883
Wiggins, Bertha L 8/20/1868-1/22/1889
Daniels, Luther 1/4/1911-11/2/1961
Rettig, R B 3/18/1840-11/24/1912
Rettig, Catherine 1848-1931
Redic, Infant c/o B & C
Williams, Jessie 1/1/1888-8/31/1957
Roquemore, Martha A 1/29/1820-12/28/1896
backwards Row 2
Hart, Mable Davis 5/23/1903-2/29/1995
McNaulty, Venia 3/7/1883-9/9/1956
Row 3
4 unmarked graves
Row 4
Johnson, Maggie 7/25/1892-11/201940
Row 5
Marker - no information
Row 6
Rettig, Bertha 4/8/1885-5/16/1964
Rettig, Colonel 4/19/1878-2/8/1957 Mason
3 funeral home markers
Wren, Amanda 11/20/1863-5/7/1946
Johnson, Otha 4/30/1914-2/13/1982
Johnson, Sylvester 1933-1987 US NAVY KOREA
Johnson, Lawrence 3/2/1918-12/1/2001
Johnson, Eddie 1932-1932 s/w Excell & Theodore
Johnson, Excell 1909-1978 s/w Eddie & Theodore
Johnson, Theodore 1905-1926 s/w Eddie & Excell
Johnson, Dosha R 7/16/1894-8/6/1978 s/w Hamp
Johnson, Hamp P 8/1873-3/1958 s/w Dosha
Johnson, Tony Curtis 9/20/1965-6/20/1969
Johnson, Coree 2/10/1940-1/16/1971
Johnson, Olester 5/26/1931-11/24/1985 US ARMY KOREA
Pollard, Bobbie L 3/6/1938-6/28/1986
Johnson, Ennis 3/20/1907-11/25/1986
Johnson Mrs Bobbie L 7/26/1911-9/17/2003
Row 7
Richardson, Verna Mae 2/17/1913-1/16/1992
Richardson, Merritt 11/24/1910-8/18/1978
Richardson, Alice 8/11/1980-5/17/1961
Loyd, Eula M 2/12/1904-2/22/1957
Unmarked
Tenner, Mathew 4/30/1923-1/10/1954 TEXAS PFC HQ CO 25 INF 93 INF DIV WWII DSM
Richardson [no other information]
Unmarked
Richardson, Hannah 11/4/1890-3/28/1945
Richardson, Christian 1/3/1913-1/17/1989
Richardson, Eddie Christian 7/25/1957-10/31/1993
Marker - no information
Eubanks, Mrs Alice Ellis 1905-1995
Unmarked
Mills, Tom 1874-1944
Row 8
Alexander, Nita "Sissy Gal" 11/11/1933-11/27/1991
Zuber, B B 8/24/??-6/24/1909
Lloyd, L D 12/25/1876-8/5/1921
Pool, Winnie Ann 1908-1951
Richardson, Earl 3/20/19?? [no death date]
McNulty, Eugene 1883-1948
Dill?, Corene 10/5/1906-1/4/1966
Marker - no information
Anderson, Jim Ray 3/18/1896-5/27/1982 WAGR US ARMY WWI s/w Eathel
Anderson, Eathel D 8/27/1912-8/22/1889 s/w Jim
Row 9
Holman, Jimmie L 3/28/1900-2/16/1993
Holman, Arushia 4/14/1907-5/5/1969
Ellis, C E d. 5/4/1961.
Ellis, Ovy d. 1/12/1962
Ellis, Elbert d. 8/20/1956
headstone buried in a bush
Daniels, Josie 7/7/1858-1/2/1962
Mills, Dock 4/1/1901-7/15/1913 s/o TM & LC
Row 10
Daniels, Rayfield 5/26/1944-9/17/1988
Daniels, Bertha 9/18/1908-4/21/1995 s/w Percy
Daniels, Percy 4/4/1900-11/25/1985 s/w Bertha
Cleaver, Berdie B (May Dear) 4/8/1933-4/26/1990
Finley, LaLandus KK 7/16/1999-12/3/1999
Sandler, Mrs, Thelma 7/27/1920-6/24/2003
Row 11
Cleaver, Floyd H Jr. 8/11/1935-3/3/1994
Marker - no information
Clever, Floyd Henry 3/26/1914-11/6/1965 TEXAS PVT US ARMY WWII
White, Ashley, Michele 9/12/1988-9/12/1988
Marker, illegible
Rettig, Clara M 8/15/1924-12/21/1985
Rettig, Porter 11/21/1916-6/12/1993
Marker - no information
Daniels, Amos 1904-1982
Daniels, Raymond 7/7/1929-8/20/2001
Marker - no information