Fairview Cemetery
aka Medford Cemetery
From Henderson, take Hwy 79 southwest, turn south onto FM 840. Go all the way to New Salem and turn left onto CR 4254 (the triangle), almost immediately, turn left onto FM 1662. Go about 1/2 mile, see Fairview Cemetery sign on left. Turn right onto CR 4259 and stay right at the fork. Cemetery is at the end of the road.
April 7, 2007 Gina Heffernan (catalog below)
Coordinates:
31.55960N
094.57289W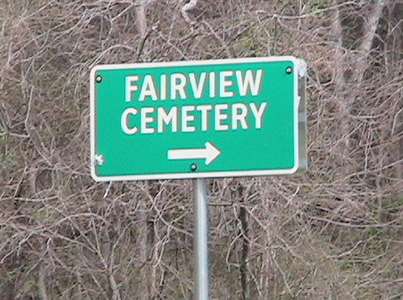 There are photos at the Tomstone Photos page and an alphabetical list in the Archives.
Gina, Mar 2008.
s/w = stone shared with
b. = born
d. = died
m. = married
w/o = wife of
d/o = daughter of
s/o = son of
FHM = funeral home marker
WOTW = Woodmen of the World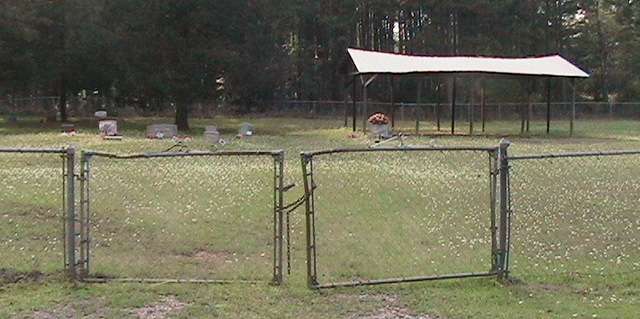 Thompson, Kizzie 1/24/1899 1/24/1937
Anderson, Kizzie F Wells 7/19/1945 6/4/2004
Sullivan, Stella 1/9/1927 2/27/2001 age 74 FHM
Sullivan, Fred Andrew 6/15/1923 6/5/1990 age 66 PVT US ARMY, WWII
Wells, Avan 1/7/1925 2/6/1982
Wells, Assie Lee 10/29/1904 10/8/1990 s/w Jim
Wells, Jim 4/6/1891 11/22/1973 s/w Assie
Lewis, Johnnie V 8/20/1946 5/14/1978
Lewis, Earl "LB" 12/25/1944 1/2/1998 Father
Johnson, Derrick Dewayne 8/31/1972 1/24/1998 Honey Blond This one has a newer stone but it's behind a rather large rose bush
Lewis, James E (Mrs?) 1/22/1963 10/15/2003 age 40 FHM
Jordan, James Kean 9/12/1982 8/19/2007 age 24 FHM
Medford, Nancy Jane 03/1823 '01/1903 m. John 2/13/1839
Medford, John Anderson 1819 1868
Unknown illegible
Wells, Jimmie Lee 12/10/1928 8/17/1993 Mason
Anderson, Shalunda Denise 7/31/1979 7/31/1993 Teddy bear shaped stone
Wells, Willie Lee 1/30/1943 8/2/1998
Unknown 2 illegible funeral home markers
Sturns, Gladys S 5/11/1922 4/1/2006 Mother
Sturns, Roy 5/6/1911 12/29/1956
Thompson, Kizzie 1/24/1889 1/23/1937 (she has two stones)
Sturns, Morris 2/23/1910 12/31/1987
Sturns, Finis, Jr 9/4/1954 12/10/1997 age 43 FHM
Sturns, Pamela Jean 11/20/1959 5/24/2006 age 46 FHM
Thompson, Sam 11/28/1900 4/27/1975 s/w Georgie
Thompson, Georgie 2/25/1902 6/28/1983 s/w Sam "Two Grandchildren"
Session, Charlie Jasper dates buried Military stone
Thompson, Henry T 1915 1979 PVT US ARMY WWII
Thompson, Corine (Lil Granny) 12/20/1910 5/18/1993
Thompson, Oscar Lee 9/29/1952 3/10/1998 age 45 FHM
Pollard, Mark "Kojak" 11/20/1978 10/11/2007 age 28 FHM
Pollard, William A 4/16/1938 9/10/1998 Father
Armstrong, Ernestine Sturns 5/6/1923 2/28/1988
Liner, Margaret Sturns 2/3/1921 12/20/1984
Sturns, Dennis 8/29/1902 no date s/w Nettie
Sturns, Nettie T 3/13/1899 10/11/1969 s/w Dennis
Thompson, Millie 1/9/1877 2/28/1968
Unknown illegible FHM
Thompson, Josie 1/16/???? 2/18/???? s/w ??? Thompson Osie? Hosie?
Thompson, ??? 12/??/1?02 8/2?/1918 s/w Josie M. A.?
Unknown stone buried
Sturnes, R V 9/9/1941 9/13/1945 date buried
Clewis, Ethel C 2/26/1935 12/4/2007 age 72 Lewis? FHM
Carey, Thurman 4/8/1912 12/3/1981 s/w Liza
Carey, Liza 5/6/1917 1/15/2001 s/w Thurman
Unknown broken FHM
Willis, Thelma Lee 2/28/1958 no date
Davis, Dealie 1867 1927
Unknown concrete cover
Thompson, Rosie Lee 10/14/1900 9/18/1984
Jeff, Mary Jane 3/12/1861 4/17/1938 Mother
Jeff, Louis 12/25/1849 4/14/1930
Sturns, June "Bud" 1/23/1882 6/23/1967 Fox hunting scene "Muleteam Dutch and Joe"
Hutching, Bobbie Jean 12/9/1903 1/18/1980
Hutching, Henry 1904 1976 US ARMY WWII
Hogg, Edward 1935 2007 FHM
Phillips, Lottie Mary Hogg 10/4/1924 7/27/1996
Hogg, R C 2/10/1930 7/4/1968
Hogg, Horace 7/3/1903 12/16/1988 Father
Hogg, Ella Bell 11/15/1905 7/3/1980
Sturns, Mary 12/11/1886 4/13/1945 Mother
Sturns, R V 9/9/1941 9/13/1945 s/w Walter he has two stones
Sturns, Walter Earl 7/23/1943 7/24/1943 s/w R V
Bennett, Frances L no date 11/25/1947
Bennett, Tony 1865 1947
Punch, Lula 5/30/1900 4/15/1945 Mother
Unknown There isn't anything left on this stone - concrete cover
Owens, Fred 1800 1900 s/w Cynthia
Owens, Cynthia 1843 1933 s/w Fred
Owens, ??? ???? 1932 illegible
Elems, Ernest E 10/11/1923 8/24/1994 PVT US ARMY WWII
Elems, Callie no date 5/12/1932 Mother
Bagley, Lucinda 10/23/1909 8/6/1976
Starling, Bettie Mae 1919 1976 concrete cover
Attaway, Rena no date 9/30/1957
Attaway, Jake no date 2/11/1958
Sturns, Robert Lee 11/23/1916 6/11/2005 s/w Emma US MARINE CORPS
Sturns, Emma 4/5/1917 8/22/2007 s/w Robert m. 12/12/1936
Sturns, Edward W 5/23/1912 8/15/1985
Sturns, Carmet R 11/2/1945 8/15/1960
Sturns, Henry T 5/9/1914 4/3/1997 s/w Marion m. 2/1/1933
Sturns, Marion D 11/6/1914 6/10/1992 s/w Henry
Sherman, Alma Jean Richardson 9/20/1945 12/8/1999
Richardson, Sam (Rev.) 4/10/1913 8/22/1999 s/w Arrena m. 12/23/193?
Richardson, Arrena A 2/13/1910 7/17/2005 s/w Rev. Sam
Montgomery, Christopher D 5/17/1996 5/19/1996 age 26 wks FHM (I think it's supposed to be hours)
Richardson, Darlene elois 3/14/1944 8/29/1979
Lyons, Lena 2/12/1966 3/19/1998
Hayes, Nellie Ann 4/4/1915 4/12/2001 Big Mama
Bennett, Henry 9/25/1890 11/6/1972 s/w Mary
Bennett, Mary 12/14/1895 10/25/1979 s/w Henry
Unknown 2 illegible FHM