Elderville Cemetery
This cemetery is located at the intersection of Hwy 322 and CR 2011, behind the Presbyterian Church. The earliest burials are the Alston infant and H. L. Alston (1886).
Photographed and transcribed April 2007, Carolyn Green. (catalog below)
Coordinates:
Lat 32° 22.257
Lng -094° 43.222
There is an alphabetical list in the Archives and photos at the Tombstone Photo site.
s/w = stone shared with
b. = born
d. = died
m. = married
w/o = wife of
d/o = daughter of
s/o = son of
WOTW = Woodmen of the World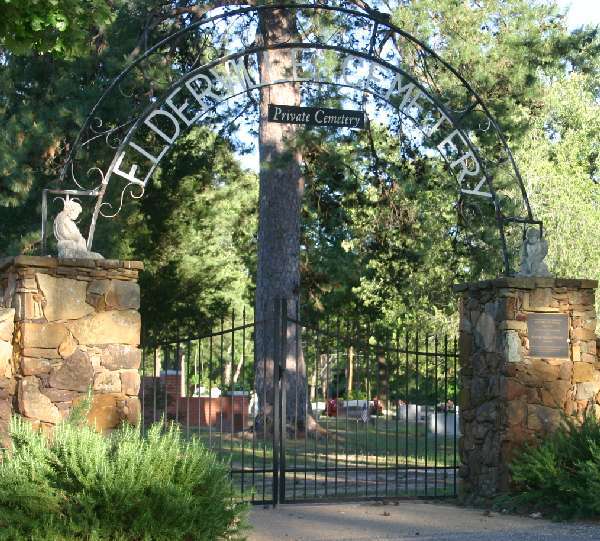 Name Birth Death Comments
Row 1
Cocke, Cheryl no date 05/28/1958
Cock, Mollie Mitchell 02/03/1857 06/28/1944
Cock, Edward William 02/28/1854 01/25/1952
Mitchell, Mary Anna 05/07/1855 10/12/1940 s/w Grace Martin
Mitchell, Grace Martin 08/28/1911 05/04/1968 s/w Mary Anna
Mitchell, William Gardner Jr. 03/02/1910 01/29/2006
Wyche, Roger 03/23/1893 04/26/1958
Wyche, Mary Inez 06/15/1899 09/03/1964
Wyche, Brenda Delyce 04/04/1964 12/27/1999
Mitchell, Vance W. 06/02/1942 03/21/2001 AIC US AIR FORCE, VIETNAM
Armstrong, Glynn Earl 07/12/1933 12/15/2001 s/w Martha Matthews
Armstrong, Martha Matthews 12/16/1932 no date s/w Glynn Earl
Toon, Joe H. 02/08/1911 01/19/1975
Toon, Joey 06/14/1943 03/28/1944
Toon, Lafayette no date 06/19/1936 Inf s/o Thad & Faye Toon
Garlough, Harry Thomas 11/17/1932 02/01/1994 CPL US ARMY

Row 2
Watson, G. Elmer 12/05/1893 12/08/1950 s/w Lola B., PFC 336 FIELD REMOUNT 10, WWi
Watson, Lola B. 04/20/1897 01/17/1979 s/w G. Elmer
Minor, Macy Watson 11/09/1922 01/25/1996
Shireman, Thomas 11/30/1918 05/29/1983 s/w Jean
Shireman, Jean 12/19/1919 09/26/1984 s/w Thomas
Burton, Earnestine 09/26/1921 05/19/1987
Burton, Frank 11/17/1896 01/14/1959
Burton, Mary 03/11/1900 10/11/2004
Burton, Jack E. 08/06/1893 07/23/1965 s/w Nettie B.
Burton, Nettie B. 01/29/1899 04/16/1984 s/w Jack E.
Burton, C. E. "Gene" 05/21/1921 12/09/1999

Row 3
Gibson, A. E. 09/02/1877 05/27/1938 s/w Linie
Gibson, Linie 01/09/1887 10/20/1983 s/w A. E.
Billington, Mary Alyce 1910 1963
Billington, Louis M. 1904 1964
Gibson, Ben G. 1879 1960 s/w Cornelia T.
Gibson, Cornelia T. 1880 1956 s/w Ben G.
Ballenger, Louis A. 05/23/1888 07/17/1959 s/w Dora B.
Ballenger, Dora B. 03/14/1892 07/12/1981 s/w Louis A.
Edington, William T. 01/22/1885 09/14/1960 s/w Annie D.
Edington, Annie D. 10/13/1889 07/07/1956 s/w William T.
Ballenger, Jim 02/20/1904 12/24/1995 s/w Lillian
Ballenger, Lillian 01/22/1907 03/04/2000 s/w Jim
Cooper, Vernon M. "Pete" 11/20/1928 04/30/2000 s/w Billie Sue, SSGT US AIR FORCE, KOREA
Ballenger, J. Audrey 11/27/1911 07/18/1979 s/w Gladys L.
Fleet, James P. 12/23/1932 no date s/w Betty Jane Ballenger
Fleet, Betty Jane Ballenger 06/24/1926 06/06/2003 s/w Betty Jane Ballenger

Row 4 & 5
Barnhart, Frank W. 03/29/1884 09/20/1959
Barnhart, Hettie S. 11/19/1889 06/02/1972
Erlisman, Fred R., Jr. 09/29/1908 04/27/1978
Erlisman, Dorothy B. 06/17/1908 12/05/1992
Leath, David Alan 06/09/1959 08/18/2006
Leath, Oscar O. 02/18/1907 09/28/1992 s/w Clella D.
Leath, Clella D. 07/25/1910 02/13/2005 s/w Oscar O.
Adams, Samuel E. Jr. 02/06/1913 01/26/1998
Adams, Sam E. 1877 1950 s/w Daisy May
Adams, Daisy May 1882 1938 s/w Sam E.
Adams, William Henry 07/24/1916 04/17/1988 PFC US ARMY, WWII
Culver, Paul V. 11/15/1897 11/04/1950
Culver, Lillie F. 12/22/1897 09/16/1980
Culver, Donald Merlin 04/08/1925 06/26/1957 s/o Paul V. and Lillie F.
Culver, Paul Gene 08/08/1938 04/13/1983
Jones, Buford Lee 01/23/1903 10/15/1980 s/w Beatrice Adams
Jones, Beatrice Adams 07/27/1905 06/12/1988 s/w Buford Lee
Jones, Felton H. 09/11/1938 01/17/1991
Adams, LaNelle 07/31/1934 08/11/1938
Cargile, Bessie S. 10/22/1913 11/09/1983
Adams, Thomas Murray 08/05/1931 04/01/2006
Adams, Beryl Burton 03/15/1912 02/01/1997
Adams, Tom Mitchell 07/23/1908 01/11/1966

Row 7 & 8
Welch, Samuel D. 1900 1968 s/w Maggie R.
Welch, Maggie R. 1902 1967 s/w Samuel D.
Hunter, Sammie Ruth 1925 1967
Harden, Isaac L. 10/13/1917 04/24/2000 s/w Sara L.
Harden, Sara L. 08/27/1915 03/02/2002 s/w Isaac L.
Bush, Russell McDade 11/01/1900 02/20/1986 s/w Stella Crawford
Bush, Stella Crawford 12/18/1905 05/01/1999 s/w Russell McDade
Kennard, Donley 12/17/1922 09/11/1990 s/w Evelyn, US ARMY, WWII
Oliver, Virginia Higginbotham 07/08/1926 07/02/1993
Oliver, James T. 07/04/1897 04/07/1990 s/w Clara Adams
Oliver, Clara Adams 03/09/1903 12/31/1986 s/w James T.
Lucy, Jerry J. 1870 1932
Lucy, Annie B. 1892 1966
Adams, A. P. 03/27/1852 09/21/1935 s/w Alice M.
Adams, Alice M. 01/06/1860 11/15/1939 s/w A. P.
Harrell, Willie T. 1889 1936
Harrell, Sam H. 11/1887 07/02/1967

Row 8 & 9
Wyche, Clinton P. 11/21/1897 07/31/1975 s/w Mary Lois
Wyche, Mary Lois 03/16/1902 05/23/1980 s/w Clinton P.
Harrell, J. W. (Jim) 10/02/1899 08/09/1965 s/w Mary
Harrell, Mary 12/22/1905 03/23/1987 s/w J. W.
Young, William R. 04/01/1886 10/06/1977 s/w Irene
Young, Irene 09/27/1893 06/25/1978 s/w William R.
Brown, Charles T. 04/15/1873 01/30/1929
Alston, W. H. 1832 1938 s/w Dora
Alston, Dora 1859 1936 s/w W. H.
Edney, William R. 09/07/1943 03/24/2001 s/w Linda K., A1C US AIR FORCE
Edney, Linda K. 04/22/1946 12/29/2001 s/w William R.
Stewart, Mack Douglas 12/15/1926 07/27/2000 s/w Hazel Anna, PFC US ARMY, WWII
Stewart, Hazel Anna 08/18/1926 03/08/1983 s/w Mack Douglas
Green, Melvin L. 05/16/1914 01/05/1998
Rymer, John D. 1915 1963 s/w Helen J.
Rymer, Helen J. 1917 2003 s/w John D.
Hellen, Delmar 01/19/1947 02/28/2001 s/w Cheryl
Hellen, Charlie W. 08/14/1917 07/19/1985 s/w Myrna Sorey
Hearne, J. M. "Mib" 01/28/1860 02/03/1988
Hearne, Anna Bell 03/04/1861 11/26/1932 w/o 'Mib' Hearne
Hodges, Baby Girl 11/10/1981 11/10/1981
Wright, Baby 1928 1928
Wright, L. D. 1902 1933
Wright, Milbrey 1904 1971
Wright, John Hudson 10/23/1929 07/04/1951 TX CPL 9330 TECH SVC UNIT
Simpson, Emma Kaylene 01/13/1957 01/14/1957

Row 10
Mitchusson, Pat Matthews 09/09/1929 07/26/1997
Ferguson, Mollie
Wright Mitchell 07/25/1908 11/30/1982
Wright, Emma Burton 1873 1930 w/o I. H. Wright
Wright, Ingram H. 05/08/1869 05/04/1926 h/o Emma Wright

Row 11
Matthews, Petty Neal 07/07/1903 10/22/1970 s/w Emma Leo, TX COX US NAVY
Matthews, Emma Leo 02/26/1907 10/15/1986 s/w Petty Neal
Matthews, Iva Adams 06/15/1877 10/09/1948 s/w Chock
Matthews, Chock 12/22/1872 12/23/1943 s/w Iva Adams
Matthews, Apless Dewey 02/07/1900 07/18/1920 s/o Chock & Iva Matthews
Eddington, Baby no dates
Edington, Katie Vernon 09/05/1891 05/20/1971 s/w Raymond A.
Edington, Raymond A. 02/20/1887 07/06/1982 s/w Katie Vernon
Ingram, Mary Catherine 07/08/1853 02/24/1933
Ingram, R. B. 05/15/1845 07/28/1923
Ingram, Foster L. 08/13/1918 05/17/1945 TX PFC 382 INF, WWII
Southard, Mary C. 09/12/1873 04/19/1951
Willie, Howard T. 03/27/1917 11/15/1989 s/w Maxine M.
Willie, Maxine M. 05/01/1923 10/23/2003 s/w Howard T.

Row 12 & 13
Alexander, William S. 01/12/1902 08/25/1979 s/w Minnette L., SEA US NAVY, WWI
Alexander, Minnette L. 03/09/1912 no date s/w William S.
Rowland, Ella Mae 08/07/1882 02/24/1987
Burns, Douglas 08/09/1914 08/23/2000 s/w Margaret
Burns, Margaret 09/09/1919 07/29/1994 s/w Douglas
Smith, Kevin Earl 08/17/1969 05/23/1971
Eddington, W. R. "Ray" 04/28/1916 12/26/1998 s/w Hazel
Eddington, Tommy Ray 04/27/1944 04/27/1944
Eddington, Patricia & Son 04/29/1945 07/10/1965
Ingram, Herman R. 04/28/1882 05/23/1955
Ingram, Clara S. 02/16/1892 09/06/1969
Schroeder, Edd R. 04/21/1893 07/09/1956 s/w Murel E., HS SUP CO 360 INF 90 DIV, WWI
Schroeder, Murel E. 04/21/1912 01/04/1982 s/w Edd R.
Blackburn, George D. 1880 1917 s/w Corine M., Mason
Blackburn, Corine M. 1881 1976 s/w George D.
Blackburn, Dora 10/20/1856 01/27/1897 w/o W. J. Blackburn
Blackburn, William J. 10/04/1854 10/22/1906 h/o Dora
Blackburn, May Fambrough 09/05/1876 12/03/1973
Blackburn, Irene 1887 1972
Gallager, Joseph 12/10/1900 01/19/1978 s/w Betty Sue
Gallager, Betty Sue 12/17/1898 02/12/1980 s/w Joseph

Row 14 & 15
Alston, Bernice M. 05/07/1899 10/08/1978 s/w John J.
Alston, John J. 01/15/1896 05/25/1968 s/w Bernice M.
Alston, Emmette Wayne 01/14/1928 03/09/1943
Alston, Baby no date 11/22/1932
Alston, Martha Dawn 1820 1821
Alston, Baby no date 06/06/1918
Barrett, Amanda 05/01/1837 07/10/1928
Barrett, Earl K. 08/25/1906 12/07/1921
Barrett, Eugene D. 10/05/1902 09/26/1925
Adams, Janie M. 03/03/1882 05/02/1965 s/w Ed r.
Adams, Ed R. 11/17/1875 01/03/1958 s/w Janie M.
Adams, Mack 1912 1952
Parr, James Falvey 03/02/1921 11/27/1989 s/w Pauline Rook, M2 US NAVY, WWII
Parr, Pauline Rook 09/27/1914 11/03/1988 s/w James Falvey
Parr, Virgie Mae 10/05/1936 no date s/w Bobby Dale
Parr, Bobby Dale 06/08/1933 06/11/2004 s/w Virgie Mae, PFC US ARMY, KOREA
Parr, Timothy C. 05/14/1958 05/13/1966 s/o Minerva and Ed
Parr, Corey C. 11/01/1894 04/15/1973 s/w Annie M., PVT AIR SERVICE, WWI
Parr, Annie M. 01/01/1901 05/17/1985 s/w Corey C.
Parr, Gerald Adams 12/11/1925 02/14/1944

Row 16
Adams, T. A. 07/27/1904 03/03/1966
Morgan, Kennie Adams 08/08/1899 09/29/1954


Row 17
Alston, H. F. 05/10/1820 07/17/1886
Alston, Lonnie G. 02/02/1894 01/26/1957 PFC CO L 359 INFANTRY, WWI
Alston, Elba Mae 02/04/1881 10/20/1964
Alston, James Emmett 05/12/1885 02/16/1967
Hunt, Alice F. Perkins 04/02/1900 02/01/1973 s/w Joseph R. "Joe"
Hunt, Joseph R. "Joe" 10/08/1882 03/31/1963 s/w Alice F. Perkins
Hunt, James Robert 03/12/1924 02/27/1979
Appleby, Dorothy B. 06/27/1931 04/25/1990 s/w Curtis A.
Appleby, Curtis A. 03/02/1925 09/03/2003 s/w Dorothy B.
Underwood, Virgie Hulme 08/01/1920 12/20/2002
Underwood, Elbert Ross 10/19/1920 04/10/1992 CPL US MARINE CORPS, WWII
Johnson, Burr Clyde, III 11/01/1944 no date s/w Sheila Brown
Johnson, Sheila Brown 12/04/1947 no date s/w Burr Clyde, III
Johnson, Burr C. Jr. 11/15/1913 08/13/2001 s/w Faustine V.
Johnson, Faustine V. 01/11/1918 04/19/1980 s/w Burr C. Jr.
Hall, Barbara Johnson 02/12/1942 09/24/2004
Degner, Henry A. 03/14/1898 02/16/1961 2D LIEUTENANT CWS, WWII, KOREA

Row 18
Green, Clara C. 1891 1971
Star, Elma Sellers 12/27/1890 11/19/1978
DeLand, Kathleen 1918 1966
Horrell, Warren H. 1915 1978 US COAST GUARD, WWII
Horrell, Edythe V. 1918 1982
Kutzer, Ralph Wesley 10/04/1916 10/13/1970
Kutzer, Mary Ethel Mitchell 07/20/1919 09/26/1982

Row 19
Neal, Naomi Irene 07/03/1911 04/12/1987
Shue, Denise Iloff 07/07/1959 01/16/1975
Palmer, Thelma Sellers 11/19/1914 07/17/1983
Phillips, Joyce Dean 05/08/1929 01/09/1973
Rhodes, Virginia C. 08/27/1904 08/07/1992 s/w Harry W.
Rhodes, Harry W. 03/11/1900 11/13/1977 s/w Virginia C.
Cox, Jerry Wayne 07/03/1940 10/09/1992
Graham, Jack Weyland 08/07/1901 09/13/1971
Fedd, Della Bell 06/13/1899 01/16/1978
Fedd, James Wesley 12/13/1911 06/07/1971 ARK. TEC 4, US ARMY, WWII
Bair, Vera A. 12/16/1914 08/20/2002 s/w Laurance H.
Bair, Laurance H. 01/08/1913 01/08/1994 s/w Vera A.
Stevenson, June F. 07/07/1919 11/17/1987 s/w Robert L.
Stevenson, Robert L. 07/10/1924 no date s/w June F.
Hale, Bobby 05/17/1930 10/06/1989 s/w Linda Lou
Anastas, Oppie Absolum Jr. 06/11/1922 01/05/1978 PFC US ARMY, WWII

Row 20
O'Quinn, Monia Belle Graves 03/11/1933 no date
O'Quinn, Paul Adrian 06/05/1957 09/03/1976
O'Quinn, George Frederick 03/10/1931 03/02/1990
Burton, Don Finnis 01/05/1927 05/31/1993 CPL US ARMY, WWII
Wallace, Glen allen 08/18/1952 12/11/1988
Wallace, Sherry Lee 11/25/1957 12/11/1988
Burton, William A. 08/23/1916 08/09/1974
Tidmore, Vallie M. Burton 01/25/1924 07/01/1988
Lilly, Ellis H. 10/04/1925 06/09/1985
Oberthier, Bryan E. 05/18/1912 03/21/1986 CAPT, US ARMY, WWII
Cox, Claude Bradford 09/27/1936 11/09/2003
Cox, Claude V. 03/06/1910 07/20/1980 s/w Maravene B.
Cox, Maravene B. 10/22/1913 11/10/2001 s/w Claude V.
Neel, Jim no date 02/06/1960
Chaney, Delos Eugene 04/16/1931 08/29/1979

Row 21
Nelson, Edna Mae 10/23/1933 10/18/1982
Wade, Luella Elizabeth 09/30/1916 02/27/1980
Wauson, Dollie Lucille 02/17/1918 no date s/w William David
Wauson, William David 02/09/1909 02/24/1983 s/w Dollie Lucille
Johnson, Wayne 03/02/1935 12/03/1983
White, Hilda Faye 06/14/1935 06/26/1985
Brignac, Lawrence L. 04/19/1926 05/25/1997
Simonson, Glen E. 12/22/1940 05/07/1996 s/w Margaret A.
Simonson, Margaret A. 04/18/1942 no date s/w Glen E.
Kincheloe, Joy Wangen 02/16/1898 01/06/1979 s/w Duncan E.
Kincheloe, Duncan E. 03/31/1902 06/01/1973 s/w Joy Wangen

Row 22
Marks, Robert Charles "Bob" 01/30/1931 10/22/2005 s/w Marilea Burke
Marks, Marilea Burke 12/31/1932 no date s/w Robert Charles
Duncan, R. Imogene 11/23/1940 04/26/2004
Adams, J. C. 12/14/1893 05/01/1976
Adams, Sudie Mae 11/28/1892 01/22/1990
DeLange, Carl E. 01/11/1906 09/26/1991 s/w Mary P.
DeLange, Mary P. 01/08/1921 07/15/1987 s/w Carl E.
Toon, Willard V. 03/20/1915 12/21/1999 s/w Darlene E. , US ARMY, WWII
Toon, Darlene E. 05/08/1924 no date s/w Willard V.
Wade, Raymond Lee 01/30/1915 05/31/1983 CWO W3 US AIR FORCE, KOREA
Schadt, Henry "Hank" 09/12/1905 02/14/1994 s/w Lillian M.
Schadt, Lillian M. 08/06/1906 06/14/1994 s/w Henry "Hank"

Row 23
Smith, Vera E. 04/16/1914 06/26/1996 s/w Herbert J. "Hub"
Smith, Herbert J. "Hub' 10/12/1902 11/06/1980 s/w Vera E.
Myers, Thomas Skeet 08/12/1927 01/27/1990 s/w Dorothy
Myers, Dorothy 07/14/1941 no date s/w Thomas Skeet
Gaw, Birdie Irene 10/05/1919 01/01/1987
Gaw, Wendell C. 07/17/1919 05/21/1977 TEC5 US ARMY, WWII
Evans, Mable Sue 11/07/1945 07/07/1994
Adams, Monty Lee 08/30/1958 09/06/1986
Bennett, Nicholas "Nick" E. 01/22/1944 02/21/1997 s/w Peggy J. White, A2C US AIR FORCE
Bennett, Peggy J. White 02/28/1943 no date s/w Nicholas E.
Leach, Katherine E. 04/29/1916 05/03/1978 s/w Felix E.
Leach, Felix E. 10/18/1913 07/06/1986 s/w Katherine E.

Row 24
Stidham, Murray T. 03/29/1909 06/27/2000 s/w Lorene H.
Stidham, Lorene H. 02/07/1910 01/09/2007 s/w Murray T.
Adams, George W. 04/16/1930 05/13/2001 CPL US ARMY, KOREA
Myers, Thomas Edward 08/12/1927 01/27/1990 US NAVY, SSGT US AIR FORCE, WWII, KOREA
Roegels, Carra Wilson 07/19/1910 07/27/1994
Roegels, Douglas W. 06/09/1938 10/05/1992
Summers, John L. 08/25/1915 03/11/1989 s/w Annie L.
Summers, Annie L. 08/27/1916 12/21/2000 s/w John L.
Sharp, Edward L. Sr. 11/18/1933 05/08/1999 s/w Daisy B., SN US NAVY, KOREA
Sharp, Daisy B. 02/24/1933 05/22/1987 s/w Edward L. Sr.

Row 25 & 26
King, Mamie 07/04/1909 10/29/1987
Ingram, B. Leola 07/25/1919 08/12/2003 s/w Chester H.
Ingram, Chester H. 05/10/1916 11/03/1987 s/w B. Leola, SMSGT US AIR FORCE, WWII, KOREA, VIETNAM
Kilgore, Christina Matter 05/10/1959 05/11/1996
Burton, Marlene Ruth 04/02/1936 01/13/2006
Messners, Delbert Michael 09/04/1904 02/28/2002 s/w Barbara Elizabeth
Messners, Barbara Elizabeth 10/14/1912 11/11/2000 s/w Delbert Michael
Martin, Roberta 06/20/1926 12/01/2005
Martin, Walter H. 09/07/1923 11/10/1998 2ND LT US ARMY AIR FORCES, WWII
Hinkle, James Ford 05/17/1944 03/14/2003 RM3 US NAVY, VIETNAM
Amick, Marcus Edward "Charlie" 06/07/1986 06/16/1986 inf s/o of M. Amick

Row 27 & 28
Jones, Patricia Jeanne 01/18/1924 01/29/2002
McIntosh, Robert Lawrence 07/04/1896 03/21/1980 s/w Mamie Grace
McIntosh, Mamie Grace 12/04/1903 04/25/2001 s/w Robert Lawrence
Glenn, Clovis E. 01/22/1927 03/21/1987 s/w Mary R.
Glenn, Mary R. 05/26/1931 no date s/w Clovis E.
Holder, Alfred 1924 no date s/w Emmalene
Holder, Emmalene 1929 no date s/w Alfred
Evans, Jackie E. 06/21/1947 04/04/1996
Williams, Leonard R. 11/28/1926 08/09/1995 SM3 US NAVY, WWII
Eaves, Doylena Beth Schmidt 01/28/1969 03/08/1996
Cole, James B. 02/11/1935 03/20/2004 s/w Betty J.
Cole, Betty J. 06/04/1937 no date s/w James B.
Burgett, "J.T." 01/10/1927 no date s/w Betty S.
Burgett, Betty S. 02/01/1934 10/20/2003 s/w "J.T."
Armstrong, Johnny 12/06/1943 11/11/2006 FHM
Bridewell, Wanda Kathleen 09/13/1936 01/29/2007 FHM


Row 29 & 30
Allen, Myrtle 12/11/1912 04/08/2001
Wilde, Bobby (Pop-Pop) 08/21/1953 10/15/2000
Terry, James L. 11/02/1932 03/31/1997 s/w Lemma F. & Christopher
Terry, Lemma F. 06/16/1934 no date s/w James L. & Christopher
Terry, Christopher 07/25/1963 no date s/w James L. & Lemma F.
Hagler, Melinda Anthony 02/09/1958 03/01/2002
Anderson, Harley Hugo "Andy" 09/29/1918 07/30/2004 s/w Myrtle Jane
Anderson, Myrtle Jane 07/19/1922 06/10/2006 s/w Harley Hugo
Pellett, Ralph W. 08/06/1919 09/21/2000 s/w Louise York
Pellett, Louise York 05/14/1919 04/06/2005 s/w Ralph W.
Alexander, Leslie E. 09/03/1920 10/25/1994
Hernandez, Alberto M. 02/23/1928 12/28/1997
Phillips, J. L. "Phil" Jr. 01/28/1930 08/31/1996
Owsley, Eugene 08/07/1923 11/03/1991 s/w Otha D.
Owsley, Otha D. 07/17/1925 no date s/w Eugene
Stevenson, Harold C. Jr. 12/05/1913 02/16/1983

Row 31 & 32
Sigler, Elbon Brady 03/15/1924 02/20/2000
Sigler, Wanda Lantz 11/21/1925 06/23/2003
Pirtle, Francis 07/12/1946 12/12/2002
Stone, Glinford 12/22/1939 10/05/2000
Stone, Eddie 02/28/1941 08/30/2004
Hoover, Ronald R. 01/07/1940 no date s/w Sandra K.
Hoover, Sandra K. 11/09/1940 no date s/w Ronald R.
Amick, Carl Edward 11/14/1924 no date s/w Barbara Jo
Amick, Barbara Jo 08/11/1927 04/22/2006 s/w Carl Edward
Bobbitt, Arthur Kenneth 05/14/1929 03/15/2002 s/w Bonnie S.
Bobbitt, Bonnie S. 06/06/1932 no date s/w Arthur Kenneth
Jones, Glen Dale 11/03/1944 no date s/w Teresa Lenora Appling
Jones, Teresa Lenora Appling 04/24/1949 no date s/w Glen Dale
Haggard, William W. 07/08/1948 no date s/w Jan D.
Haggard, Jan D. 02/03/1957 no date s/w William W.
Eddington, Tara Michelle no dates inf d/o Wm Eddington II and Angela Carrara

Row 33, 34 & 35
Mobley, Nancy Ivy 07/18/1946 no date
Mobley, David McDonald 08/24/1934 01/03/2003 SP3 US ARMY
Motsinger, Rev. Sam 04/02/1925 no date s/w Jean
Motsinger, Jean 10/16/1926 no date s/w Rev. Sam
Tovar, Rudy 06/29/1954 06/21/2003
Lowery, Meghen Marie 11/15/2002 11/15/2002

Row 36
Hight, Thomas A. Jr. 03/09/1921 12/15/1995 CAPT US A C, WWII