Concord Cemetery
From Mt. Enterprise, go east on Hwy 84 to Concord. Turn right (south) onto FM 95. Go less than one half mile, turn left (east) onto CR 3198. Cemetery is on the left just past the churches and the voting box. Catalog below.
I cataloged this cemetery on 26 Sep 2009, starting on the left side against the fence. The earliest marked burials are Molly Farris and Robert Burk in 1923 but I was told that the earliest burial was Tom Cook in 1921.
- Gina Heffernan
Coordinates:
31°55.019N
094°34.964W
A link to the 2011 Annual Homecoming
There is an alphabetical list in the Archives and photos are on the Tombstone Photo site.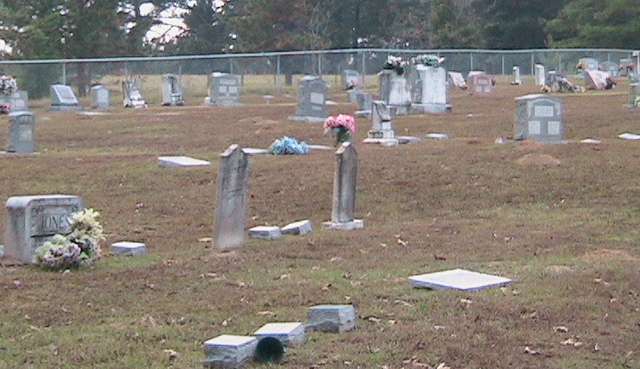 HARPER Travis Leon 05 30 1942 - 11 01 2005 GYSGT US MARINE CORPS VIETNAME PURPLE HEART (3 TOURS)
BOHANNON James A 09 09 1866 - 01 17 1960 s/w Martha
BOHANNON Martha A 09 14 1867 - 01 28 1960 s/w James
BOHANNON Lois Estelle 12 22 1898 - 12 17 1992
McLAUGHLIN Infant Son - 06 19 1928 s/o M & M Wm McLaughlin
McLAUGHLIN Bill Wm 1889 - 1968 s/w Bell
McLAUGHLIN Bell 1893 - 1953 s/w Bill
SEARS Alvie Franklin 02 21 1914 - 06 20 1992 s/w Lamerle
SEARS Lamerle Bird 02 27 1918 - 03 25 1989 s/w Alvie
MARTIN Mildred Leslie 1902 - 1949
SEARS Wesley F 09 13 1888 - 08 26 1956 s/w Lela
SEARS Lela B 02 19 1891 - 08 30 1966 s/w Wesley
SEARS Gordon W 03 26 1921 - 09 01 2006 s/w Lola, US Army WWII
SEARS Lola S 06 08 1917 - no date s/w Gordon
SEARS Beatrice 06 26 1916 - 02 26 1932
SEARS Jewell H 09 25 1930 - 12 02 1985
SEARS Owen T 09 18 1859 - 11 02 1945
SEARS Ida M 09 28 1869 - 02 24 1928 w/o O T
SEARS Vernon 08 10 1904 - 06 29 1928 s/o OT & IM
GADDY Lela Mary 12 16 1934 - 12 26 1934 d/o M & M Bill
GADDY Willis Franklin - 02 19 1938 s/o M & M Bill
SEARS Jerry Wayne 11 28 1944 - 01 31 1959
SEARS Gordon Allen Sr 11 08 1947 - 11 05 1973 Texas SP4 US Army Vietnam
LEE Mary Elizabeth 09 05 1848 - 12 06 1929 Mother
BURK Alice V 09 04 1868 - 03 09 1962 s/w Robert
BURK Robert T 03 25 1856 - 12 17 1923 s/w Alice
WOOD Frank S 08 08 1884 - 08 11 1953 s/w Ola
WOOD Ola 08 17 1888 - 12 22 1973 s/w Frank
FARRIS Tommy Fred 02 24 1942 - 09 27 2008 SP4 US Army
KELLEY Jack 06 06 1855 - 11 01 1934 Uncle Jack
NELSON W H 02 16 1847 - 03 16 1926 Mason
NEWMAN Moody Terry 08 20 1946 - 05 26 2007 s/w Donna, m. 8/4/1972
NEWMAN Mamie Moody 09 01 1907 - 08 30 1946 s/w Rosa Moody
MOODY Rosa Ethel 12 31 1898 - 05 07 1990 s/w Mamie Newman
MOODY John Thomas 08 21 1878 - 03 08 1961
MOODY William Floyd 12 09 1909 - 05 30 1976 s/w Beulah
MOODY Beulah Barrett 09 06 1914 - 01 13 1983 s/w William
EDMONDS Carl 07 28 1895 - 02 06 1956 s/w Linnie, LT COL US Army WWII
EDMONDS Linnie 08 12 1893 - 05 04 1956 s/w Carl
STRONG John T 07 02 1865 - 12 23 1959 s/w Hattie
STRONG Hattie R 05 19 1870 - 06 28 1959 s/w John
STRONG Eddie E 11 21 1896 - 09 23 1983 s/w Addie
STRONG Addie A 07 22 1901 - 01 17 1991 s/w Eddie
McANALLY Floyd 01 26 1904 - 01 13 1987 s/w Minnie
STRONG Minnie Reed Stem 08 14 1914 - 08 24 1988 s/w Floyd
POTTER Ethel Lorine 02 04 1910 - 03 30 1998 s/w Dorothy Thomas, Mother
THOMAS Dorothy Mae 11 25 1935 - s/w Ethel Potter, Daughter
KAUT Robert Herman 04 06 1922 - 07 03 2000 T SGT US Army Air Corps WWII
KAUT Mavie Burks 05 30 1929 - 03 30 1998
BURKES John H 05 21 1881 - 07 12 1968 s/w Lola, m. 12/24/1913
BURKES Lola L 08 29 1894 - 11 29 1967 s/w John
MORRISON Yvonne Burkes 10 10 1914 - 02 19 1999
PITTS Ima Burkes 08 09 1938 – 10 04 2012 d/o John & Lola Burkes
PITTS Chester Joe 11 26 1956 - 11 26 1983
PITTS John Walter 03 16 1962 - 12 21 1986
WALLER Francis Marion 1898 - 1963 s/w Maude
WALLER Maude 1897 - 1982 s/w Francis
WALLER Denzil M 1914 - 1967 s/w Bert
WALLER Bert 1913 - 1999 s/w Denzil
WALLER Luther 1893 - 1961 s/w Essie
WALLER Essie 1892 - 1972 s/w Luther
WHITLEY Clifton Philip 11 15 1960 - 03 21 2004
WHITLEY Mittie Hayden 12 16 1925 - no date
WHITLEY Bobby Earl 05 23 1923 - 08 25 1995
PALMER Martha E (Mattie) 07 27 1897 - 08 19 1982
KELLY Joseph Clifton 11 18 1892 - 06 03 1979 s/w Ida
KELLY Ida Ophelia Phillips 09 30 1887 - 11 28 1971 s/w Joseph
HAMILTON Crawford P 07 29 1892 - 09 06 1985 s/w Dola
HAMILTON Dola C 07 15 1895 - 01 04 1981 s/w Crawforsd
LEE Jerry Lyn 11 23 1953 - 06 01 2002
GRIFFIN James Bradley 09 28 1981 - 05 04 2006
RECTOR Wade Nulen 07 02 1928 - 11 29 1992 s/w Mary
RECTOR Jamice 10 20 1956 - 11 29 1956 Daughter
FARRIS M K 09 19 1909 - 08 11 1952 s/w Verla
FARRIS Verla 12 06 1910 - 09 26 1997 s/w M K
FARRIS Alton Keifer 01 28 1930 - 01 23 1971
FARRIS Perry Randall - 10 22 1958
McGOWAN Diamond Farris 05 05 1913 - 02 19 1996
FARRIS Henry 06 06 1907 - 05 23 1955
FARRIS John D 08 30 1875 - 04 01 1955 s/w Mary
FARRIS Mary Ann 04 10 1880 - 03 31 1948 s/w John
FARRIS Evelyn Barrett 12 29 1915 - 12 15 1945 w/o Hollis
FARRIS Hollis 08 01 1905 - 04 25 1958
FARRIS Lawson 06 23 1911 - 02 04 1994 s/w Fannie, m. 12/14/1933
FARRIS Fannie McClure 09 29 1911 - 04 16 1993 s/w Lawson
BRYAN William B 06 24 1937 - 09 30 2003 s/w Julia
ROUNTREE R Y 1860 - 1942
ROUNTREE Amanda - at rest
BAYSINGER M 1841 - 1933
JOHNSTON Charlie B 12 03 1860 - 10 12 1936 s/w Emma
JOHNSTON Emma B 04 04 1869 - 09 25 1947 s/w Charlie
ROUNTREE James M 03 05 1910 - 01 23 1981 s/w Melba
ROUNTREE Melba L 03 09 1924 - 05 16 1984 s/w James
ROUNTREE B W 03 23 1866 - 09 15 1940 s/w Ella
ROUNTREE Ella Dee 12 12 1874 - 10 24 1944 s/w BW
ROUNTREE John D 10 02 1908 - 12 19 1942 Texas PVT 108 MED TRAINING BN
GADDY Willie Leslie (Bill) 08 21 1909 - 10 10 1980 s/w Wilma
GADDY Wilma B 06 26 1912 - 05 09 1981 s/w Willie
HAMILTON Moses Parks 1859 - 1930 s/w Lizzie
HAMILTON Lizzie Cook 1860 - 1939 s/w Moses
HAMILTON Berry C 1890 - 1977
HAMILTON William H 06 10 1917 - 09 01 1994 s/w Rhoda, m. 10/23/1938
HAMILTON Rhoda Farris 11 13 1916 - no date s/w William
HAMILTON Infant Son 08 14 1945 - 08 16 1945 s/o W H & Rhoda
VAUGHN Infant Son - 09 16 1932 s/o J V & Mollie
VAUGHN James V "Tine" 03 13 1894 - 04 15 1968 s/w Mary, Texas PVT CO I 126 INF 32 DIV WWI
VAUGHN Mary J "Mollie" 07 16 1900 - 09 02 1991 s/w James
FARRIS William H 08 16 1877 - 01 30 1938 s/w Mary, m. 8/27/1899
FARRIS Mary B 08 12 1881 - 02 21 1975 s/w William
FARRIS E J 12 23 1850 - 02 28 1924 s/w Molly
FARRIS Molly 06 18 1852 - 11 06 1923 s/w E J
FARRIS Edgar J 1916 - 1969 s/w Bertie
FARRIS Bertie Lee 1916 - 1980 s/w Edgar
FARRIS James Edward 03 08 1936 - 07 27 2000 US Air Force
FARRIS Lola 06 21 1892 - 05 30 1928 s/w Sellie
FARRIS Sellie F 07 16 1888 - 10 01 1935 s/w Lola
TURNER Joseph B 07 25 1865 - 01 12 1939 s/w Mattie
TURNER Mattie Mosby 11 08 1874 - 06 07 1955 s/w Joseph
TURNER Daniel D 03 04 1872 - 01 16 1963 s/w Emma
TURNER Emma 10 21 1883 - 06 14 1970 s/w Daniel
SEARS Richard Brady 04 25 1899 - 12 11 1962
CONNELL Bill 09 05 1908 - 03 05 1940
FARRIS Charles Ray 04 01 1937 - 10 19 1998 US Air Force
FARRIS Charles Ray - 07 1958 In Loving Memory
RECTOR Shelby Lynn - 04 19 1993 Our Little Angel
RHODES Gary Lane II 09 24 1952 - 02 10 1993
RHODES Robert Clinton 08 24 1957 - 09 22 1979
RHODES Roger Dean 07 09 1955 - 03 19 1977
RHODES Betty Sue 12 05 1935 - 05 05 1962
RHODES Wilburn O 04 26 1928 - 02 04 1966
SWANN Velma Barrett 03 16 1898 - 03 06 1965
BARRETT Fred 07 10 1894 - 06 16 1956
STOVALL Lou Willie 02 08 1917 - 10 26 1987
BURNS Elsie Faye "Sissie" Stovall 11 03 1942 - 09 19 1999
ALLEN Janice Cordell 10 26 1920 - 08 25 2003
HOUGH Sylvester B 04 25 1851 - 07 17 1924 s/w Jennie
HOUGH Jennie A 07 02 1861 - 10 01 1928 s/w Sylvester
BELEW Addie Hough 01 08 1899 - 01 29 1988 Mother
TREVINO Billie Jean Cordell 11 21 1921 - 10 06 1998 Wife
WATTS Hope Watley 12 10 1900 - 10 22 1935 s/w Lorine
WATTS Lorine Farris Woolverton 09 05 1902 - 09 23 1981 s/w Hope
BOLES Angelo A 05 12 1867 - 03 14 1927 s/w Mattie
BOLES Mattie A 01 12 1869 - 10 30 1954 s/w Angelo
BOLES Infant 04 04 1927 - 04 04 1927 c/o M & M A M Boles
BOLES Asa Monroe 10 16 1893 - 11 20 1976 s/w Della
BOLES Della Mae 09 10 1895 - 08 17 1978 s/w Asa
THREADGILL Travis Kyle 07 04 1928 - 10 27 2008 s/w Cecile
MOODY Ollie Glasscock 03 16 1895 - 11 24 1980
GLASSCOCK William Robert 11 03 1869 - 11 18 1952 s/w Carrie
GLASSCOCK Carrie Janet 08 13 1872 - 05 11 1930 s/w William
GLASSCOCK Clyde 11 28 1897 - 02 01 1963
STRONG Jeanette B 1890 - 1974
STRONG Walter C 1869 - 1954
STRONG Creed Jentry 1849 - 1937 s/w Mary
STRONG Mary Adelaide 1849 - 1929 s/w Creed
MOODY Infant Son - 05 22 1931 s/o M & M J L
RAINBOLT Homer 07 12 1876 - 06 23 1963 s/w Victoria
RAINBOLT Victoria 02 16 1878 - 04 01 1969 s/w Homer
WALLER Thomas F 06 06 1861 - 01 09 1950 s/w Dona
WALLER Dona E 02 13 1863 - 08 17 1930 s/w Thomas
WALLER John Henry 11 06 1885 - 11 23 1937
WALLER Nettie C 08 18 1879 - 11 11 1974
WADE John Morris 08 06 1919 - 03 23 2003 s/w Nava
WADE Nava Iona Waller 03 06 1918 - no date s/w John
SEARS Doc (Jack) Graham 07 06 1908 - 10 01 1941
SEARS Lola E 02 11 1885 - 01 26 1963 s/w O L
SEARS O L 07 26 1873 - 03 14 1963 s/w Lola
WILLIAMS Thomas Asa 10 17 1951 - 01 10 1983
WILLIAMS Thomas Earl 08 31 1918 - no date s/w Joy
WILLIAMS Joy Boles 11 29 1920 - 05 30 2003 s/w Thomas
DENNARD Guss E 03 15 1869 - 04 04 1933 s/w Essie
DENNARD Essie B 02 14 1875 - 08 03 1976 s/w Guss
PIPKIN Anita Boles 12 28 1930 - 11 17 1990
BOLES Infant Daughter - 12 02 1929 d/o WC & Ima
BOLES Ima R 07 07 1897 - 01 05 1955
BOLES William C 05 04 1897 - 02 26 1959 Mason
RAINBOLT James Howell 01 09 1925 - 10 20 1990 s/w Anne, PVT US Army WWII
RAINBOLT Anne McDaniel 02 17 1926 - 12 04 1995 s/w James
RAINBOLT Homer Howell 10 19 1901 - 06 17 1978 s/w Wilma
RAINBOLT Wilma Barrett 02 09 1902 - 05 28 1946 s/w Homer
MOODY Jewel Lawson (Jack) 07 16 1905 - 12 10 1993 s/w Marion
MOODY Marion Rainbolt (Sooky) 11 15 1912 - no date s/w Jewel
GLASSCOCK J R Jude 02 22 1915 - 05 03 2004 s/w Julia
GLASSCOCK Julia B "Judy" 05 03 1914 - 11 12 1988 s/w J R
BOLES Nannie M 10 12 1905 - 09 14 1997 s/w Clarence
BOLES Clarence M 06 22 1896 - 03 16 1959 s/w Nannie
BOLES John Nolan 03 22 1931 - 09 06 1938
KING Thomas Jefferson 11 15 1872 - 05 04 1930 s/w Nancy
KING Nancy Carolyn 08 23 1875 - 10 06 1951 s/w Thomas
BELEW John 02 ** 1838 - 06 28 1932 s/w Lonnie, Father
BELEW Lonnie G 07 03 1893 - 12 17 1966 s/w John, Son
GUNTER William A 09 24 1888 - 09 30 1960 s/w Lula
GUNTER Lula May 08 09 1891 - 09 12 1950 s/w William
GUNTER Farris 10 06 1925 - 02 28 1965 US Navy WWII
GUNTER Roy Dale 09 24 1921 - 03 15 1991
CHAPMAN Charles Ray 02 04 1929 - 10 12 2001 s/w Jo Ann, m. 1/17/1954
CHAPMAN Ray Gene 03 29 1955 - no date
RANDALL Oscar W 02 24 1916 - 08 13 1984 CPL US Army WWII
RANDALL Cora Chapman 12 26 1886 - 11 10 1967
RANDALL L D 10 25 1880 - 01 24 1937
RANDALL Donald Ross 10 25 1919 - 03 03 1940
CARMICHAEL Effie Doris Randall 02 22 1914 - 07 28 1999
MILFORD Oran H "Pete" 04 18 1922 - 09 10 2007 s/w Sybil
MILFORD Sybil Imogene 09 04 1922 - 04 13 2005 s/w Oran
BOLES Ada Lou Easley 01 18 1930 - no date
HUFF Glenna Catherine Boles 03 08 1955 - 04 03 1987
WATTS George 02 16 1864 - 11 15 1952 s/w Maud
WATTS Maud 08 19 1873 - 04 25 1936 s/w George
WATTS Zelma S 09 03 1898 - 09 06 1976 s/w Georgia
WATTS Georgia B 04 04 1902 - 10 07 1999 s/w Zelma
MATTASULIO Anthony Watts 12 22 1952 - 04 18 1984 s/w Doye, m. 7/1/1983
LEE Infant Son - 09 14 1936 s/o Fred & Marie
LEE Infant Son - 02 28 1929 s/o Fred & Susie
LEE Freddie Jr 09 09 1922 - 10 06 1925
LEE Susie P 03 03 1891 - 03 04 1929 [died 4 days after infant]
LEE Fred 10 15 1892 - 02 13 1942
LEE Marie Leslie 06 11 1901 - 12 31 1986
JOHNS W X Jr 01 28 1924 - 01 28 1924
JOHNS Will X Mosley 06 25 1884 - 09 03 1965
JOHNS Effie Lee 05 24 1899 - 05 04 1947
BAIRD Charlie Robert 12 23 1919 - 06 06 1998 s/w Mary
BAIRD Mary D Johns 07 23 1915 - 06 06 1953 s/w Charlie
JONES Herbert Lacie "Red" 09 29 1912 - 01 20 1985 s/w Marjorie
JONES Marjorie Josephine 09 01 1913 - 10 01 1991 s/w Herbert
JONES Curtis L 03 09 1911 - 11 26 1972
JONES John C 01 10 1888 - 07 17 1948 s/w Annie
JONES Annie E 06 29 1890 - no date s/w John
BURNETT G W 08 14 1856 - 04 15 1925
BURNETT Alma O 12 26 1854 - 04 01 1943 married William Burnet 3/8/1874
LUNDGREN Susan A Gatlin 08 20 1955 - 09 30 1992 s/w Stephen
LEE Infant Daughter - 12 22 1928 d/o M & M Edgar
LEE Mary A - no date just below and in same plot as Infant Dau born 1928
GATLIN Infant Daughter - 08 01 1951 d/o M & M Allen
LEE Edgar Louis 04 18 1894 - 09 09 1967 s/w Mary, Texas WAGR 36 CO 165 DEPOT BRIG WWI
LEE Mary Alma Watts 01 19 1904 - 04 03 2004 s/w Edgar, m. 8/31/1921
GLASSCOCK Aubrey E 09 24 1899 - 12 08 1978 s/w Billie
GLASSCOCK Billie D 05 03 1902 - 10 30 1985 s/w Aubrey
MOODY Ollie Glasscock 03 16 1895 - 11 24 1980
LEE John T 03 06 1870 - 04 06 1962 s/w Pauline
LEE Pauline 01 12 1873 - 05 08 1940 s/w John
LEE Elizabeth (Lib) 02 17 1914 - 05 28 1979
LEE J T 11 02 1903 - 10 19 1965
GATLIN Allen M 10 23 1920 - 03 26 1999 s/w Pauline, m. 7/18/1942
GATLIN Pauline L 08 19 1920 - no date s/w J T
JONES James Chester 06 11 1925 - 08 19 2000 United States Marine Corps emblem
LEE George E 05 29 1929 - 08 10 2008 s/w Maria, m. 8/6/1965
LEE Raymond W 02 13 1906 - 06 27 1983 s/w Fay
LEE Fay Burk 09 06 1917 - no date s/w Raymond
PACE Bobby Lee 10 03 1946 - 11 28 1993
LEE Vernon J 02 27 1899 - 04 29 1983 s/w May
LEE May L 01 03 1903 - 11 15 1994 s/w Vernon
PACE Mozelle 10 19 1923 - 11 26 2007