Chalk Hill Cemetery
This cemetery is on Hwy 1716 in Chalk Hill, Rusk County across the street from the Elderville Lakeport Volunteer Fire Department.
Photographed and transcribed April 2007, Carolyn Green. (catalog below)
The anuual meeting is the 3rd Saturday in September. There is a 1982 catalog in the Archives, along with an alphabetical list of these names.
Coordinates:
32°21.127N
094°38.992W
s/w = shares a stone with
s/o = son of
d/o = daughter of
w/o = wife of
m/o = mother of
FHM = Funeral Home Marker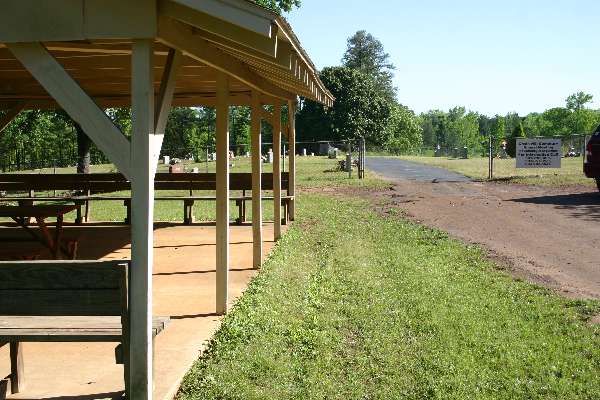 Front or North part of cemetery
Taylor, Roy Amos 02/10/1920 10/02/2002 PVT US ARMY, WWII
Richardson, Thurman C. 11/13/1907 06/10/1988 s/w Tylene Anne
Richardson, Tylene Anne 03/28/1908 12/02/1987 s/w Thurman C.
Smith, Mary Lou 08/04/1933 04/24/2002
Whitaker, Douglas F. 01/13/1912 05/09/1994 s/w Nelwyn T.
Whitaker, Nelwyn T. 11/09/1912 12/09/1998 s/w Douglas F.
Flanagan, Russell Dale, II 01/15/1960 11/06/2004
Flanagan, Russell D. 11/15/1935 06/26/2001 SFC US ARMY
Strong, Albert Thomas 02/06/1905 01/08/1991 s/w Grace Maud
Strong, Grace Maud 03/13/1911 11/07/2000 s/w Albert Thomas
Merchant, Emma B. 07/29/1885 12/09/1974
Merchant, John H. 10/19/1914 10/13/1997 MSGT US AIR FORCE, S/W Allyne
Merchant, Allyne 04/16/1921 06/08/1999 s/w John H.
Pepper, George H. 01/22/1901 10/25/1981 s/w Allyne
Pepper, Allyne 07/15/1903 05/18/2001 s/w George H.
Pepper, Melody Ann 02/09/1955 09/09/1971
Collins, Edith Joy 05/13/1925 05/30/2005
Nix, Charlie Elmer 04/10/1905 02/22/1987 s/w Nettie Lee
Nix, Nettie Lee 02/26/1909 11/08/2004 s/w Charlie Elmer
Powers, Johnny Lee, Sr. 08/21/1941 06/18/1997
Senn, Don F. 04/07/1940 03/26/2000
Corley, James Rudolph 08/30/1922 03/16/2000 PFC US ARMY, WWII
Kulig, Jeffrey G. 12/19/1972 07/25/2001
Swaty, Michael Wayne 10/24/1984 06/26/1999
Cox, Virginia 10/04/1952 06/24/1999 FHM hard to read
Mangum, Maudie Riley 09/02/1919 12/03/1997
Riley, Thomas Padon 03/03/1989 05/21/1989
Hodges, Finus Aaron 06/27/1920 01/05/1988 S SGT US ARMY AIR CORPS, WWII
Hodges, Ramona E. 10/16/1921 04/10/1991

East or Left side of cemetery
Ray, Royce 09/14/1935 04/12/1994
Beckwith, Kenneth F. 09/04/1930 01/28/2006
Halliburton, Anthony A. "Tony" 01/19/1976 05/29/1994
Halliburton, Richard A. 07/07/1949 09/07/1996
McNew, Ben J. Jr. 05/22/1920 10/02/1996 S SGT US ARMY, WWII

South or Back side of cemetery
Chamness, Tina Marie 08/04/1976 07/05/1996
Cantrell, Alan Meredith Pepper 02/27/1931 02/04/1986 CPL US AIR FORCE, KOREA
Geffert, Joe A. 04/21/1915 08/01/1994 US ARMY, WWII, PURPLE HEART
Stanley, Gladys I. 11/13/1942 02/01/1999
Martin, Mary Lois 10/19/1917 08/07/1986
Pepper, Johnny Wayne 04/28/1968 06/13/2004
Pepper, Terry Kadair 08/21/1971 06/09/1989
Pepper, Ronnie Joe 08/06/1942 02/17/1997
Freeman, Prentiss "Dick" 07/31/1936 07/05/2003 FHM
Bowers, Maude 1902 1988
Capps, Dana E. 02/27/1960 08/13/2003
Freeman, Ronnie Allen 07/25/1948 11/18/2005 SGT US ARMY, VIETNAM, BRONZE STAR MEDAL
Ferrell, Steve R. 11/27/1963 11/22/1995
Rinehart, Peggy L. 11/20/1932 11/05/1995
Harper, Thomas Benjamin 05/03/1917 03/11/1992 PFC US ARMY, WWII
Bryant, Margaret F. Harper 03/30/1922 12/14/1993
Smeltzer, Eddie 08/16/1925 08/17/1998 US NAVY, WWII
Munden, James Clausen 10/23/1896 02/27/1990 s/w Pauline Lovie, PVT, US ARMY, WWI
Munden, Pauline Lovie 09/06/1925 12/29/2004 s/w James Clausen,
Freeman, Noah 11/14/1926 02/22/1988 s/w Laverne
Freeman, R. Laverne 11/29/1931 no date s/w Noah
Parker, James T. "Walter" 07/16/1925 12/23/1997 CPL US MARINE CORPS, WWII, PURPLE HEART
Parker, Jerry W. 09/16/1947 05/26/2002 SGT US AIR FORCE
Cravey, Gladys P. Harper 03/09/1913 06/04/1990
Furr, Willie Mae 08/11/1896 06/30/1979

West or Right side of cemetery
Pepper, Norman 10/16/1922 05/04/1999 s/w Jaxine Boyette
Pepper, Jaxine Boyette 03/23/1926 01/08/1999 s/w Norman
Chevallier, Joe F. 1944 2003
Snead, Mary Florence 12/31/1957 12/30/1970
Pepper, Ross Vail 07/29/1903 09/26/1984 s/w Bertha N.
Pepper, Bertha N. 10/22/1905 08/24/1990 s/w Ross Vail
Keith, John Moscoe, Jr. 01/29/1920 08/22/2003 PFC US ARMY, WWII
Freeman, Marcus T. 09/21/1972 09/22/1972
Floyd, Robert Glenn 07/29/1945 03/24/2006
Freeman, Delbert Artamus 02/15/1909 08/30/1996 s/w Roxie L. Kimbrough
Freeman, Roxie L. Kimbrough 09/20/1911 10/07/1998 s/w Delbert Artamus
Freeman, Wiley R. 08/05/1907 01/16/1994 s/w Dessie L.
Freeman, Dessie L. 03/13/1907 05/28/1985 s/w Wiley R.
Freeman, Jeraldine Joy 02/10/1930 02/08/1986
Jones, T. W. 05/02/1940 06/22/2005
Jones, Rena Freeman 03/23/1941 09/15/1980
Freeman, Russell Allen 05/04/1942 05/05/1995
Prior, Oliver I. 05/01/1895 06/06/1984 PVT US ARMY, WWI

Middle Section of cemetery
Pepper, Bruce W. 06/22/1967 04/17/2006
Pepper, James Guy 10/08/1933 12/25/1999
Watson, Henry Grady 1892 1976
Freeman, J. D. 09/10/1909 03/21/1977 s/w Inez
Freeman, Inez 04/27/1913 11/14/1995 s/w J. D.
Walker, William Thomas 1933
Kirl, Charles Breaux 12/13/1924 03/03/2006 PFC US ARMY, WWII
Pepper, Waymon D. 07/10/1913 11/21/1993 s/w Ollie Mae
Pepper, Ollie Mae 06/16/1915 06/30/1986 s/w Waymon D.
David, Raymond 11/01/1920 08/18/1991 S SGT US ARMY, WWII
Huffman, Rupert Dale ? 4, 1919 04/30/19?? PVT US ARMY
Vinson, child 1934 1934 d/o Leon Vinson
Tiner, Melvin Jack 01/02/1918 09/14/1999 PVT US ARMY, WWII
Sartain, John Franklin 10/20/1939 05/15/2004
Thompson, Carolyn Jannett 09/11/1942 10/02/2002
Thompson, John 08/11/1886 03/23/1966 s/w Emily P.
Thompson, Emily P. 01/20/1895 04/08/1972 s/w John
Thompson, Perry 11/12/1911 11/13/1993 s/w Flora L. Moore
Thompson, Flora L. Moore 07/25/1917 10/07/2003 s/w Perry
Stephens, Sylvia Thompson 06/28/1936 08/16/1994
Sharp, Baby 1931 1931
Sharp, William 09/15/1886 11/02/1964 s/w Allie
Sharp, Allie 02/05/1891 07/28/1988 s/w William
Sharp, Rufus 10/01/1914 02/23/2005 s/w Minnie
Sharp, Minnie 08/31/1917 10/30/1994 s/w Rufus
Johnson, Orville C. 09/22/1921 02/25/1994 US ARMY AIR CORPS, WWII
Wilkerson, Pearl H. 08/03/1907 09/16/1997
Wilkerson, Lee Arnold 04/09/1914 04/08/1995 US ARMY, WWII
Gray, Buford 12/13/1895 10/05/1975 PVT US ARMY, WWI
Wilson, Sanford E. 04/20/1922 03/08/1998 SI US NAVY, WWII
Waits, Ruth Wilkerson 02/17/1910 02/22/2002
Waits, Thomas Joe 05/23/1905 10/22/1947
Strong, William C. 04/06/1896 05/28/1988 s/w Susie W.
Strong, Susie W. 04/21/1912 04/23/1983 s/w William C.
Strong, J. C. 04/16/1931 12/10/1934 s/o W. C. & Susie Strong
Strong, Wade Edward 11/14/1892 11/14/1942 TX PVT 301 RHD SUP DET QMC, WWI
Nix, California Davis 09/01/1873 03/01/1967
Wilson, Effie Lorene 09/26/1894 09/06/1953
Waits, Paulina 09/16/1865 09/01/1948
Waits, T. J. 12/26/1860 03/14/1922
Wilson, Gilbert J. 12/31/1891 02/13/1986
Wilson, Glen Cecil 12/31/1914 10/11/1967 TX AMM3 USNR, WWII
Graham, Lela Alvie 08/23/1895 03/13/1970
Latham, Doris 10/12/1929 11/08/1929
Wilson, Mary J. 02/03/1870 09/27/1964
Harper, Mary E. 01/27/1885 01/19/1943
Harper, William B. 02/20/1881 09/02/1978
Rouse, Lois Latham 08/19/1911 05/11/1981 willed body for research, disposition of body will be cremanation
Reynolds, John Troy "J.T." 02/19/1928 04/27/1992
Wilson, Lee F. 04/27/1893 09/17/1977 US ARMY, WWI
Harper, J. William 05/09/1906 05/09/1906
Harper, Ola Mae 01/05/1908 08/03/1908
Davis, Douglas Gene 10/08/1953 03/08/1972
Waits, Baby no dates
Pepper, Noel Sampson 11/23/1913 07/22/1970 s/w Joy Fay Kelley
Pepper, Joy Fay Kelley 05/17/1916 10/13/1999 s/w Noel Sampson
Pepper, Lois Diane 01/31/1953 01/11/1991
Davis, Laura Lynn 10/22/1974 01/12/1991
Davis, Tracie Kay 08/17/1966 10/22/2003
Pepper, Noel Sampton 11/23/1913 07/22/1970
Pepper, Earnest Lee 06/23/1906 03/10/1972 TX, PFC US ARMY, WWII
Pepper, Elisha 11/19/1870 11/02/1959 s/w Clara
Pepper, Clara 10/29/1882 01/16/1962 s/w Elisha
Gray, Homer 05/23/1888 02/21/1958
Gray, Walter 03/24/1884 03/31/1947
Gray, Ida F. 01/22/1863 09/19/1945
Wilkinson, Henry T. 12/20/1918 05/30/1965 TX PVT CO C 68 ARMD INF BN, WWII
Hammond, Della L. 1891 1971
Davis, James Larry "Thumbs" 07/12/1945 10/03/2000
Davis, Jerry 04/27/1911 03/27/1994 s/w Fay E.
Davis, Fay E. 01/19/1921 01/25/2004 s/w Jerry
Davis, Lorene 1924 1986 s/w Tommie
Davis, Tommie 1911 1989 s/w Lorene
Waits, Baby no dates