Antioch Memorial Garden
5145 CR 266, PO Box 2281, Henderson, Texas
From Henderson, take Hwy 43 northeast. Go through New Prospect to CR 266 and turn right (south). Go around the curve, pass the church, and the cemetery is on the right. NOTE: Empty plots are not shown in the
catalog below
.
Cora Green Wright contacted me about this little cemetery and put me in touch with Ms. Carnell Lewis Wright who generously donated the catalog of Antioch Cemetery. Ms. Wright is a very helpful and gracious lady.
"Antioch Memorial Garden, an extension of the Prospect Cemetery, was acquired in February, 1965. The cemetery is located about 8 miles northeast from the city of Henderson on State Highway 43, County Road 266, beginning at the southeast corner of the Antioch Church lot.
"The cemetery is an African American burial ground for people maintained by individuals and a caretaker. Readable markers or headstones identify burial places.
"(Vet) denotes the person served in war.
"(NM) means no name is visible or there is nothing showing where the person is buried." - Carnell Lewis Wright, April 2009.
There is an alphabetical list in the Archives.
Coordinates:
32 13.054 N
-94 42.054 W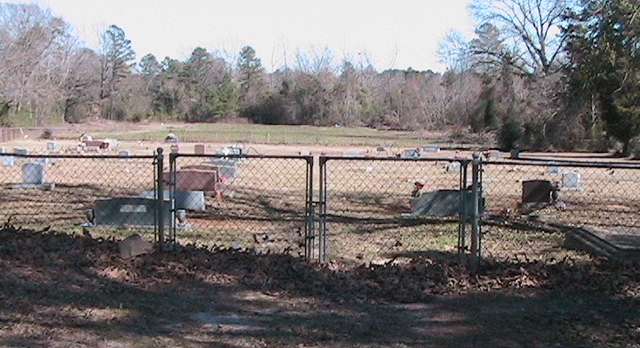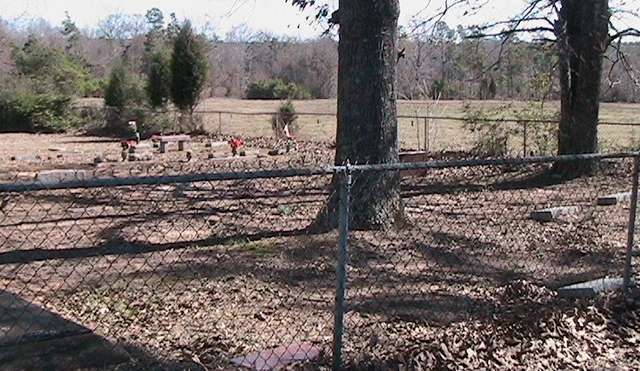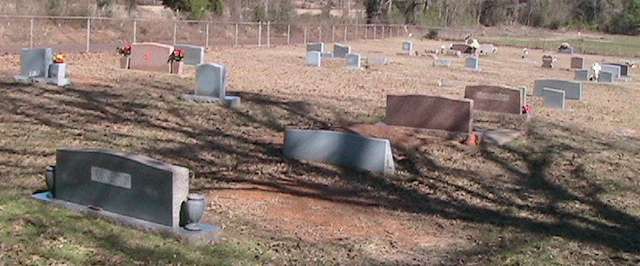 | | | | | | | | | | | | | |
| --- | --- | --- | --- | --- | --- | --- | --- | --- | --- | --- | --- | --- |
| ROW | Right side of gate | | | | | GATE | Left side of gate | | | | | ROW |
| | Surname | Given Name | Birth | Death | Other | | Surname | Given Name | Birth | Death | Other | |
| 1 | Thompson | Ethel | 1900 | 1991 | | | Blair | Lee | 1889 | 1976 | (Vet) | 1 |
| | Thompson | Carl | 1899 | 1972 | | | Biggers | Alberta | 1903 | 1996 | | |
| | Hall | Sam | 1890 | 1984 | | R | | | | | | |
| | Humphrey | Beatrice | 1899 | 1972 | | | | | | | | |
| | Isabell | Gussie | 1883 | 1966 | | O | | | | | | |
| | Isabell | Jessie | 1903 | 1984 | | | | | | | | |
| | Isabell | Mary L | 1905 | 1998 | | A | | | | | | |
| | Humphrey | Napolen | 1901 | 1973 | | | | | | | | |
| | Humphrey | Ardell | 1920 | 1983 | | D | | | | | | |
| | Dixon | Mozelle | 1916 | 1981 | | | | | | | | |
| | Jones | Ben | 1905 | 1981 | | | | | | | | |
| | | | | | | | | | | | | |
| 2 | Jackson | Jessie | 1930 | 1970 | | | O'Neal | A. W. | 1904 | 1982 | | 2 |
| | Hightower | Walter | 1902 | 1972 | | | O'Neal | Novy Lee | 1908 | 1997 | | |
| | Isabell | Alecia | 1905 | 1993 | | | Trimble | Donnell | 1946 | 1989 | (Vet) | |
| | Isabell | Willie | 1900 | 1992 | | | Trimble | Cornelius | 1889 | 1973 | | |
| | | | | | | | Trimble | Essie Lewis | 1887 | 1992 | | |
| | | | | | | | | | | | | |
| 3 | Sherow | Willie | 1904 | 1993 | | | O'Neal | Rufus | 1940 | 1996 | | 3 |
| | Sherow | Wesley | 1899 | 1978 | | | O'Neal | Margie | 1940 | 2005 | | |
| | Sherow | Eva Mae | 1944 | 1995 | | | | | | | | |
| | Harkless | Baby Anna | 1909 | 1977 | | | | | | | | |
| | Ratliff | Baby | | | (Under tree) | | | | | | | |
| | Durkee | Emma Louise | 1924 | 1930 | | | | | | | | |
| | Durkee | James | 1892 | 1971 | | | | | | | | |
| | Durkee | Rodgers | 1897 | 1965 | | | | | | | | |
| | | | | | | | | | | | | |
| 4 | Sherow | Floyd | 1935 | 1986 | (Vet) | | Coss | W. R. | 1910 | 1966 | | 4 |
| | Mans | Cleola | 1913 | 2003 | | | Coss | Christene | 1919 | 1997 | | |
| | Reedy | Otis | 1919 | 1974 | | | Howard | Willete | 1921 | 1997 | | |
| | Reedy | Sylvester | 1889 | ???? | | | Howard | Eli H | 1919 | 2009 | (Vet) | |
| | Reedy | Ella | 1891 | 1970 | | | Ballenger | Ronnie L | 1955 | 2007 | | |
| | | | | | | | | | | | | |
| 5 | Trimble | Nicholas | 1907 | 1984 | (NM) | | Montgomery | Taylor | 1902 | 1966 | | 5 |
| | Lewis | Odis | 1911 | 1900 | | | Montgomery | Martha | 1905 | 1988 | | |
| | Lewis | Mary | 1911 | 1994 | | | Montgomery | Bonnie | 1890 | 1973 | | |
| | Lewis | Willie | 1887 | 1974 | | | Windom | James | 1901 | 1972 | | |
| | Lewis | Frank | 1878 | 1962 | | | Windom | Ollie | 1906 | 1986 | | |
| | Lewis | A. C. | 1912 | 1976 | (Vet) | | | | | | | |
| | | | | | | | | | | | | |
| 6 | Jones | Christene | 1918 | 1985 | | | Hall | James Buster | 1894 | 1969 | | 6 |
| | Jones | John | 1911 | 1982 | (Vet) | | Hall | Lette | 1893 | 1966 | | |
| | Ward | Tommy Lee | 1918 | 1985 | | | Harkless | W (Sun) | 1892 | 1969 | | |
| | Taylor | Richard | 1924 | 2001 | (Vet) | | Harkless | Nerva (Neb) | 1894 | 1979 | | |
| | Wright | Leon | 1896 | 1988 | | | | | | | | |
| | Wright | Henry | 1897 | 1988 | | | | | | | | |
| | | | | | | | | | | | | |
| 7 | Hopkins | Marilyn | 1944 | 2006 | | | Hall | Z. H. (Zebedee) | 1884 | 1966 | | 7 |
| | Chambers | Lizzie | 1899 | 1995 | | | Hall | Elouisa | 1882 | 1967 | | |
| | Chambers | Powell | 1897 | 1972 | | | Isaac | Ira D Hall | 1917 | 2004 | (NM) | |
| | Hopkins | Martha | 1911 | 2001 | | | Isaac | Mac | | | (NM) | |
| | Neal | Willie | 1908 | 1994 | | | | | | | | |
| | Pryor | Grady | 1911 | 1996 | | | | | | | | |
| | Unknown | | | | (NM) | | | | | | | |
| | | | | | | | | | | | | |
| 8 | Hurd | Bonnie | 1919 | 1990 | | | Wright | Arter Jr | 1930 | 1989 | | 8 |
| | Hurd | Fannie | 1927 | 1986 | | | Williams | Maxie Wright | 1919 | 2001 | | |
| | Hurd | John | 1906 | 1964 | | | | | | | | |
| | Unknown | | | | (NM) | | | | | | | |
| | Simon | Jamia | 1991 | 2004 | | | | | | | | |
| | Foster | Amanda Ree | 1930 | 1999 | | | | | | | | |
| | Foster | Calvin | 1926 | 1988 | (Vet) | | | | | | | |
| | Foster | Fannie Mae | 1933 | 2003 | | | | | | | | |
| | Foster | Dennis | 1944 | 1974 | | | | | | | | |
| | Foster | Willie Ray | 1938 | 1983 | | | | | | | | |
| | | | | | | | | | | | | |
| 9 | | | | | | | Wright | Alyne | 1943 | 1964 | | 9 |
| | | | | | | | Wright | Harlee | 1912 | 2005 | | |
| | | | | | | | Wright | Murdie | 1914 | 1985 | | |
| ROW | | | | | | | | | | | | ROW |
| 10 | Gadson | Elisha Henry | 1907 | 1993 | (Vet) | R | Burnett | Willie Jr | 1896 | 1969 | | 10 |
| | Gadson | Johnnie Wright | 1920 | 1995 | | | Burnett | Eula | 1894 | 1975 | | |
| | | | | | | O | Clay | Darron | 1952 | 1991 | | |
| | | | | | | | Clay | Henery | 1946 | 1972 | | |
| | | | | | | A | | | | | | |
| 11 | Wright | Abbie | 1894 | 1990 | | | Burnett | Thelma Sr | 1912 | 1995 | | 11 |
| | Wright | Douglas | 1988 | 1963 | | D | Burnett | Baby | | | (NM) | |
| | Wright | Norman Leon | 1916 | 2000 | (Vet) | | Ballenger | Charles W | 1880 | 1975 | | |
| | | | | | | | Ballenger | Dora | 1882 | 1965 | | |
| | | | | | | | Wright | Velma Ballenger | 1918 | 1971 | | |
| | | | | | | | Ballenger | Ben | 1887 | 1981 | | |
| | | | | | | | | | | | | |
| 12 | Smith | Sedalia | 1904 | 1976 | | | Howard | Leslie Lamar Sr | 1924 | 1981 | | 12 |
| | Smith | Don | | | | | Howard | Essie Dell | 1931 | 1990 | | |
| | Wright | Reba | 1924 | 1999 | | | Lambert | Patricia Howard | 1950 | 1996 | | |
| | Wright | Alpheus | 1920 | 1995 | (Vet) | | Howard | Tonya Monique | 1980 | 2001 | | |
| | | | | | | | Ballenger | Charles Arnold Sr | 1915 | 1997 | | |
| | | | | | | | Ballenger | Claudia V | 1917 | 2007 | | |
| | | | | | | | Fields | Shannon | 1978 | 1997 | | |
| | | | | | | | Ballenger | Charles Arnold Jr | 1944 | 2008 | | |
| | | | | | | | | | | | | |
| 13 | Smith | Ever Lee | 1905 | 1968 | | | Trimble | George | 1886 | ???? | | 13 |
| | Johnes | Richard | 1945 | 2006 | | | Trimble | Rena | 1890 | 1965 | | |
| | | | | | | | Trimble | Vernon | 1918 | 1979 | (Vet) | |
| | | | | | | | | | | | | |
| 14 | Mills | Gennie | 1895 | 1969 | | | Murry | Herman | 1902 | 1977 | | 14 |
| | March | Cecil Sr | 1916 | 1992 | (Vet) | | Murry | Willie Mae | 1909 | 1992 | | |
| | March | Elsie Lee | 1919 | 2004 | | | Wicks | Edward | | | (NM) | |
| | March | Cecil Jr | 1954 | 1995 | | | | | | | | |
| | Wright | Willie | 1888 | 1970 | | | | | | | | |
| | Jones | Alfres | 1948 | 2007 | | | | | | | | |
| | | | | | | | | | | | | |
| 15 | Wright | Christene | 1927 | 1999 | | | Ballenger | Oscar | 1908 | 1972 | | 15 |
| | Wright | Printice | 1925 | 1970 | | | Ballenger | Rosa Lee | 1912 | 2005 | | |
| | Wright | Lucille | 1900 | 1974 | | | Ballenger | Johnny | 1936 | 1976 | | |
| | Wright | Leon | 1896 | 1990 | (Vet) | | | | | | | |
| | Witcher | J. P. | 1926 | 1985 | | | | | | | | |
| | Herbert | Sherin Witcher | 1949 | 1991 | | | | | | | | |
| | | | | | | | | | | | | |
| 16 | | | | | | | Young | Jessie Dewey | 1898 | 1979 | | 16 |
| | | | | | | | Young | Gertha Burnett | 1898 | 1991 | | |
| | | | | | | | Wright | Lugene | 1887 | 1973 | | |
| | | | | | | | Wright | Enic | 1910 | 1982 | (Vet) | |
| | | | | | | | Morgan | Myron Wright | 1908 | 1997 | | |
| | | | | | | | Wright | Arthur | 1903 | 1998 | | |
| | | | | | | | Wright | Willie | 1902 | 1990 | | |
| | | | | | | | | | | | | |
| 17 | Bradely | Willie | 1923 | 1999 | (NM) | | Young | John A | 1902 | 1965 | | 17 |
| | Sherow | George Walter | 1932 | 1980 | (NM) | | McFadden | Bonnie M Young | 1908 | 1987 | | |
| | Sherow | M. T. | 1959 | 1994 | (NM) | | Malveraux | Mary L Young | 1933 | 1979 | | |
| | | | | | | | | | | | | |
| 18 | Gipson | Emigene Jackson | 1911 | 2006 | | | | | | | | 18 |
| | Thompson | Annie Laura | 1895 | 1984 | (NM) | | | | | | | |
| | Sherow | Myrtle | 1929 | 1992 | | | | | | | | |
| | Burney | Rose Sherow | 1951 | 2006 | | | | | | | | |
| | Sherow | Robert Jr | 1950 | 2007 | | | | | | | | |
| | | | | | | | | | | | | |
| 19 | Roberson | Jimmy | 1947 | 1993 | | | Davis | J. B. | 1907 | 1983 | | 19 |
| | Miller | Ella | 1824 | 1986 | | | | | | | | |
| | Unknown | | | | (NM) | | | | | | | |
| | | | | | | | | | | | | |
| 20 | | | | | | | Durkee | Lobis | 1926 | 1995 | | 20 |
| | | | | | | | Durkee | Maurine | 1928 | 2007 | | |
| | | | | | | | Reese | J. W. | 1948 | 1973 | | |
| | | | | | | | Austin | Jason | 2000 | 2002 | | |
| | | | | | | | Tatum | Juanita | 1924 | 2001 | | |