Anadarko Cemetery
From Mount Enterprise, take Hwy 84 west toward Reklaw. Turn right (north) onto FM 2753 toward Glenfawn. Turn left (west) onto FM 1662. Go about 1.5 miles, the cemetery is on the left just past County Road 4245.
The earliest burial I found was in 1900.

Coordinates:
31°55.523N
094°52.771W
There are a few pictures at the Tombstone site and an alphabetical list in the Archives, here and here.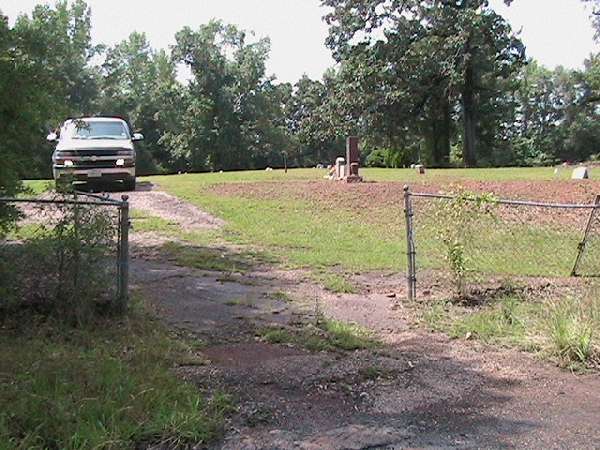 Henry, Henderson Aug 12 1869 Jan 19 1935
Spencer, Georgia Ann Henry Jul 14 1872 Jun 21 1933
Spencer, Geo Whitmore Feb 28 1909 Oct 06 1975
Spencer, Jeff 1871 1950
Spencer, Jennie Feb 10 1885 Mar 01 1931
Spencer, Sim Nov 26 1872 Dec 19 1939
Spencer, Alf Mar 16 1895 Jan 20 1952
Ball, Sidney 1857 1939
Ball, Elizabeth 1872 1945
Whitman, Maudie Feb 25 ???? Feb 05 ????
Stevens, Simmie Dec 25 1889 Sep 19 1956
Purtue, Ora Jan 26 1919 Sep 29 1952
Maddox, Sam Oct 23 1916 Nov 11 1967
Maddox, Margaret Sue Sheppard Jun 14 1951 Feb 09 ????
Maddox, Calvin Jun 14 1951 Feb 09 ????
Johnson, Rodney Mar 04 1966 Dec 04 1996
Walker, Thomas Oct 28 1929 Jan 06 1996
Warren, Marshall Jan 10 1942 Feb 13 1995
Lofton, Hattie Feb 13 1923 Nov 11 1999
Anderson, Shelia Jan 23 1966 Jun 11 1966
Edwards, Oscar Feb 06 1936 only date
Edwards, Albert 1941 only date
Williams, Floyd M Sep 17 1909 Jan 01 1985
Edwards, Jim Albert Jan 17 1905 Feb 26 1957
Edwards, Pearley Dec 19 1886 Jan 02 1954
Ball, Audrey Jul 05 1915 ??? 17 1978
Freeney, Alice Jul 28 1881 Jul 09 1946
Freeney, Jim May 1955 only date
Freeney, Allie Mae Mar 23 1907 Aug 24 1989
Freeney, Kinnie Apr 18 1912 Apr 15 1918
Freeney, Robert Jr 1924 1992
Freeney, Maguel Nov 05 1958 Mar 14 1982
Freeney, Jessie Feb 27 1927 Jan 18 1968
Freeney, Robert Sr Dec 12 1890 Jun 20 1968
McDonald, Una Faye Freeney Feb 13 1926 Aug 26 1986
Wallace, Alonzo Aug 17 1965 Aug 26 1986
Edward, Mary 1947 only date
Edward, Robert 1942 only date
Whetsone, Mattie Sep 19 1895 Jul 12 1951
Elston, Rosa Oct 29 1926 Nov 20 1992
Punch, George Oct 12 1918 Dec 12 1983
Cynthia, Dec 08 1904 Dec 24 1977
Sheppard, Preston Nov 10 1902 Feb 25 1958
Moore, Herman 1928 1989
Sheppard, La Donna Aug 28 1955 Jul 23 1961
Punch, Clemise Feb 10 1925 Jan 31 1955
Sheppard, Elsie Feb 14 193? Jun 02 1982
Brown, Wanda Apr 15 1937 Nov 04 1999
Sheppard, Margaret Louise Sep 24 1921 Apr 03 2000
Sheppard, M T 1909 1996
Richardson, Willis Feb 02 1901 Jan 19 1991
Richardson, Dover Jan 01 1903 Dec 06 1973
Richardson, Harold 1964 only date
Booker, Lizzie 1951 only date
Sheppard, Naomi Mar 08 1927 Feb 26 1997
Anderson, Mila Roberta Jul 04 1893 Jul 31 1980
Anderson, Lucious Feb 23 1890 Apr 22 1948
Anderson, Julious Nov 03 1926 Jul 26 1983
Henry, Vincent Apr 01 1969 Oct 13 1988
Henry, Larson Jan 26 1925 Jul 09 1989
Henry, Artemous Oct 11 1914 Feb 11 1983
Coeston, Johnnie Robert Sep 15 1945 Jul 02 1954
Mallette, Marshelia Nov 09 1960 Apr 21 1985
Stafford, Roosevelt Sep 09 1902 Nov 15 1976
Stafford, Ludil Jun 02 1904 Apr 30 1988
Chandler, Lilia May 03 1885 Dec 29 1965
Stafford, Roosevelt Jr Jun 23 1925 Jul 03 1998
Sheppard, Hubert Ray May 13 1965 Apr 25 1987
Squire, Lola Bell Jun 16 1913 Jun 08 1962
McDonald, Jim no dates
Sheppard, Raymond Mar 20 ???? Mar 18 ????
Punch, Eva Feb 10 ???? Aug 09 1919
Punch, Jack Jan 26 1905
Stanfield, Alice Punch Sep 14 1911 Feb 25 1994
Grant, Robert Lee 1948 Jun 01 1966
Williams, Floyd (M T) Sep 17 1909 Jun 01 1985
Sheppard, George no dates
Williams, Lucy Dec 07 1907 Nov 22 1974
Williams, Thomas Jan 01 1907 Sep 05 1947
Williams, R J 1918 2000
Edwards, Willie Aug 1933 only date
Loftis, Robert May 03 1930 Sep 07 1990
Freeney, Frank 191? 1993
Polk, Matilda Alzonia Sep 23 1902 Dec 29 1960
Freeney, Louise Henry Mar 26 1924 ??? 28 1973
Lewis, Cariker Jan 25 1904 Mar 12 1979
Lewis, Willie Gene Feb 27 1947 Aug 01 1978
Bradley, William Sep 03 1909 Aug 15 1972
Lewis, Ima Mar 28 1914 Apr 28 1993
Walker, Alzonia May 18 1919 Dec 02 1969
Loftis, Robert Mar 04 1929 Feb 23 1975
Loftis, Beatrice Apr 19 1905 Jul 15 1977
Loftis, Charlie Sep 23 1904 Jun 16 1981
Henry, Wyonnie Nov 13 1937 Apr 12 1997
Coss Bowles, Minnie Lee May 13 1904 Oct 14 1944
Coss, Baby D Sep 05 1915 Sep 08 1915
Brydson, Odesser Lee May 25 1915 Sep 07 1975
Bowles, Ollie Margrette Apr 11 1930 Apr 04 1949
Freeney, Jimmie 1913 Jan 20 1993
Henry, Freddie Lee Mar 1929 Feb 1946
Loftis, Arnold Nov 25 1909 Feb 12 1932
Loftis, Lewis Feb 18 1977 Aug 24 1924
Stearns, Alphas Oct 04 1918 May 19 1936
Spencer, Pertha Lewis Dec 24 1888 Nov 19 1975
Henry, James Earl 1956 1990
Punch, Maude Oct 18 1917 Dec 23 1946
Rogers, Willie 1995 only date
Rogers, Elberta 1906 only date
Rogers, Jesse 1913 1985
Shepard, Monnie Jan 01 1901 Aug 07 1995
Brantley, Eula Mar 1904 Jun 1984
Tucker, Mary Nov 20 1847 Jul 24 1963
Anderson, Opal Oct 07 1918 Mar 10 1963
Brantley, Infant 1942 1942 s/o Cleophia & Era Lee
Brantley, Elmer 1937 1937
Brantley, Lurenia Dec 12 19?? only date
Brantley, Versie Dec 08 1908 Jan 01 1983
Brantley, Jack May 15 1867 Apr 24 1936
Brantley, Alia Dec 05 1869 Jan 19 1929
Sturns, Mary Brantley Feb 14 1912 Aug 1936
Brantley, Cleopha Aug 05 1914 Mar 26 1977
Fuller, Luella Jan 05 1898 Dec 17 1923
Fuller, Mary Henry Feb 25 1855 Nov 23 1935
Henry, Randall Jan 23 1860 Jun 15 1914
Henry, Walton 1838 Sep 19 1919
Henry, Albert Sep 16 1893 Jun 06 1908
Henry, Elmina 1842 Aug 25 1938
Loftis, Julia Jul 15 1881 Apr 20 1977
Loftis, Archie Nov 09 1881 Jan 29 1958
Loftis, Amy Oct 26 1889 Sep 19 1976
Loftis, M T Aug 22 1910 Jul 08 1973
Loftis, Will Feb 18 1882 Nov 15 1972
Henry, Mose Mar 05 1864 May 18 1919
Henry, D H Dec 17 1864 Mar 26 1911
Henry, Nelson Mar 24 1846 Nov 05 1925
Lewis, Berdie Aug 25 1918 Jan 08 1987
Maddox, Demongia Apr 09 1904 Mar 08 1985
Maddox, Rueben Sep 10 1904 Oct 26 1981
Grant, Lucy Jun 23 1919 Sep 17 1984
Maddox, Annie Apr 08 1912 Mar 05 1993
Lee, Eddie Oct 25 1908 Apr 09 1966
Phillips, Kizzie
Powell, Johnnie Mae Lee Apr 05 1937 Mar 09 1997